Berlin, Oct 14 : German Foreign Minister Heiko Maas said on Oct 13 that Turkey should stop their provocative behaviour among the rising tensions in Eastern Mediterranean. Maas also added that Germany stood in solidarity with Cyprus and Greece as European Union partners.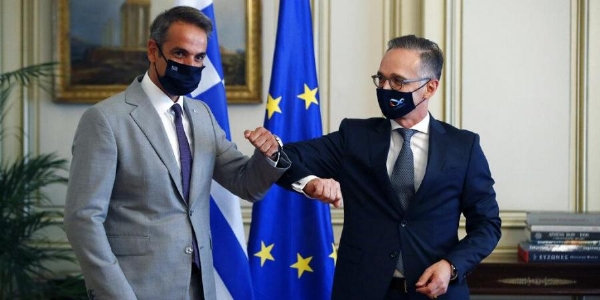 The Minister said "Ankara must end the interplay between detente and provocation if the government is interested in talks - as it has repeatedly affirmed," before he was leaving for his visit to Cyprus and Greece, where tensions are escalating against Turkish expansionism. He has appealed Ankara to stay away from controversial areas of the Mediterranean and hault the gas exploring activities there.
The Turkish ship Orug Reis had sailed in the Mediterranean on Oct 12 for seismic survey in the eastern sea. Greece had then asked the European Union to take a stand against Turkey illegally exploring into controversial waters of Mediterranean.
Later Greek Prime Minister Kyriakos Mitsotakis received Germany's Foreign Affairs Minister Heiko Maas at Maximos Mansion on Oct 13. The two met to discuss the escalated tensions due to Turkish provocation around the Mediterranean. After the discussions, the Prime Minister thanked Berlin for the proactive diplomatic stance.
Regarding the increasing Turkish provocation the Greek premier has said, "If unilateral action and provocations by Turkey continue in violation of International Law, we - as the European Union - will use all available tools and options," and he noted that "we will closely monitor developments and take the appropriate decisions by December at the latest."