New Delhi, October 16: Prime Minister Narendra Modi on Thursday greeted NSG Black Cats personnel and their families on NSG's Raising Day. "On their Raising Day, greetings to NSG Black Cats personnel and their families. NSG plays a crucial role in India's security apparatus. It has been associated with utmost courage and professionalism. India is proud of NSG's efforts to keep India safe and secure", the Prime Minister said.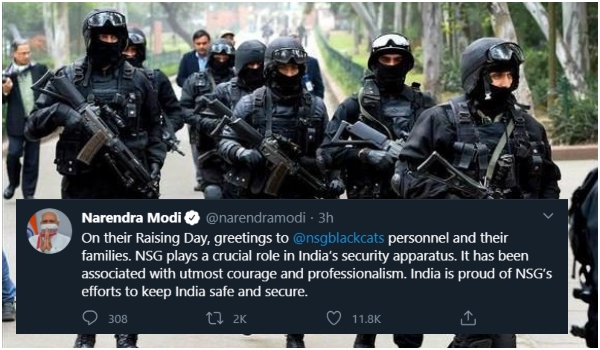 NSG or National Security Guard is Federal Contingency World Class Zero Error Force to deal with anti-terrorist activities. It is an elite unit under the Ministry of Home Affairs which was formed back in 1984 following Operation Blue Star. Its core operational capability is provided by the Special Action Group (SAG) which is drawn from the Indian Army. NSG personnel are sometimes also referred to as 'The Black Cats'.
As a specialised counter-terrorism force, it is intended to be used only in exceptional situations and is not meant to take over the functions of the State Police Forces or other Para Military Forces. Yet, over the years its role was expanded to provide personal security to influential politicians quite independent of the real threat that they face. However, in January 2020, the NSG was withdrawn from this task of VIP security to ensure its focus on its original roles as an elite counter-terrorism and anti-hijacking force.
The NSG is trained to conduct counter-terrorist tasks to including counter hijacking tasks on the land, sea, and air; Bomb disposal (search, detection, and neutralization of IEDs); PBI (Post Blast Investigation) and Hostage Rescue missions. The head of NSG, designated as Director General (DG), is selected by the MHA-Home Minister. Since its founding in 1984, the NSG has had 28 DGs, in 31 years, with an average tenure one year and few months.