Delhi, October 19: Twitter has come under fire as major controversy has erupted after Twitter India showed Jammu and Kashmir and L as part of the Peoples Republic of China during a live broadcast. This came to light after national security analyst Nitin A Gokhale found that Twitter has labeled the Indian territory of Leh in Ladakh as part of the People's Republic of China (PRC) during a live session on Twitter.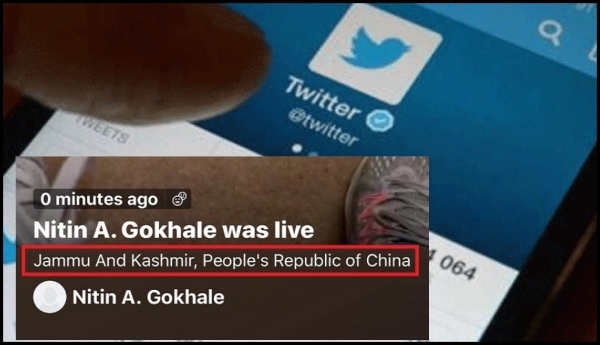 Sharing the screenshot of the video that "Nitin A Gokhale was live. Jammu and Kashmir, the People's Republic of China.," he said, " Tweeple pl put Hall of Fame Leh as your location for live broadcast and see what's happening. It shows the location as Jammu and Kashmir, Peoples Republic of China. I tested it again. Outrageous. Pl floods Twitter with complaints. GoI should take immediate action."
Taking about the incident Gokhale said, "This morning, I was live on Twitter along with Rohit Pandita to apprise people of my journey to Ladakh from Himachal Pradesh via a new road. After we finished our broadcast, to our horror, we found that the location we had put of our location of the War Memorial, Hall of Fame – a famous landmark in Leh came as Jammu and Kashmir, the People's Republic of China. I apprised Twitter by tagging them, expecting them to take action, but except for anger from the people of India, nothing happened.
He added, "We tried again by doing an experimental live with a different broadcast, but again the same results came up. Even now if you go live in areas near Leh airport, Leh's Hall of fame, it shows as 'J&K, People's Republic of China'. I do not know why this is happening, but it is my duty to inform you about it."
Following Gokhale's tweet, many netizens tried to go live from the region, sharing screenshots of how Twitter was marking the region as China's territory.
However, Twitter India has not yet responded to this matter.
Moreover, his is not the first time back in 2016, Twitter was accused of showing the erstwhile state of Jammu and Kashmir under Pakistan and China's territory. In one case Twitter was caught displaying the location of tweets as "Jammu And Kashmir, People's republic of China". That time its officials back then had called it a tech issue and had promised to get it fixed.
This comes amid, Chinese tech giant Xiaomi default weather app allegedly did not show results for Itanagar and Arunachal Pradesh. Not only that it also provided no results for other districts in the State such as Pasighat and Longding. It was found that the default weather apps of Chinese phones in India do not show reports for cities that China considers as 'disputed.