Bhopal, Oct 19: Madhya Pradesh Chief Minister Shivraj Singh Chouhan slammed at former CM Kamal Nath over his "item" remark against state minister Imarti Devi, saying it shows the "crooked and despicable mentality of the Congress".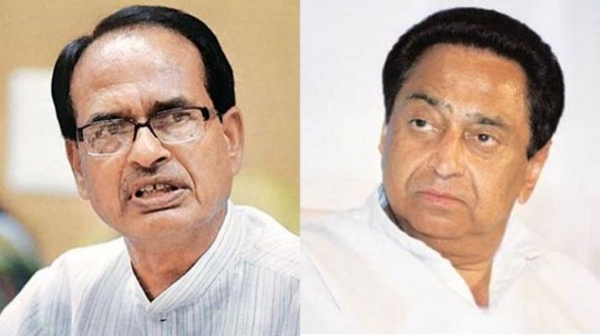 The CM has begun a silent protest over Nath's derogatory comments against the BJP leader today from 10 am. Sitting in for a protest, he tweeted, "Kamal Nath may be a very big businessman and industrialist, but has this allowed him to humiliate women? I also want to ask women leaders of Congress, do they fully support the words of their leader Kamal Nath ji?
Earlier, on Sunday in rally, the former Chief Minister had referred BJP leader Imrati Devi as item. "Suresh Raje ji hamare ummeedvar hai...yeh uske jaise nah hai...kya hai uska naam ... main kya uska naam lun? ...apko toh mujhe pehle savdhan karna chahiye tha ... yeh kya item hai... (Our candidate is not like her... what's her name? You know her better and should have warned me earlier... What an item!), Kamal Nath said in Hindi while the crowd called out Imarti Devi's name.
Responding to this, Chouhan tweeted, "Kamal Nath Ji! Imarti Devi is the daughter of a poor farmer who started her career by engaging in labor in the village and today she is contributing to nation-building by working as a public servant. Congress called me 'Bhookha-Nanga' (impoverished) and used a term like an 'item' for a woman. This reflects their feudal mindset."
Further, he added, "With your cheap statement, Congress' crooked and despicable mentality has come to the fore again. You have not just disrespected Smt Imarti Devi, but each and every girl and sister of the Gwalior-Chambal region. Kamal Nathji who gave you the right to play with the respect of women?"
Earlier, on Sunday, Chouhan, former Union minister Jyotiraditya Scindia, and state BJP president Vishnu Dutt Sharma had decided sit on a silent fast (protest) for two hours in Bhopal, Indore, and Gwalior, respectively, on Monday, to protest against Nath's statement, a party release said. Meanwhile, a BJP delegation on Sunday met Election Commission officials in Bhopal and complained against Nath for "insulting women and Dalits".
Imarti Devi and 21 other MLAs loyal to Jyotiraditya Scindia had resigned from the Congress and the state Assembly and joined the BJP in March, in the process bringing down the Nath government. By-elections for 28 Madhya Pradesh Assembly seats will be held on November 3 and the counting of votes will be held on November 10.