New Delhi, Oct 2 : The Ministry of Drinking Water and Sanitation will be celebrating the completion of 6 years this year of the implementation of the Swachha Bharat Mission which was launched on October 2, 2014. The mission was launched with an aim to create a Clean India by Oct 2, 2019, which was the 150th Birth Anniversary of Mahatma Gandhi.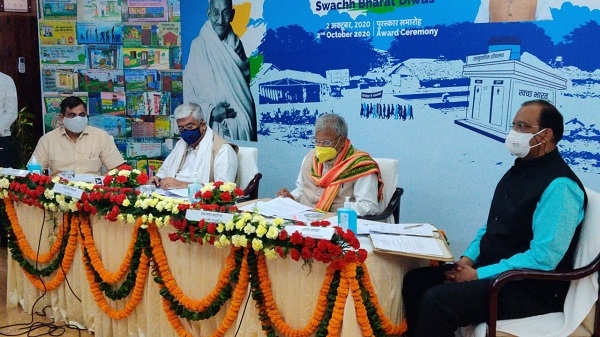 The mission completed its first phase in 2019, and is currently is in its second phase, which is implementation of the Abhiyan at the rural level. The campaign initiated from Rajghat in 2014 when PM Narendra Modi gave the slogan 'Ek Kadam Swachhata Ki Or'. The Mission is organised in two phases where the first phase was aimed at Sanitation of cities and was implemented by Ministry of Housing and Urban Affairs ( MoHUA ). The second phase which was aimed at sanitizing rural India named as Swachha Bharat - Gramin was implemented by Ministry of Drinking Water and Sanitation. Under the first phase, cities have been rated in three categories based on Swachha Sarvekshan as 5 - starred, 3 - starred and 1 - starred, based on rating provided by MoHUA. Indore, Ambikapur, Navi Mumbai, Surat, Rajkot and Mysore have been rated with 5 stars for their best performance. Further 86 cities and 64 cities have been categorized under 3 - star and 1 - star rated categories respectively.
The mission so far has manged to include around 5 lakh sanitation workers for the welfare schemes. According to data, 4327 urban local bodies have been declared Open Defecation free in the first phase of the mission. This is supported by the fact that 66 lakh individual household toilets were constructed and over 6 lakh community or public toilets were constructed. Data also suggests that around 97 per cent of wards received door-to-door collection of waste under Sewage Waste Management in last 6 years. SInce 2014, due to the success of the mission, 14 per cent of generated waste that was being processed has now increased up to 67 per cent.
On the 6th anniversary of Swachha Bharat Mission, the government will be directing the mission towards Sewage Management and hebnce a GIS portal will be launched to showcase innovative practices in order to implement Sewage Management. In regard of the Covid 19 pandemic, a document will also be officially released about sanitation provided by cities during the pandemic.
The government had organized several competitions to celebrate 6 years of Swachha Bharat Mission and the winners were felicitated through a virtual program. Among the competition for cleanest state Gujarat has stood first. Tirunelveli ( Tamil Nadu) has stood first at District level, Kharchod - Ujjain ( Madhya Pradesh ) at Block Level and Chinnaur Village ( Tamil Nadu ) has stood first at Gram Panchayat level in the nation for Swachha Sundar Samudayik Shauchalay Abhiyan.