September 20 will always be remembered as the Black Sunday in the annals of Indian democracy. The country was mortified to see members of the Rajya Sabha storming the well of the house, charging the presiding officer to tear papers in his face, standing on the secretary's table and even boxing the marshals. Honestly, the country must hang its head in shame for sending such representatives to the august body. Yes, the fault is entirely ours. Why blame them?
It is commonly said that cinema is a true reflection of popular thinking of the society at large and villains have been an integral part of the Indian cinema since the beginning. However, their characterisation has been undergoing changes to conform to the changing public perception. Iconic K N Singh lent a certain degree of sophistication to villainy, Ajit added wry humour and Amrish Puri distinct mannerism. Having gone through various phases of portrayal, villainy has now become the exclusive domain of the political leaders, a la Amole Gupte in 'Phas Gaye Re Obama'. He is shown as a minister heading a ruthless kidnapping mafia.
Now a days, the moment a character in 'khadi' and white cap appears on the screen, the audience recognises him as the chief villain. Worse, he is shown to be occupying the coveted chair of Home Minister. He patronizes criminal gangs, has corrupt police officers in tow and has no inhibitions in selling the country for money. He supports widow homes overtly but demands women covertly. He divides people by instigating religious riots. In short, he is depicted as the most unscrupulous and devious specimen of humanity. Interestingly, no political leader has ever contested such projection as they all know it to be true.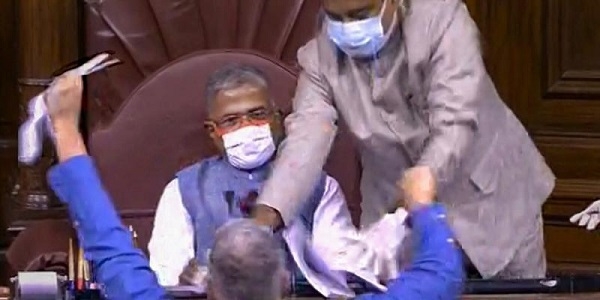 Unfortunately, politics in India have come to be identified with everything immoral and decadent. Most Indians feel disgusted with the present genre of political leaders, and their misdemeanours have stopped surprising the countrymen. It is often said that people get the leadership they deserve. Do Indians have any choice? When they go to vote, there is not a single name that inspires confidence and the whole exercise gets reduced to voting for the lesser devil.
Deplorable Disregard of National Interests
Facilitation of illegal immigrants from Bangladesh has been the gravest anti-national mischief in Independent India. As a result, immense damage has been done to the demography of Assam, with 30 Islamic groups thriving in the area to further their Islamist and Pan-Bangladesh agenda. Worse, some political leaders assail those who demand a check on the ongoing influx.
To Indian politicians, vote bank politics preclude letting the countrymen stay united. They generate innovative issues to divide the people to keep them embroiled in petty discords and internal dissensions. During the last elections in Gujarat, poison of divisive politics was perfidiously injected into the social fabric of the society. With consummate skill, parochial leadership was nurtured to generate dissentions amongst Patidars, SC/ST and OBC, thereby dividing the society for electoral gains.
A few years ago, a renowned advocate and a former law minister told a TV channel that shouting slogans for the destruction of the country had not been debarred in the constitution. Similarly, some political leaders extended their support to a delinquent student leader who sought destruction of India. Comparing him with martyr Bhagat Singh was by far the most treacherous act. Perhaps, India is the only country that has the ignominious track record of producing Home Ministers who revelled in presenting Pakistan with anti-India ammunition, thereby shaming the country. Similarly, terming of the Batla House encounter – that led to the death of two terrorists and one police officer – to be stage-managed made Pak media ecstatic. It keeps mocking India to date.
Some of our leaders with suspect loyalties display compassion for the stone-pelters who abet terrorism but never shed a tear for the hapless soldiers and policemen braving them. The reprehensible level to which India's political leaders can stoop became obvious when the news of a leading light of a political party sought Pakistan's help to unseat the duly elected government in India.
Disdain for the Legislative Bodies
India spends hundreds of crores annually to sustain the central and state legislative bodies, euphemistically called 'temples of democracy'. All parties are guilty of lowering the image of these institutions. It is simply disgusting to see members storming the well of the house, displaying placards, shouting slogans and even resorting to howling to prevent the house from transacting any business. Worse, they have the brazenness to call such behaviour as their democratic right to oppose the government.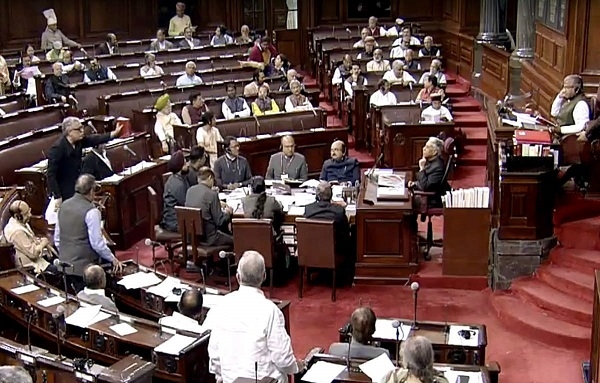 It is very rare to hear a member deliver a well-researched and articulated speech. Most of the time, the houses witness shouting and slanging bouts, full of allegations and counter-allegations. When an opposition leader disrupts the house for irrelevant reasons, the whole country tends to lose faith in India's political dispensation. We elect leaders and give them tenure in office to fulfil the promises made to us and not to waste national exchequer.
Attendance is always woefully low. Most members spend time in the canteens rather than attend the sessions and contribute their bit. Many members utilize the comfort of the house to take forty winks as the droning and monotonous proceedings put them to sound sleep. It is disgusting to watch leaders chewing tobacco in the house and even speaking with their mouths full with zarda. A vociferous opposition leader can hardly be understood with his mouth painted red with betel-nut. What example do they set for the younger generations!
Penchant for Unbecoming Behaviour
When Tharoor declares, "It's safer to be a cow than a Muslim in India today," he puts the whole country to shame. The world media flashes such headlines with sinister pleasure. India's image takes a terrible beating. Hamid Ansari's last interview as the Vice-President of India was certainly malicious. His assertions caused immense damage to India's secular image.
We have witnessed our legislators misbehaving in the aircrafts, trains, toll barriers and other public places. Their arrogance and demand for special treatment borders on obnoxiousness. The images of a legislator sprinkling petrol in a government office and threatening to burn it down shocked the country. Thrashing of a senior bureaucrat for not acceding to the unreasonable demands of the ruling legislators shows the depths to which the political narrative has sunk in India.
As politics have acquired traits of family business, the conduct of their progeny is equally disgraceful. Uncouth, foul-mouthed and ill-mannered school-drop-outs are commanding wealth worth hundreds of crores through sheer muscle-power and political patronage. Does it surprise anyone that not a single progeny of the current crop of political leaders has excelled in any scientific or academic pursuit?
Similarly, provision of security to retired dignitaries should be purely threat-based and not as a matter of entitlement. Why should every retired President, Prime Minister, Chief Minister or other high ranking appointment be provided elaborate state security as a matter of routine? Who would ever want to harm Man Mohan Singh and Pratibha Patil?
Undue Privileges
Members of the Indian legislatures are perhaps the most pampered lot. Interestingly, they are the only ones who have the powers to grant pay hikes and pensions to themselves. Such an arrangement makes a mockery of the principle of avoiding conflict of interests. All inter-party differences disappear when the issue of protecting their right to decide the entitlement and quantum of pension faces challenge.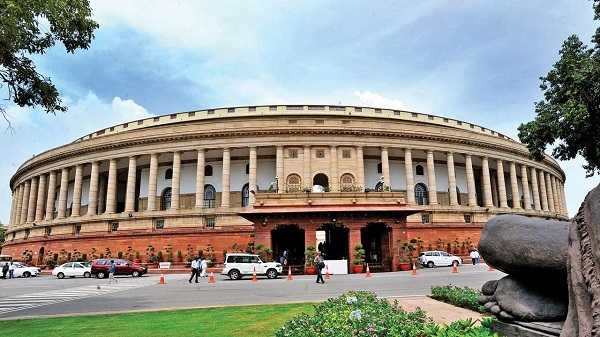 It takes minimum 20 years of service for a government employee to earn pension. Our Members of Parliament (MP) become eligible for life-long monthly pension of Rs 20,000 even if they serve for just a day. However, those who serve for more than 5 years are entitled an additional sum of Rs 1,500 for every year in excess of 5 years. On the demise of an ex-MP, his spouse or dependent receives a family pension for life. State legislature can never be found lagging behind in such pillage of the public money. Some time ago, the Tamil Nadu Assembly hiked the salary of its members from Rs 55,000 to Rs 1.05 lakh per month and pension from Rs 12,000 to Rs 20,000.
One has heard of food subsidy for the deprived and the underprivileged sections of the society. To subsidise food for the richest and the most privileged elite is an affront to basic human values. Under considerable public criticism, the Parliament House Canteen recently hiked the rates of the dishes. With such ridiculously low rates, political leadership of the country demonstrated its total disregard for public opinion and probity.
Many unscrupulous characters rent out the allotted government houses surreptitiously to make quick money. Many leaders decline to vacate the accommodation after their entitlement gets over and have to be forcibly evicted. Another common stratagem is to hold on to the accommodation in the guise of memorial for the departed leader. One odd room is used to house the household memorabilia of the deceased leader while the rest of the bungalow is merrily used by the extended family.
Way to Redemption
Political leaders believe in the ends and not the means employed. To them, only power matters. They bank on short public memory to remain in the business of politicking. However, many optimists feel that all is not lost as yet. They want to build strong public and media pressure, hoping that some sensitive leaders may get persuaded to introspect.
To start with, a moral code of conduct for politicians should be evolved jointly by all political parties. Leaders must be asked to behave in public in a befitting manner. They should demand no immunity for their unbecoming conduct. They must stop demanding special privileges and identify themselves with the common man. Any political leader who does not vacate the allotted government accommodation or misuses it should be publically named and shamed. Provision of security should be purely threat based and not as a matter of perk/entitlement. It is for leaders of stature to set an example by voluntarily renouncing excessive security.
To ensure orderly functioning of the legislative bodies, it is essential that the unruly elements be prevented from entering the well of the house to disrupt proceedings. For that, erection of a 5-feet high glass barricade around the well is suggested. It will segregate the chair and the secretariat from the rest of the house. There should also be a facility to switch off mikes of the rowdy members. They can cry themselves hoarse while the house can transact its business through mikes. Many will consider the above suggestions to be too drastic; but then, extraordinary problems need radical solutions.
A major segment of the society is sceptical about the likelihood of a change of heart amongst the political leaders; their past track record hardly inspires any confidence. However, one is hopeful that some elements of our political elite would certainly be feeling uncomfortable with the current standing of the political class. They must be yearning to redeem their credibility. Howsoever small their number may be; they can certainly initiate a movement to cleanse the system.
To end on an optimistic note, let us look at two encouraging developments. They provide a ray of hope. One, MP Varun Gandhi questioned Parliamentarians' powers to increase their own salaries and recommended that economically advantaged MPs should forego their remuneration for the remainder of the current Lok Sabha. Two, MP Manoj Tiwari proposed deducting the salaries of MPs for their failure to engage in any constructive work and wanted the fair practice of 'no-work no-pay' to be followed. Even if a small segment of the political leadership gets spurred to introspect, the country may witness a change for the better.