Washington DC, October 20: Ahead of the third edition of the 2+2 dialogue between India and the U.S, the Indian Army's vice-chief Lt General Satinder K Saini, on Monday met with Major General Ronald P Clark, Chief of Staff of US Indo-Pacific Command in a bid to enhance military cooperation between India and US armies.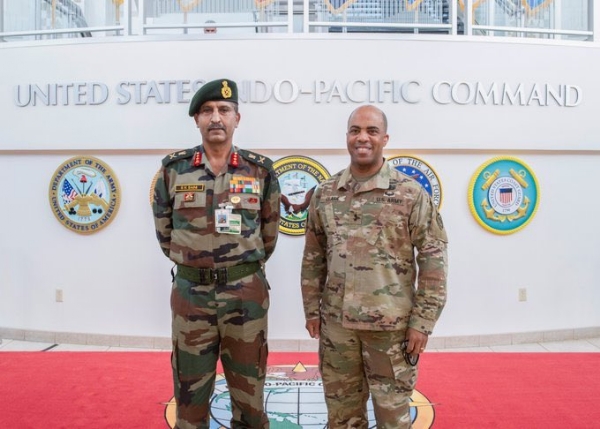 They discuss the US and Indian partnerships in the region. Saini is on a three-day visit to the US. The US Army Pacific yesterday said that the ongoing visit by Lt Gen. Saini to the US Indo Pacific Command is building trust and interoperability between both the armies which are central to a free, open, inclusive, peaceful, and prosperous Indo-Pacific region.
US Army Pacific further said, " This visit will build trust and interoperability between the U.S.-and Indian Army. The U.S.-India Army-to-Army relationship is strong and opportunities exist for increased cooperation."
The visit will further enhance the operational and strat level collaboration between both armies, which is emphasised by the fact India is participating in two joint exercises with the US despite COVID-19 restrictions. These are Yudh Abhyas (February 2021) and Vajra Prahar (March 2021).
US Indo-Pacific Command – is one of the six geographic combatant commands set up by the Department of Defense's Unified Command Plan to ensure order in the region, along with the support of Australia and Japan, which together also form the 'Quad'. It is a heavily militarised area, with the presence of seven of the world's 10 largest standing militaries and five of the world's powerful nuclear nations.
Moreover, the third edition of the 2+2 dialogue is expected to take place on October 26 and 27.