Washington DC, October 21: To build close ties with India in order to counter China's aggression, US Secretary of State Mike Pompeo and US Defence Secretary Mark Esper will travel to New Delhi on October 26-27 for the 2+2 dialogue between the two countries. The meeting also will involve Defence Minister Rajnath Singh and External Minister S Jaishankar.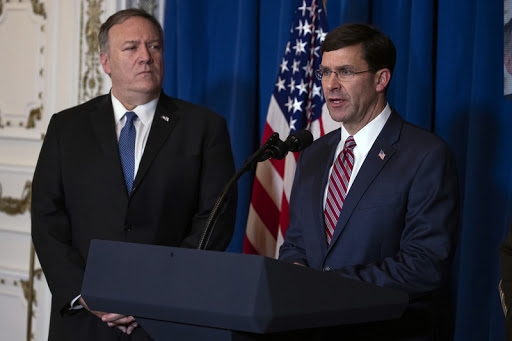 The meeting will focus on bolstering close ties amid an ongoing conflict with China. During the meet, India and the US are expected to sign the Basic Exchange and Cooperation Agreement (BECA) for geospatial cooperation during the dialogue.
During a webinar organized by The Atlantic Council think-tank, Mark Esper said, "Secretary Pompeo and I will be there next week, and it's our second two plus two with the Indians, the third ever for the United States and India and it's very important."
"India will well be the most consequential partner for us, I think, in the Indo-Pacific for sure, in the century, and look it's the world's largest democracy, a very capable country, very talented people, and they face off every day, the Chinese aggression in the Himalayas, specifically along that line of actual control," he added.
This will be the third edition of the India-US 2+2 that with India hosting the first in 2018 in New Delhi and the United States hosted the second in Washington DC in 2019.
After attending the 2+2 talks in Delhi, Pompeo will visit India's two Indian Ocean neighbors, Sri Lanka and the Maldives, as America seeks to balance China's growing influence in the region. Pompeo's visit will focus on the travel bubble arrangement in view of the COVID-19 pandemic.
Earlier US Deputy Secretary of State, Stephen E. Biegun visited India on 12 October. During his visit, he held talks with Foreign Secretary, Shri Harsh Vardhan Shringla on 13 October 2020.0. They reviewed the entire gamut of engagements under the India-US Comprehensive Global Strategic Partnership, including political, security and defense, economic, commercial, technology, and people-to-people contacts.