Washinton DC, October 21: Days after India announced Australia's participation in the upcoming Malabar exercise, the bipartisan group of influential American Senators on Tuesday welcomed the decision, saying the addition of such a uniquely capable and stalwart partner, like Australia, to this naval exercise is invaluable.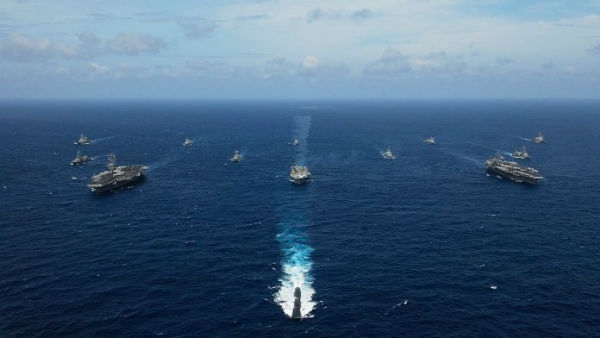 US Senator & Senate India Caucus Chair John Cornyn, along with a bipartisan group of senators, sent a letter to Ambassador of India to the United States Taranjit Singh Sandhu expressing support for India's decision to invite Australia to participate in the annual Malabar Exercise.
In a letter to India''s Ambassador to the US, Taranjit Singh Sandhu the Senators said, "In the face of China's rising military and economic assertiveness, strengthening of the Quad has become increasingly important."
"From an operational perspective, the addition of such a uniquely capable and stalwart partner, like Australia, to this naval exercise is invaluable, providing increased interoperability, strengthening threat assessment abilities and enhancing the maritime roles and missions of the four naval powers," the senators wrote
"In response to these malign actions, the US has signaled its increased commitment to the region with the newly proposed Pacific Deterrence Initiative, which will complement the Asia Reassurance Initiative Act (ARIA) to provide a more robust military presence. However, without coordinated efforts among committed and capable partners, solitary actions will not sufficiently address these ever-evolving security challenges," the Senators wrote in the letter to Sandhu.
It also further added that "Pandemic has also exacerbated concerns about China's Belt & Road Initiative & resulting debt-trap diplomacy. A free & open Indo-Pacific must come with sustainable investment in the region and infrastructure that is physically secure, financially viable, and socially responsible. BRI's opaque and predatory nature fails to meet these standards."
The letter was led by Republican Senator David Perdue, a member of Senate Foreign Relations Committee, the letter among others was signed by Senators Marsha Blackburn, Chris Coons, John Cornyn, Kevin Cramer, Ted Cruz, Josh Hawley, James Lankford, Kelly Loeffler, Martha McSally, Marco Rubio, Dan Sullivan, Thom Tillis, and Mark Warner.