Hyderabad, October 21: Giving a major boost to Rail Infrastructure, Indian Railways has commissioned 22 km electrified the third line and electrification between Raghavapuram and Kolanur in the Telangana region, South Central Railway (SCR) on Tuesday said.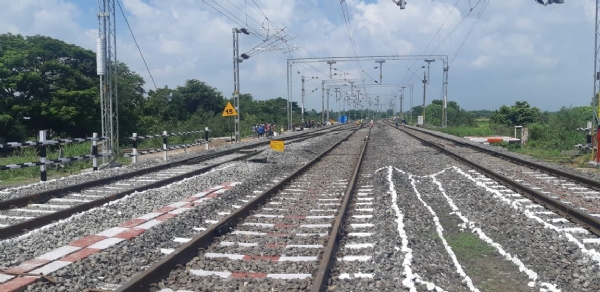 The third line was completed as part of the Kazipet – Balharshah tripling and electrification project, a significant project under progress for expansion of rail network in the State. The section between Kazipet – Balharshah is a vital rail link situated in the grand trunk route connecting the northern States with the southern region of the country.
The section between Kazipet – Balharshah on SCR is majorly coming under Telangana State and partly in Maharashtra. This mainline provides crucial rail connectivity to many cement clusters, coal screening plants, and powerhouses situated in this section.
This project will enhance connectivity between the regions and it will benefit the freight traffic. It will also boost the development of the region.
To further facilitate traffic, tripling and electrification on the stretch of the Kazipet – Balharshah section, for a distance of 202 km (Telangana-159 km and Maharashtra-43 km) were sanctioned in the year 2015-16 with an estimated cost of R 2,063 million.
The execution of third-line works of the whole project is taken up simultaneously in different sections, and the works in all parts of the Telangana and Maharashtra region are progressing rapidly. The execution of the works for this project has been prioritized as it is important.
Besides this, 29 smaller bridges and three large bridges were undertaken. The infrastructure and passenger facilities have been improved in the Peddapalli junction, Raghavapuram, and Kolanur stations by improving high-level platforms, relay rooms, and security through an advanced electronic associated signaling system.