The Indian polity has witnessed a tectonic shift with the general elections of 2014. As some impartial and Indic observers pointed out, Hinduness has become the defining character of society in general and polity in particular. We also have seen the return of olden days when one party dominated the political discourse in the absence of credible opposition.
The political developments in India never seemed too bright before the announcement of Shri Narendra Modi's name as a Prime Ministerial candidate of BJP in 2013. Ms Shila Bhat, a noted journalist who has tracked politics in Gujrat for long, points out that his closest associate Shri. Amit Shah played a significant role in making this happen. As noted in one of her pieces in the Indian Express, she writes that Prime Minister Narendra Modi and Shri Amit Shah have known each other since 1987. She further says, in one of their meetings in Chandravilas Restaurant located on the Gandhi Road of Ahmadabad, Shah told PM Modi "Narendrabhai, get ready to become Prime Minister of India." This was long before Modi even became Chief Minister of Gujrat. Ravish Kumar, an NDTV journalist in one of his programmes on Amit Shah says, the duo started exploring the world outside of Gujrat politics after BJP could not form the government at the centre in 2009 general elections. As committed soldiers of the party; they created their path to the national politics without hindering anybody else' path. It was Amit Shah who insisted on Narendra Modi contesting his Lok Sabha seat from Varanasi to break caste based alliances in the state.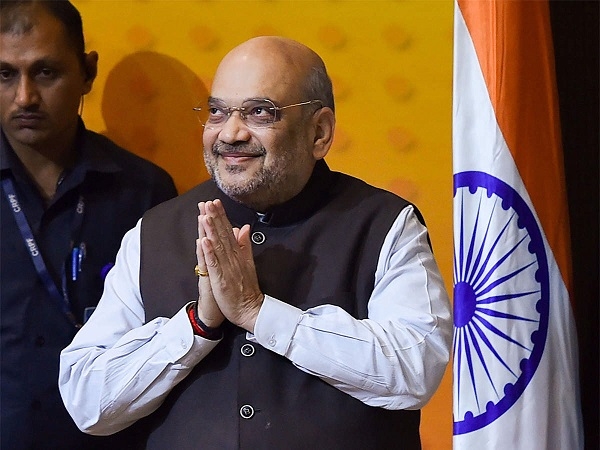 As a general secretary of BJP in charge of Uttar Pradesh in 2014, Amit Shah's well planned strategy paid rich dividends. The party won 71 Lok Sabha seats, a monumental increase from 10 seats it won in Lok Sabha 2009 elections. Despite Shah has known PM Modi since so log and shares close connection with him, he has always exhibited absolutely formal gestures in public life with him. He does not hold megalomaniac notions about himself. In all his public interactions, he quite categorically maintains that Modi is his leader and he is committed karykarta of his party. Shri Amit Anilchandra Shah was born in Mumbai on 22 October 1964 into an affluent Gujrati Hindu Vaishnava family. His father Anilchandra Shah owned a successful PVC pipe business. He spent earlier 16 years of his life and completed schooling in the RBLE School in Mansa, his paternal place in Gujrat. His childhood accounts reveal that he fought the first election of his life in the class seventh as a class monitor and out 50 students in his class, seventy five percent voted for him.
From childhood, he was gifted with an eye to hunt talent among his companions and to utilize them for right purposes. His 'born to rule' attitude, unflinching determination and never say die spirit have been the hallmark of his personality since childhood. At the age of sixteen he moved from Mansa to Ahmadabad to study biochemistry at CU Shah Science College and joined Ahil Bhartiya Vidyarthi Parishad (ABVP), a student wing affiliated to Rashtriya Swayamsevak Sangh (RSS). Within the span of two years of joining ABVP he was made a joint secretary of Gujrat ABVP.
Along with his affiliations with RSS, it was in 1980s that he also laid the foundations of his spiritual life under the auspices of Swami Vamdev who originally came from Western Uttar Pradesh. Swami Vamdev belongs to the Dashnami Sampradaya of Sadhus founded by Adi Shankaracharya in the 8th Century and also happens to be one amongst five Mahants who led the movement for the construction of Ram Mandir in Ayodhya for the first time. It was on his advice that Shri Shah took part in Kumbh Mela and spent time with many Sadhus in 1986. His active participation in this Kumbh Mela and marathon interactions with Sadhus there strengthened his conviction about rich and varied traditions and the greatness of Hinduness. Therefore his association with RSS and his spiritual moorings helped him shape his views in private life and in public thinking.
Shri Shah and PM Modi met in the year 1980 in Ahmadabad for the first time in Sangh Shakha, a morning gathering of RSS. However, they came closer in the year 1987 when the duo entered into the BJP. A lot of RSS cadre was allowed to enter into the BJP after Shri Lal Krishna Advani became the party president in 1986. However, what distinguished Modi and Shah from the others was their ability to translate the organizing skills learnt in RSS by keeping political exigencies in Mind.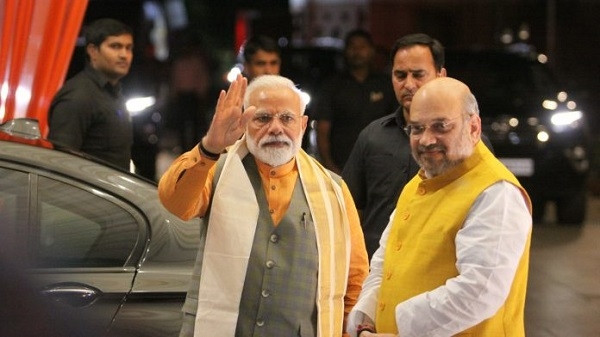 Shri Shah started his political career in Bhartiya Janta Yuva Morcha. Endowed with extraordinary organizing skills and ability to work tirelessly, he scaled up the ladder holding various positions including that of ward secretary, taluka secretary, state secretary, vice-president and general secretary in the Gujrat BJP. His big break in politics came when he was assigned the responsibility of an election campaign manager for Shri Lal Krishna Advani in Gandhi Nagar during the 1991 Lok Sabha Elections. His masterly planned election campaign brought him into limelight within the party circles.
Modi and Shah played a significant role in the formation of first BJP government in 1995 in Gujrat with Shri Keshubhai Patel as the Chief Minister. That time, Congress party had a stronger vote base in rural areas and had won large number of panchayat elections. To contain congress' influence over the voters in rural Gujarat, Modi and Shah identified the second most influential person in each village and got him in the BJP. As a part of this strategy they created a network of 8000 influential rural leaders who proved to be of great help during elections. They did the same to reduce Congress' influence over the state's powerful cooperatives that play an important role in state's economy. Mr. Shah successfully contested election and became president of Ahmadabad District Cooperative Bank (ADCB), the biggest cooperative bank in India in 1999. In this election Shah strategically broke the caste alliances that were so prevalent in the elections of ADCB Bank. Not only that, his presidential tenure saved the bank that was on the verge of collapse because of the losses it had suffered and converted the bank into profit making entity. Modi-Shah duo also sought to reduce the Congress hold over sport bodies in the state. Shri Shah went on to become president of Gujarat Chess Association, vice-president and then the president of cash rich Gujrat Cricket Association.
In 1995, Modi, due to his rift with Shankarsinh Waghela, was sent to Delhi as National General Secretary and Shah stayed back in Gujrat working to strengthen the BJP organization and stood for Modi all along. Shri. Shah successfully contested his first assembly seat in 1997 for the Gujrat Legislative Assembly by-election of Sarkhej constituency in Ahmadabad. He retained his seat in the 1998 Assembly Elections. Thereafter, Shri Shah contested various state assembly elections from Sarkhej and Narainpura and won with record break margins. In 2001, BJP replaced Keshubhai Patel with Narendra Modi due to his falling health and loss of grip over the administration. During PM Modi's twelve-year tenure as Gujrat CM, Shah emerged as one of the most powerful leaders in Gujarat. After winning the 2002 elections, he became the youngest minister in the Modi government and handled multiple portfolios. At one time, he held twelve portfolios: Home, Law and Justice, Prison, Border Security, Civil Defense, Excise, Transport, Prohibition, Home Guards, Gram Rakshak Dal, Police, Housing and Legislative and Parliamentary Affairs.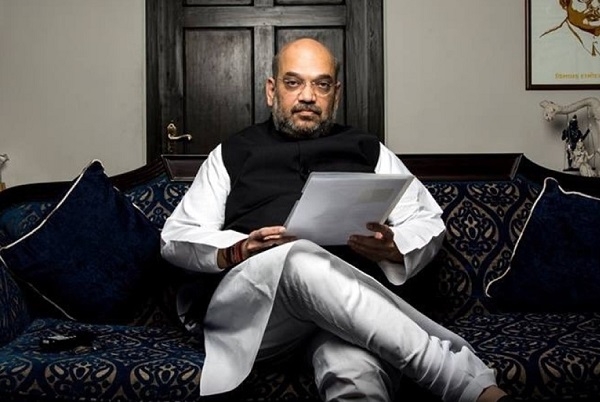 In 2010, Mr. Amit Shah was falsely implicated for having orchestrated the extrajudicial killing of criminal Sohrabuddin, his wife Kauser Bi and his criminal associate Tulsiram Prajapati by the then congress government in the centre. He has faced the imprisonment for three months after which he was released on bail but on the condition that he would not come to Gujarat for two years. But Shri Shah is someone who turns his adversities into opportunities. All this while he stayed in Delhi, he built up close contacts with the national leaders of the BJP. Shri Shah's determination to defeat Congress becomes even more concrete because it conspired against him and made him face imprisonment. Reciting from the Gita before his jail inmates, he took vow to defeat congress and he chose Uttar Pradesh to keep his promise. What we witnessed thereafter in Uttar Pradesh is history. He exhibited even more astute organizing skills, determination, and fire in the belly to win the Uttar Pradesh Assembly Elections making his party win 312 seats out of 403 seat assembly strength. Since he took over the mantle of BJP's National President, he has taken the party to newer heights making it win in various states including that of north-eastern states where BJP's presence was negligible. Under his tenure as a Party President that BJP got full majority in the 17th Lok Sabha with 303 seats. This was unimaginable before 2014.
Along with PM Modi's charisma, credit also goes to decisive leadership offered by party president Shri Amit Shah. He calls himself "chipku" and that explains why he is so determined to achieve the goal he sets for himself. As party president, he emphasizes upon creating properly equipped party offices with proper utilization of money allocated for the purpose. He also wants the party workers to collect anecdotes, essays, pictures, videos and books on BJP's history for the benefit of coming generation. He wants the BJP workers read as much as they can to counter the anti BJP narratives.
India will remember Shri Shah as Home Minister the most as he has taken certain concrete and bold steps which we as nation had hoped for too long. The abrogation of article 370, the decision to do away with the practice of Triple Talaq, the successful handling of Law and Order Situation after the Hon'ble SC's verdict in favor of the construction of Ram Mndir in Ayodhya, the Citizenship Amendment Bill etc. have re-invoked India's aspirations for something that's bigger and better. There will always be naysayers and detractors but as Shri Shah himself says he does things because that's what Indians want him to do. Ultimately it's for history to judge in the posterity. But for sure Shri Amit Shah's thoughts and actions in relation to socio-economic-political issues, national security, election strategies, organizing skills, new initiatives for his party will serve the reference points for analysts and observers on Indian politics.