Kolkata, October 22: West Bengal celebrates Durga puja amidst pandemic and hence this year is slightly different from other years. Each year, pandal hoppers and people of Bengal manage to catch a glimpse of varied themes of puja pandals. But this year, one of the most sought after themes of Durga Puja pandals across the state is the 'Migrant Crisis'.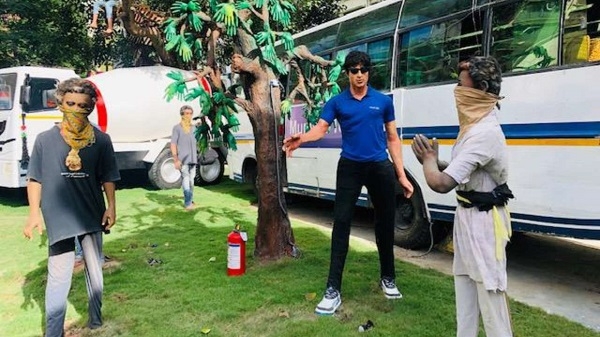 The Prafulla Kanan Welfare Association in Kolkata has set up Sonu Sood's life-size statue at their Durga Puja pandal. The actor was seen dressed in a blue T-shirt, jeans and sunglasses, as he guided the migrant workers for their journeys. A bus, that became a symbol of his heroics while sending the migrants to different parts of the country, too was erected behind him.
Srinjay Dutta, member of Prafulla Kanan Welfare Association, stated to one of the news agencies that their initiative was to be inspired from Sonu Sood to help people in need. Apart from Sonu Sood, another highlight of the lockdown, the sufferings of the migrants, as they headed to their respective cities, was displayed in the Durga Puja pandal as well.
Sonu Sood was termed as a 'real hero' as he started arranging buses to help migrant workers and others head back to their cities during the start of the lockdown. Starting with buses, as major transport services were shut, he also helped people travel through trains and flights later. Not just that, he arranged for the return of Indian students from countries like Kyrgyzstan and many others.
His endeavour was not restricted to migrants. Face shields to Maharashtra police, rehabiliation of dilapidated houses, mobile phones for students and funding of medical treatments for the underprivileged were some of the other initiatives. He has now started a job providing platform, a platform for scholarship for students, IAS exam training facility and a helpline number for medical needs.