Patna, Oct 23 : Prime Minister Narendra Modi has inaugurated the election campaign for Bihar State Assembly by addressing the first rally at Sasaram, as the Senior most member of BJP. He said that the voters of Bihar have taken a resolve that they won't let them close, who have a history of making the state 'Bimaru'.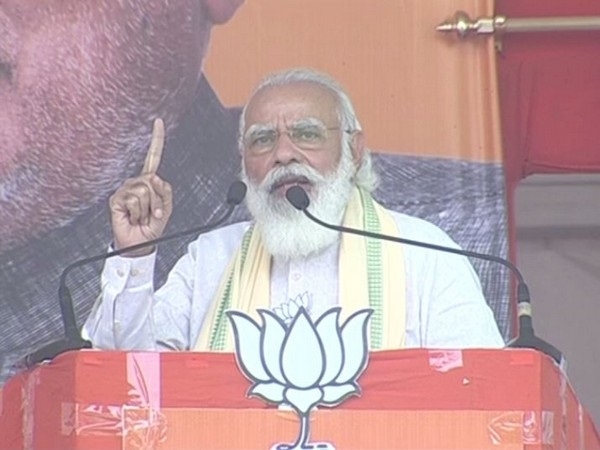 While addressing the rally, Narendra Modi talked about several developmental projects that the Nitish Kumar led NDA state government had carried out and executed successfully in the last term. He targeted the opposition by saying that the people who once ruled Bihar are again looking at the developing state with their greedy eyes. But, Bihar must not forget who pushed them backward, that was the time when there was worsening law and order situation and corruption in the state.
He congratulated the people of Bihar for their strong fight against COVID-19 and asked them to trust the NDA government for another term so that the development programmes that have been initiated by the government would continue at the same pace in the coming year, in order to install infrastructural and other development in the state.
He also gave a short review of work being carried out at national level under NDA government which has impact on every citizen of the country. In this regard he said that the NDA government abrogated Article 370, but the opposition wants it back. He stressed that the government is firm on this decision and there is no going back from the abrogation. He also mentioned that the opposition is misguiding innocent farmers about the new Farm Laws and is using the Mandi and MSP as excuses to ultimately save the brokers and middlemen.
While addressing another rally later at Gaya, PM Modi took up the issue of Naxalism and slammed 'Mahagathbandhan' for supporting the Naxalite activities in the region. He also added that in the last few years, a lot of efforts and strict actions have been taken to limit the activities of Naxals in the country. Naxal presence has now been restricted to limited areas.
In order to reach out to maximum people amid the Covid-19 pandemic, BJP is telecasting PM Modi's rallies digitally in Bihar. State BJP President Sanjay Jaiswal has informed that there are four LED screens and one giant screen in every assembly constituencies to telecast PM's speech.