Washington DC, October 23: In the final presidential debate of the 2020 presidential campaign, US President Donald Trump and his Democratic challenger Joe Biden fiercely clashed over several issues, including the COVID-19 pandemic, racism, economy, and climate when there is just less than two weeks ahead of the crucial presidential elections on November 3.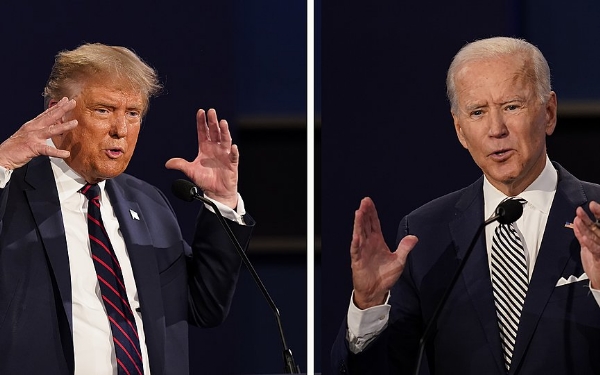 To avoid a rerun of their first contentious debate, the microphones of US President Donald Trump and Democratic contender Joe Biden were muted during the third presidential debate on Friday. The decision to mute microphones comes after a chaotic first presidential debate that saw the two candidates interrupting each other repeatedly.
The second debate was originally scheduled to take place on October 15th however it was canceled after Trump refused to do a virtual face-off with 77-year-old Biden despite concerns over the president's COVID-19 diagnosis.
The final debate is being moderated by NBC News correspondent Kristen Welker.
COVID-19
During the debate, Donald Trump and Joe Biden exchanged barbs over tackling of Covid-19 pandemic The US President claims to take "full responsibility" for the COVID-19 pandemic but added, "It's not my fault that it came here. It's China's fault." Trump earlier criticised Biden's proposals on the COVID-19 saying "All he talks about is shutdowns. No, we're not going to shut down." However, Biden responded, "I'm going to shut down the virus, not the country."
Moreover, Trump insisted that Covid-19 would soon go away through medical breakthroughs and pointed to his recovery. He defended his push to reopen the United States as soon as possible. He said, the US has a vaccine that's coming, it's ready, it's going to be announced within weeks. Over which, Biden assailed President Trump as having no plan to stop a dark winter of coronavirus deaths. Biden said anyone responsible for that many deaths should not remain as president of the United States.
Trump warned that if Biden is elected, "you will have a depression the likes of which you've never seen."
Climate Change:
In the debate, US President Donald Trump mocks India's 'filthy' air quality in the final Presidential debate saying We have the 'Trillion trees' program. I want clean air and water. We have the best carbon emission numbers in 35 years. Look at China, how filthy it is. Look at Russia. Look at India, it's filthy. The air is filthy. We have done an incredible job. On which Biden taunts him saying, " the fastest growing industries in America are solar and wind energy. He thinks windmills cause cancer."
However, the Trump remark has drawn sharp reactions on social media. The remark may upset some within the electorally significant Indian-American community.
US National Security
Jumping into the next topic, the moderator brings up foreign country interference in the United States. "Any country that interferes in American elections will pay a price," begins Biden, saying it has been his clear position throughout his political career. "They are interfering with American sovereignty. That's what's going on right now," Joe Biden added. He said Russia would prefer Trump because "They know I know them. And they know me."
Relationship with North Korean leader Kim Jong Un
On that point, Joe Biden attacked Donald Trump for 'legitimising' North Korea by meeting with its Supre Leader Kim Jong Un. The former US VP called the North Korean leader a "thug". To this, Trump responded by mocking former US President Barack Obama saying that Kim "doesn't like" him. He also said that the Democrats "let us a mess". Trump even noted that the US is "not at war" with North Korea.
Race in the United States
On the mention of American families, the debate turned to the question of race in the United States. With the country being rocked with protests for several months amid the pandemic, Joe Biden noted that there is "institutional racism" in the country. Meanwhile, Trump who has been reluctant on using this phrase reiterated that he has done more for the African-American community than any other president since Abraham Lincoln. But Biden attacked Trump saying that he is "one of the most racist presidents we've had in modern history"
Trump has accused Biden of calling the African-American community "super predators" in 1994. Obama and Biden did not carry out criminal justice reforms, Trump says.
Biden's Warning
Moreover, During the debate Democratic presidential candidate, Joe Biden warned that any country that interferes in the US elections "will pay a price" if he gets elected as the commander-in-chief of the United States. Any country, no matter who it is, that interferes in American elections will pay a price...They will pay a price if I am elected. They are interfering with American sovereignty, that's what's going on right now," Biden said.