Karachi, Oct 24 : Hinduphobics in Pakistan have vandalized the Hinglaj Mata idol in a temple in Nagarparkar, Sindh. The incident was made public through a social media account run by minorities of Pakistan, who take it out to media whenever any anti-hindu action is taken in Imran Khan's Naya Pakistan.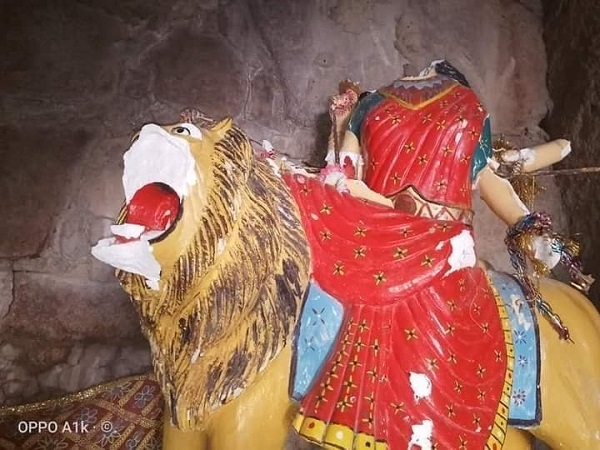 Sindh province of Pakistan is home to majority of the Hindus living in Pakistan. The region is a regular target to religious atrocities carried out by Pakistani muslims to prove their dominance. Women and children in the region are brutally harassed on regular basis. Since the region has many Hindu citizens, there are several Hindu temples, which are also targeted frequently by Pakistani Hinduphobics.
Amidst Navratri celebrations, another incident has come up of vandalizing the idol of Hinglaj Mata in Sindh's Nagarparkar. Hinglaj Mata is the Kuladevi of several Hindus not only from Pakistan but also India. In fact, there are even Balochi devotees who worship the goddess. Both the communities are minorities in Pakistan are facing life threatening issues on community level.
The incident took place on Oct 24 itself and the person responsible for the damage is not yet known. No legal action has been taken yet. However, while Pakistan faces the world shamelessly, talking about cases and falsely claiming of atrocities against Muslims in India, Hindus are openly being tortured in the land with rising incidents of atrocities against Pakistani minorities.