New Delhi, Oct 24: Enhancing growth and development in Gujarat, Prime Minister Narendra Modi on Saturday inaugurated 'Kisan Suryodaya Yojana' along with other two projects in Gujarat here via video conferencing. In addition to 'Kisan Suryodaya Yojana', he also inaugurated the Paediatric Heart Hospital attached with U.N Mehta Institute of Cardiology and Research Centre and a Mobile Application for telecardiology at the Ahmedabad Civil Hospital in Ahmedabad and the Ropeway at Girnar.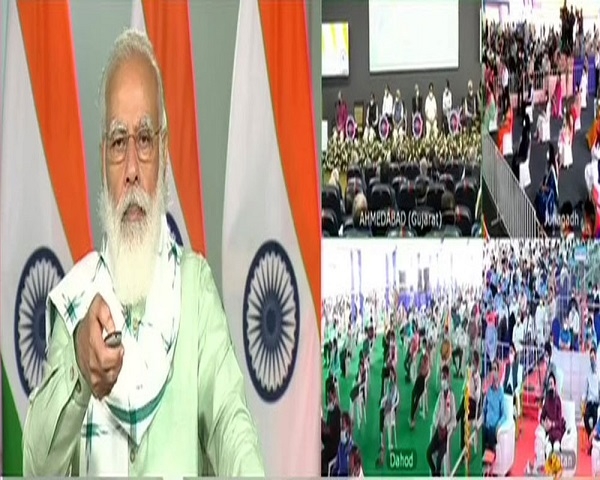 Speaking about this initiative by the state government, PM Modi congratulated the Gujarat government and said, "Under this yojana, next 2-3 years will see the laying of about 3,500 circuit kilometer new transmission lines. I am also told that this scheme will be implemented in over 1,000 villages in the coming days."
Further, he added, "Gujarat has also done a great job in the field of irrigation and drinking water along with electricity. All of us involved in this program know what was the water situation in Gujarat. Due to the efforts of the last two decades, water has reached to those villages where no one could have imagined before."
While inaugurating the hospital, PM Modi said, "In the last two decades, Gujarat has done unprecedented work in the field of health whether it is a network of modern hospitals, medical colleges, a huge work has been done to connect the villages with better health facilities."
"It is one of the few hospitals in the country that has a world class infrastructure as well as a modern health facility and would be India's largest cardiac hospital. He said Gujarat did a commendable work with setting up a network of modern hospitals, medical colleges and connecting every village with better health facilities," he said.
Further, he added that 21 lakh people of Gujarat have received free treatment under Ayushman Bharat scheme. More than 525 Jan Aushadi Kendras offering low cost medicines have been opened in Gujarat and out of this, about Rs 100 crore have been used to save the common people of Gujarat.
Later, after inaugurating the ropeway, PM Modi said, "This ropeway is the fourth ropeway in Gujarat. Due to this facility, many tourists will visit this place. Shivrajpur beach has also got international recognition - Blue Flag certification. On developing such sites, tourists will come there and will also bring new employment opportunities with them. Statue of Unity is now becoming a big tourist attraction."
The Prime Minister said Girnar mountain is the abode of Ma Ambe. It has Gorakhnath peak, Guru Dattatreya peak and a Jain temple. He said with the inauguration of the world class Rope Way more and more devotees and tourists will come here. He said this would be the fourth rope way in Gujarat along with Banaskantha, Pavagadh and Satpura.
With an aim to provide day-time power supply for irrigation, the Gujarat Government had recently announced the 'Kisan Suryodaya Yojana'. This scheme will provide the power supply to farmers from 5 am to 9 pm. For this scheme, the state has allocated a budget of Rs.3,500 crore for installing transmission infrastructure under this scheme by 2023.
234 '66-Kilowatt' transmission lines, with a total length of 3490 circuit kilometers (CKM) will be established under the project, in addition to 220 KV substations. Dahod, Patan, Mahisagar, Panchmahal, Chhota Udepur, Kheda, Tapi, Valsad, Anand and Gir-Somnath have been included under the Scheme for 2020-21. The remaining districts will be covered in a phase-wise manner by 2022-23.
U.N Mehta Institute will now become India's biggest hospital for cardiology in addition to being one of the select few hospitals in the world with a world-class medical infrastructure and medical facilities. It is undergoing expansion at the cost of Rs. 470 crores. The number of beds will increase from 450 to 1,251 after the completion of the expansion project. The Institute will also become the biggest single super speciality cardiac teaching institute in the country and one of the biggest single super speciality cardiac hospitals in the world.
Gujarat will once again be highlighted on the global tourism map as the Ropeway at Girnar will consist of 25-30 cabins, with a capacity of 8 people per cabin. A distance of 2.3 km will now be covered in just 7.5 minutes through the ropeway. In addition to this, the ropeway will also provide a scenic view of the lush green beauty surrounding the Girnar mountain.