New Delhi, October 27: During the Third India-US two plus two Ministerial Dialogue, India and the US today signed five agreements including a landmark defence pact, Basic Exchange and Cooperation Agreement for Geo-Spatial Cooperation (BECA), to expand geospatial information sharing between the armed forces of the two countries.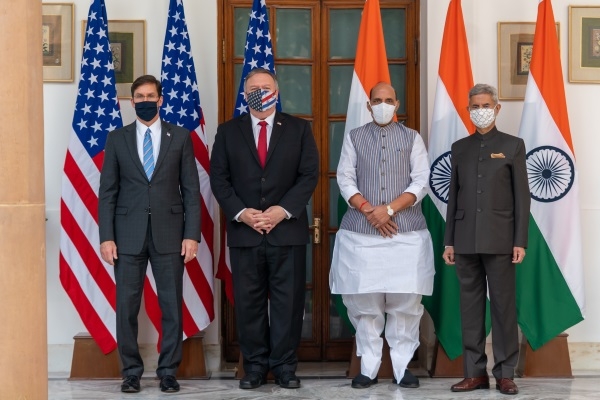 From the Indian side, Defence Minister Rajnath Singh and External Affairs Minister Dr. S. Jaishankar led the delegation. US Secretary of State Mike Pompeo and Secretary of Defence Mark Esper led the US delegation.
1. Agreement for Technical Cooperation on Earth Sciences
2. Arrangement extending the arrangement on nuclear cooperation
3. Agreement on postal services
4. Agreement on cooperation in Ayurveda and cancer research
During the meeting, the two sides deliberated on a host of critical issues including ways to further expand the already close relationship between the militaries of the two countries as well as broader issues of mutual interest in the Indo-Pacific region. Indian sides highlighted their capabilities of defence industries. The two delegations shared an assessment of the security situation across Indo Pacific. They also agreed that upholding rules-based international order and upholding the territorial integrity and sovereignty of all states is essential.
They also discussed their experiences in responding to the Covid-19 challenge at some length. They are also committed to creating more trusted and resilient global supply chains. They also committed to addressing together global issues ranging from HADR situations to maritime security and counter-terrorism.
In his opening remarks, talking about the agreement signing
Defence Minister Rajnath Singh
said BECA with the US is a "significant" move. We held a comprehensive discussion on a range of key issues: Inking of BECA with the US a significant move.
Our military to military cooperation with the US moving forward very well. We identified projects for the joint development of defence equipment. We reaffirmed our commitment to peace and security in the Indo-Pacific region,
" he said.
While delivering a joint statement alongside Defence Minister Rajnath Singh and US' Mike Pompeo and Mark Esper, S. Jaishankar said that the "main focus" of the discussions was the Indo-Pacific and the leaders reiterated the need for peace and stability in the reason.
Dr. Jaishankar added together, India and the US can make a real difference when it comes to regional and global challenges, whether it is in respecting territorial integrity, promoting maritime domain awareness, countering terrorism, or ensuring prosperity.
He said, over the last two decades, India - US bilateral relationship has grown steadily in its substance, facets, and significance adding the accompanying comfort levels today enable both countries to engage much more intensively on matters of national security.
Moreover speaking during the 2+2 Ministerial Dialogue, US Secretary Mike Pompeo said, "Today is the real opportunity for 2 great democracies like ours to grow closer, as I said on my trip to India last year when I called for a new age of ambition in our relation. I think we've delivered on that over the past year. There is much more work to do."
Pompeo also took the opportunity to slam China as he said that Our leaders & citizens see with increasing clarity that the Chinese Communist Party is no friend to democracy, rule of law, transparencynor the freedom of navigation, the foundation of a free and open and prosperous Indo-Pacific.New Delhi and Washington are taking steps to strengthen the cooperation in the Indo-Pacific against all manner of threats & not just those posed by the Chinese Communist Party.
He also added that the last year, we've expanded our cooperation on cyber issues, our navies have held joint exercises in the Indian ocean.
Pompeo Promises To Support India's Permanent Membership Of UNSC. "U.S values India as a multi-lateral partner, whether it's through the quad, making Afghan peace negotiation successful or working together during India's upcoming term on UN security council, we continue to support India's permanent membership of UNSC," Pompeo said.
Furthermore, US Secretary of Defence Mark Esper said that the growing defense and security partnership between India and the US will keep a check on the situation in the Indo-Pacific at a time when China is attempting to expand its economic and military clout in the region. The sensitive satellite and sensor data provided by the US under the agreement will allow India to keep a close watch on the movements of Chinese warships in the Indian Ocean.
Following the 2+2 ministerial dialogue, US Secretary of State Michael Pompeo and US Secretary of Defence Mark Esper met PM Narendra Modi. Defence Minister Rajnath Singh, EAM S Jaishankar, and NSA Ajit Doval were also present during the meet.
While just before the formal 2+2 meeting began at Hyderabad House, Mike Pompeo and Esper met NSA Ajit Doval and his team this morning.
Both sides highlighted the need to take forward shared objectives & build capabilities across all domains so as to ensure a safe, stable & rule-based regional & global security environment.