New Delhi, October 3: Giving a special tribute to the Indian-American astronaut Kalpana Chawla for her key contributions to human spaceflight, National Aeronautics and Space Administration (Nasa) launched Northrop Grumman's next Cygnus vehicle, the S.S. Kalpana Chawla.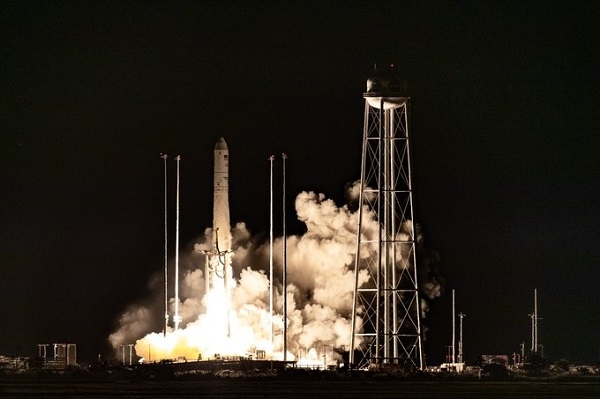 The S.S. Kalpana Chawla liftoff from the Mid-Atlantic Regional Spaceport (MARS) at NASA's Wallops Flight Facility in Virginia at 09:38 p.m. . The flight will deliver thousands of kilograms/pounds of equipment, crew supplies, and science to the orbital outpost. In keeping with the tradition of naming each Cygnus vehicle after someone instrumental in the field of space exploration, Northrop Grumman has chosen to honor Dr. Kalpana Chawla, the first Indian-born woman to travel to space.
The spacecraft, a Northrop Grumman Cygnus, will arrive at and be attached to the space station two days later. It is carrying cargo & supplies to International Space Station. A portion of the vehicle hardware includes fans, batteries, and consumables for Russia's Zarya module as well as a newly upgraded pane to provide improved viewing and optics for the crew when using the cupola observatory.
The cargo and supplies include the test of a biologic drug that could be used for the treatment of leukemia, a compact toilet for astronauts to use on deep-space exploration missions, and a 360-degree virtual reality camera. A new crop of vegetables was also headed to the space station. There's also more fresh food than usual, given that the space station population will be expanding from six to seven with SpaceX's second astronaut launch on October 31.
"We've got 6,000 pounds of cargo going up. We've several things enabling future exploration missions beyond the space station, so our missions to the moon & mars", Robyn Gatens, acting director of International Space Station (ISS) at NASA headquarters."It will dock on Sunday & then it will be up on station for a while. The crew will unload all experiments & then the Cygnus will remain attached." she further added.
On the launch of Northrop Grumman's Cygnus spacecraft, Kalpana Chawla's husband Jean Pierre Harrison said, " Kalpana would be flattered that this rocket is named after her. In a larger context, it means that Indians could beat the best in the world & be successful."
Earlier on October 1, NASA aborted S.S. Kalpana Chawla Cygnus launch due to 'unknown Problem before liftoff about 2 minutes and 40 seconds. It was already pushed back from its original launch window of September 29 due to weather conditions. The American space agency has not provided specific reasons for aborting the mission.
Kalpana Chawla was the first woman of Indian descent to go into space. She was also the first Indian female astronaut who wald in space. Her contributions to human spaceflight have had a lasting impact. She first flew on Space Shuttle Columbia in 1997 as a mission specialist and primary robotic arm operator.
In 2003, Chawla and her six crew members died in the Space Shuttle Columbia disaster when the spacecraft disintegrated during its re-entry into the Earth's atmosphere. Chawla was posthumously awarded the Congressional Space Medal of Honor. She is regarded as a national hero in India. She is an inspiration to many.
Chawla's second spaceflight, STS-107, got here to a tragic finish on February 1, 2003, following 16 days of conducting science onboard the house shuttle Columbia. A small piece of froth that struck the orbiter's left wing throughout launch created a gap that went undetected through the mission.