New Delhi, October 3: Inviting researchers and academicians and sought their support to realize the dream of Atma Nirbhar Bharat, which includes a vision of global welfare, Prime Minister Narendra Modi said, "More youngsters should develop an interest in Science". He also said that there is a major role of science in realizing our dream of an Aatmanirbhar Bharat.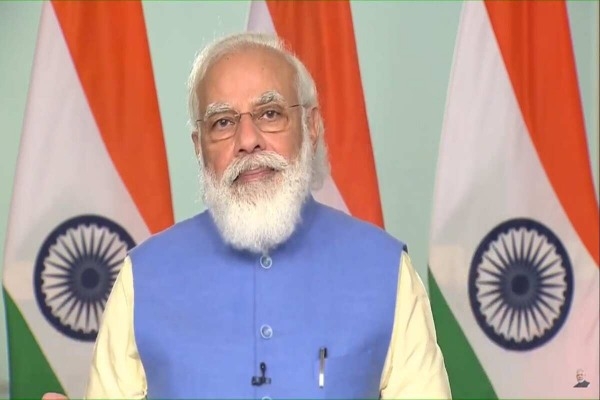 While inaugurating the Vaishvik Bhartiya Vaigyanik, (VAIBHAV) PM Modi also added the summit should look forward to realizing the dream of building a secure and prosperous future for the coming generations. Calling VAIBHAV as a confluence of great minds, he said that these efforts will help create an ideal research ecosystem, merging tradition with modernity to create prosperity. The summit will reflect on the collaboration and cooperation instruments with academia and scientists in India and abroad.
PM Modi said, "just recently, India introduced pioneering space reforms that provide opportunities for both industry and academia". He said, there is a need to amplify the rich history of Indian science. He also said the government has taken numerous measures to boost scientific research and innovation as science is at the core of its efforts towards socio-economic change.
Referring to India's immense efforts towards the development of vaccines and executing the vaccination programme PM Modi added that the long break in vaccine production is broken. In 2014 four new vaccines were introduced into our immunization program. This includes an indegineously developed rota vaccine. He said, the government has launched an ambitious mission to eradicate TB in India by 2025, which is five years before the global target.
Moreover taking about the agriculture Prime Minister said the government wants top-class scientific research to help the farmers adding that the agricultural research scientists have worked very hard to increase the production of pulses.
Speaking about fundamental research and applications in areas of artificial intelligence, robotics, sensors, and big data analysis, PM Modi said, this will boost the startup sectors and manufacturing in India. He said this summit will lead to useful collaborations in teaching and research. The efforts of the Indian diaspora will help create an ideal research ecosystem.
In the VAIBHAV summit, more than 3000 overseas Indian origin academicians and scientists from 55 countries and about 10,000 from India are taking part and it is being organized by 200 Indian academic institutes and S&T departments, led by Principal Scientific Advisor, Government of India. Around 700 overseas panelists from 40 countries and 629 resident panelists from eminent Indian academia and S&T departments will deliberate on 18 different verticals with 80 sub-topics in 213 sessions.
The aim of the summit is to bring Indian origin luminaries in academic institutes and Research and Development organizations across the world and resident counterparts on a single platform to debate upon collaboration mechanisms to strengthen academic and Science and Technology based in India for global development.
Also Read: