Canberra, Oct 5 : Australian Foreign Minister Marise Payne will be travelling to Tokyo on Oct 6 to discuss and strengthen supply chains with Japan, India and USA. The Australian stance on the supply chain is influenced by the unraveling relationship with China, pushing it closer to Japan, India and USA who share a similar approach.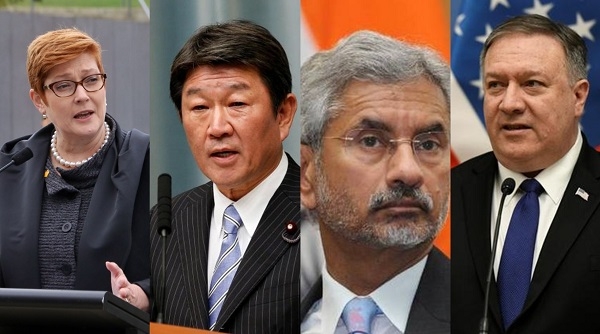 China, aware of the fact that unification of the quad can result in serious economic setback to the country, is conscious about the coming meeting. About this, China had previously mentioned the group as 'an Anti - China Frontline.' China is by far Australia's largest export market contributing to a total of 30 per cent of Australia's export value. China also stands as the top most importer of Australia, followed by Japan. In such background, Australia's Anti - Chinese approach clearly speaks for the country's severity for prioritizing National interests. The fact also signifies why the coming meeting is vital for Australia, Japan as well as China.
In the coming meeting, Australian Minister is planning to deepen the ties with like - minded partners, India, Japan and USA and indirectly make way for potential alternatives to China. According to Payne, the meeting is an opportunity for Australia to advance it's interests and reaffirm the shared commitment to promote a stable, inclusive and prosperous Indo - Pacific region while heading towards Covid 19 recovery. China's dismissal to the bonding of such a quad is quite vocal since China's Vice Foreign Minister, Luo Zhaohui, in September, publicly described the 'Quad' as an anti - China frontline' or a 'mini - NATO' which reflects America's 'Cold War Mentality.'
After the Quad meeting, Marise Payne will be discussing with Japanese Foreign Minister Toshimitsu Motegi, US Secretary of State Mike Pompeo and India's External Affairs Minister S Jaishankar in one - on - one meetings. During the discussions Covid 19 vaccines, quality infrastructure investment and supply chains will be prioritized, considering the prevailing conditions.
Further to strengthen the Indo - Australian relation from Indian side, it is being speculated that India may also invite Australia to participate in the annual Malabar Naval exercises with Japan and USA, where Australia had last been a part in 2007. But there is no confirmation about this at the diplomatic end since no invitation has yet been issued.