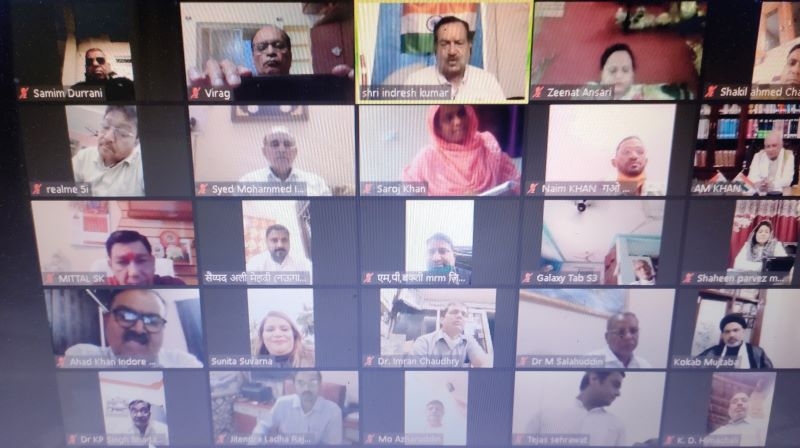 New Delhi, Oct 7: Cow is given the highest regard in Islam by the Prophet who described cow milk and ghee as sources of health. At the same time the prophet detested the beef saying that it is full of diseases, said Indresh Kumar, Patron of Muslim Rashtriya Manch (MRM), here on Wednesday.
He was addressing a webinar jointly organized by the Rashtriya Kamdhenu Ayog and Muslim Rashtriya Manch Gau Prakoshth on the role of the Muslim community in achieving Atmanirbharta through Gauseva and Rashtra Seva".
Chairman of Kamdhenu Ayog Dr. Vallabh Bhai Kathiriya, RSS Gauseva Pramukh Ajit Prasad Mahapatra, Kerala Governor Arif Mohammad Khan, MRM National Conveners Mohd. Afzal, Girish Juyal, Virag Pachpore, National Convener of Bharat First Ad.v Shiraj Qureshi, Maulana Koukab Mujtaba, S K Mittal, Zaheer Qureshi from Gujarat, and many others participated in the webinar.
Recalling the teachings of the Prophet Mohammed Indresh Kumar said that the very first chapter of the Holy Quran was dedicated to the Cow.
He appealed to the Kamdhenu Ayog and MRM to honor Gausevaks as we honor and pay respects to our soldiers protecting our borders.
He said during the Vishwa Mangal Go-Gram Yatra the MRM had collected over 10 lakh signatures of Muslims in support of cow protection from all over the country.
He appealed to the MRM and the Kamdhenu Ayog to observe Gopashtami Day in remembrance of those killed in firing while demanding protection of cow on November 7, 1966, in New Delhi.
Dr. Vallabha Bhai Kathiriya in his address said that the Kamdhenu Ayog has decided to manufacture and popularize Kamdhenu Diyas during the festival of Diwali. He appealed to the people to buy these DIyas and lighten their homes during Diwali with this unique diyas.
Underlining the need for protection of cows and their progeny, he said laws are made but the will to implement them was lacking. He thanked Prime Minister Narendra Modi for setting up the Rashtriya Kamdhenu Ayog for promoting cow protection and generating employment opportunities through cow rearing.
Kerala Governor Arif Mohammad Khan also expressed his views on this occasion appealing to the people to work for establishing fraternity, peace, prosperity, and happiness by honoring cows.
He also underlined the importance of cow milk and its medicinal values in controlling diseases like heart attack, diabetes, etc.
Ajit Prasad Mahapatra in his address called on the people to use 'Gomaya Diyas' to light the houses during the Diwali festival.
Adv. Siraj Qureshi gave introductory notes while Mohd Faiz Khan, National Convener of MRM Cow Cell conducted the program. Zaheer Qureshi, Gujarat State Convener of MRM proposed a vote of thanks.