"नभः स्पृशं दीप्तम्"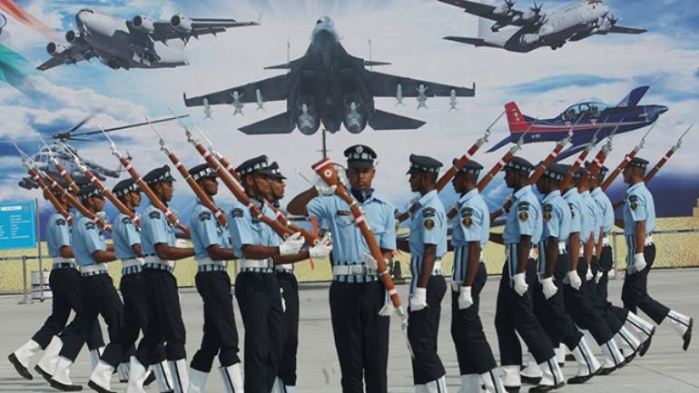 Indian Air Force Day is celebrated on October 8 every year. This day marks a unique tribute to the brave hearts of air warriors. Every year, the Air Force Day is celebrated at Hindon base in presence of the IAF chief and senior officials of the three armed forces.
The Indian Air Force (IAF) is the air arm of the Indian armed forces with the primary mission to secure Indian airspace and conduct aerial activities during armed conflicts. IAF was incepted in 1932 as an auxiliary of the Royal Air Force with a humble fleet of mere four Westland Wapiti IIA biplanes and 6 RAF-trained officers. Since 1950, the IAF has been associated with four wars with Pakistan and one with China. Other significant tasks attempted by the IAF are Operation Meghdoot, Operation Cactus, and Operation Poomalai.
IAF has been shielding the country and its countrymen for more than eight decades. In this 88 years journey, it has changed from being an ordinary air force to become the fourth-largest air force in the world. From safeguarding our skies to assisting in all odds, the brave Air Force personnel have served the nation with utmost courage and determination. Eighty-eight glorious years of soaring high and on this day we bring you the story of Air force warriors who have made every Indian proud with their heroics.
1) Legend of the IAF: Mehar Singh
This is the name that comes to mind when someone says IAF and Dakota.
The legend of IAF, Baba Mehar Singh is replete with splendid examples of professionalism dedication, devotion to duty, courage, and commitment indeed true characteristics of an ideal Air Warrior.
He was commissioned as a Pilot Officer in 1936 at the Royal Air Force College, Cranwell, UK, and was posted to No. 1 Squadron — the only squadron then based in North West Frontier — in the Royal Indian Air Force. After Independence, Mehar Baba became the first to land in J&K's Srinagar, Poonch, Leh, Ladakh, and also in Daulat Beg Oldie, which was the highest altitude airstrip in the world. He rose to the rank of Air Commodore and was decorated with two war-time gallantry awards.
Air Marshal Asghar Khan, who later went on to become the Chief of Air Staff of Pakistan's Air Force, to say, "With the solitary exception of Sqn. Ldr. Mehar Singh, a pilot of outstanding ability, no one was able to inspire confidence among us." He died in an air crash on March 11, 1952. In 2018, the Indian Air Force constituted the Meher Baba Prize in the honor of Air Commodore Mehar Singh for drones development.
2) The Story of Nirmal Jit Singh Shekon, IAF's Only Param Vir Chakra
He was an exceptional flyer and gallant air warriors who made the Supreme Sacrifice safeguarding the Nation's skies during the 1971 War.
During the Indo-Pak war of 1971, he was serving with the No.18 Squadron. On 14th December 1971 Srinagar airfield was attacked by a wave of six enemy Sabre aircraft. Flying Officer Sekhon was on readiness duty at the time. Immediately, however, no fewer than six enemy aircraft were overhead, and they began bombing and strafing the airfield. Despite the mortal danger of attempting to take off during the attack, Flying Officer Sekhon took off immediately and engaged a pair of attacking Sabres.
Despite the mortal danger of attempting to take off during the attack, Flying Officer Sekhon took off and immediately engaged a pair of attacking Sabres. In the fight that ensued, he secured hits on one aircraft and damaged another. By this time the other Sabre aircraft came to the aid of their hard-pressed companions and Flying Officer Sekhon's Gnat was again outnumbered, this time by four to one. Even though alone, Flying Officer Sekhon engaged the enemy in unequal combat. In the fight that followed, at treetop height, he almost held his own but was eventually overcome by the sheer weight of numbers. His aircraft was shot down by gunfire of one of the Sabres and he was killed.
Nirmal Jit Singh Sekhon is remembered for his gallantry and statues of him have also been erected in many cities in Punjab. A marine tanker built-in 1985 was named Flying Officer Nirmal Jit Singh Sekhon, To date, the only member of the Indian Air Force to have been awarded the Param Vir Chakra for his exemplary display of courage during the Indo-Pak war of 1971.
3) Wing Commander Abhinandan Varthaman
When we talk about bravery then how can we forgot Wing Commander Abhinandan Varthaman VrC. The commander who spent 60 hours in Pakistan after his aircraft was shot down. And now, safely he came back to India his motherland.
Wing Commander Abhinandan Varthaman was caught by Pakistan on 27 February after his MiG-21 Bison fighter jet was hit in a dogfight with Pakistan Air Force and came down across the Line of Control (LoC). Finally, he was released and handed over to India at the Wagah-Attari border crossing on 1 March.
The Wing Commander has the unique distinction of being the only pilot in the world to have shot down an F-16 combat aircraft from his vintage MiG-21 Bison aircraft on February 27 during an aerial conflict with Pakistan. On the Independence Day 2019, Wing Commander Abhinandan will be awarded Vir Chakra
No doubt, Wing Commander Abhinandan's exemplary courage, and dignity have inspired us and set an example. He has become a symbol of a new and fearless India.
4) Squadron Leader Minty Agarwal,
Squadron Leader Minty Agarwal played a key role as a flight controller during aerial combat with Pakistan in February 2019. She was the eye and ear of Wing Commander Abhinandan during the successful Balakot operation. She was the one who guided the fighter pilot from the control room when the enemy attempted to enter India's sovereign territory. after she spotted a large package of Pakistan Air Force planes heading towards the Nowshera sector of Jammu and Kashmir.
On February 27, when Pakistan Air Force had attempted to enter the Indian premises a day after India carried out Balakot strikes Agarwal quickly alerted the IAF teams and foiled their plan. According to reports, Minty, who was part of the team of seven fighter controllers on duty that morning on February 27, became wary of the Pakistan Air Force attack and controlled the interception package launched to stop Pakistan's fighter jets, successfully preventing an Indian Air Force loss. Her alertness and presence of mind in the face of an imminent threat deterred the enemy's incursion effort, giving the Indian fighter pilots the assistance required to engage the enemy in aerial combat.
Minty Agarwal, IAF officer honored with Yudh Seva medal. The Medal is awarded to recognize distinguished service of a high order during the war, conflict, or hostilities. She is also the first woman to receive this honor.