Bhubaneshwar, Oct 8 : Massive fire broke out at Indian Oil Petrol Pump, causing serious injuries to around 9 people. According to the Police Commissioner, the fire was traced to the CNG storage tanks at the Pump. The fire broke out at pump near the Raj Bhavan on Oct 7. After almost two hours, the fire was brought under control.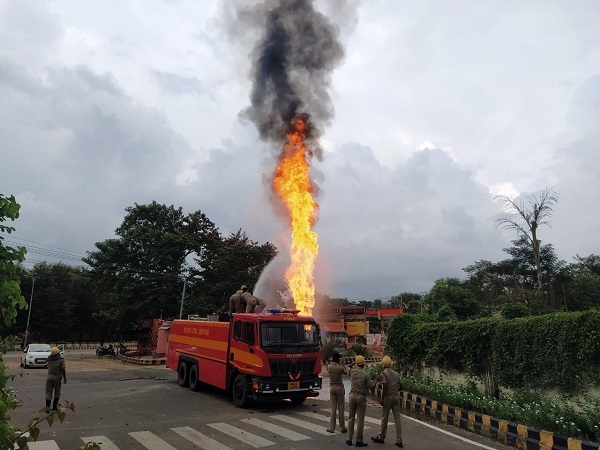 Odisha CM Naveen Patnaik has announced for medical assistance to the injured. Two of the injured are in critical condition. A severe fire broke out when it reached to one of the CNG storage tanks causing a huge explosion. As there was another CNG tank closer, the main task in hand for the Firemen was to avoid the spread of fire to the second CNG tank to prevent another explosion. The fire safety workers were able to do that and prevent further damage. The intensity of the explosion was so loud that people feared it to be an earthquake at the first instance and rushed out of their buildings.
Besides the people,the explosion has also caused damage to several shops and houses near the site along with a few vehicles. In order to prevent any further casualties, the roads around Raj Bhavan were closed for a few hours. The main cause of the fire is still not known as it is not a definite fact that it was the fire that caused the CNG tank explode or the explosion is from where the fire broke out. Union Minister Dharmendra Pradhan has ordered a probe into the incident for further enquiry.