Intolerance is the flavour of the season (pun intended). If feeling ignored and craving for attention, issue a public statement against intolerance or announce returning of award as a mark of protest. It is a sure recipe for instant publicity. It is also another way of reminding the world that you are a recipient of an award, a long forgotten occurrence. Interestingly, no one has returned either the medal/scroll or the prize money. Worse, they continue to enjoy all the privileges and benefits that go with such awards. Can there be a more apt example of hypocritical and duplicitous conduct?
If you are a public figure, a jibe against intolerance will get you days of media attention. When Shah Rukh Khan or Aamir Khan accuses the prevailing political environment of intolerance, a storm breaks out. Newspapers are full of diatribes against the ruling party. TV anchors scream themselves hoarse with farcical debates. In fact, intolerance has become the most convenient tool to beat the government with. Whatever be the personal grievance, fire the salvo under the guise of intolerance and it works. Take the case of Shah Rukh Khan. Shah Rukh Khan has been highly critical of the allegedly-growing intolerance in the country. Well, his anger is understandable. Let us recount three incidents which caused him extreme distress.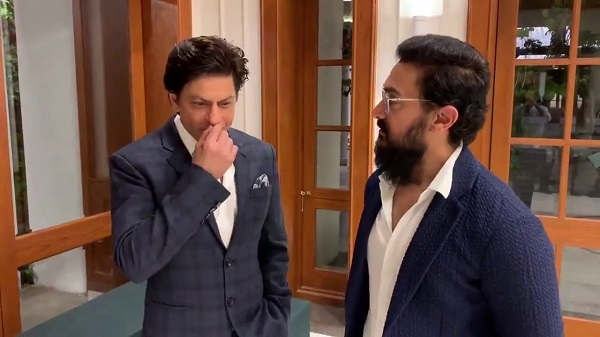 One, the Mumbai Cricket Association (MCA) banned him for five years from entering the Wankhede Stadium for the 'trivial misdemeanour' of manhandling a security guard and hurling the choicest of abuses on its officials after an IPL game in May 2012. How intolerant of MCA! It should have been more broad-minded and tolerated King Khan's gross misbehaviour in true sportsman spirit. Two, an illegal ramp constructed by Shah Rukh outside his house 'Mannat' to park his vanity van was objected to by the neighbours as it hindered smooth flow of traffic. Displaying gross intolerance towards the superstar's unauthorised construction, they had been demanding demolition by Brihanmumbai Municipal Corporation (BMC) for long. All was well for years as a tolerant BMC continued to ignore all pleas. However, BJP MP Poonam Mahajan showed a distinct lack of tolerance and sought its removal. The ramp was finally demolished in February this year. Naturally, King Khan was furious at the environment of intolerance in the country.
Three, imagine the degree of intolerance of the Enforcement Directorate (ED) in calling Khan to explain the sale of shares of the Knight Riders Sports and alleging forex violations of around Rs 90-100 crore. ED noted that the share transfers had taken place at par while the fair value was 8-9 times more. For King Khan, it was indeed a matter of gross sacrilege that a person of his stature had been doubted by the lowly officials of ED – visible signs of growing intolerance in the country.
Similarly, Aamir Khan may be having his own grouses against the environment; and his right to migrate to a 'safer country' must be respected by all Indians. But, does he honestly feel that India has become highly intolerant? His movie PK was a block-buster. In which country can one ridicule a god of the majority community by showing him hiding behind a commode? Could he have taken such liberties with any other religion, including his own? Riots would have broken out. Yet, he had the audacity to fault the country for intolerance. With a single imprudent statement, Aamir has undone all the good work carried out by him over the years as an ambassador of 'Incredible India' campaign to promote tourism. Now, he has told all foreign tourists not to visit an 'Intolerant India'. Although he supported return of awards as 'one way of getting your point across', Aamir opted not to return his Padma Shri and Padma Bhushan awards. Surprising indeed!
Everyone has a right to express one's opinion and draw attention to the grievances, both real and perceived. There can be no dispute on that issue. However, two points must be kept in mind. One, if something goes wrong in a family, every member has a responsibility to correct matters rather than choose the easier option of abandoning it. Similarly, it is a sign of cowardice to consider leaving one's own country instead of setting things right. Whatever be the rationale, no loyal citizen ever maligns his own country to play politics and garner publicity. It is rightly said that loyalty is a trait of character – either a person has it in him or does not have it. Two, it is only fair that all grievances are first projected to the concerned authorities and a reasonable opportunity given to the government for redressal. If not satisfied with the response in a reasonable time-frame, the aggrieved person is justified in going public. It is the right course to follow for all citizens – more so for the public figures as their allegations get huge publicity.
Both Shah Rukh Khan and Aamir Khan are matinee idols with mammoth fan following. Both have access to the top leadership of the country. Aamir Khan has met Modi on a number of occasions. One wonders if both of them approached their state Chief Minister, Central Home Minister and the Prime Minister with their anxieties and apprehensions before going public. In case they failed to do that, their allegations can be considered to be malevolent in intent and politically motivated. It will not be inappropriate to recall an old story here. An entrepreneur used to export frogs from India in lidless containers. When quizzed, he replied, "These are Indian frogs. When any frog attempts to rise and get out, others pull him down. So why waste money on lids?"
The above is equally true of most Indian leaders and the intelligentsia. They have no scruples and can go to any extent to further their selfish agenda, including harming the interests of the country. They cannot digest the fact that Modi has been highly successful in kick-starting developmental revolution in a short period. Therefore, they have resorted to the highly slanderous intolerance crusade to undermine his efforts. They want to undercut his 'Make in India' mission with their spiteful 'Hate in India' campaign, a la Indian frogs. In view of the above, it can be said with certainty that the well-orchestrated campaign of intolerance is malicious in intent. The sole objective is to stall all progressive reforms by tarnishing the image of the government. When Modi is visiting other countries and trying his best to attract investments to improve the quality of life of India's masses, the self-proclaimed champions of tolerance are busy dissuading foreign investors through treacherously detrimental utterances. How else can anti-nationalism be defined?