New Delhi, October 08: Social media has the power to change someone's life and when this power is used appropriately it creates magic. This magic was experienced by elderly Dhaba owners in Delhi's Malviya Nagar who were struggling to make ends meet amid the COVID-19 pandemic, are now receiving overwhelming support from netizens after their heartbreaking story went viral on social media.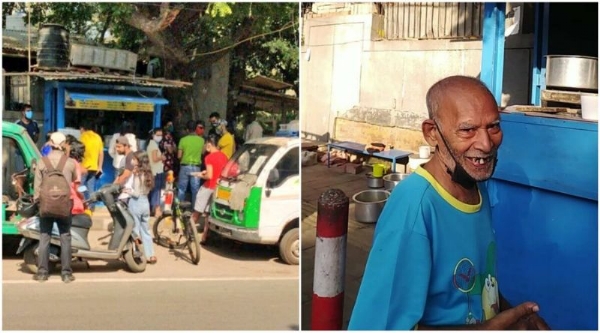 Food channel on YouTube Swad Official yesterday uploaded a video of an 80-year-old husband and wife who run - Baba Ka Dhaba, a small eatery in the national capital. The video begins with the 80-year-old man named Kanta Prasad crying as he is struggling to earn a living as they are not able to sell the food. He tells that they have been working since 1988.
They serve dishes like Matar Paneer, Aalu Paratha, and thalis modestly priced between Rs 40 to Rs 50.
When blogger Gaurav Vasan was asked how much he has earned, he broke down and produced ₹ 10 notes from a box. In four hours, ₹ 50 was all they had managed. Within few hours, visuals of the old man wiping his tears racked up thousands of retweets and like The video has gone viral across social media platforms including Twitter, Facebook, and Instagram.
It has garnered more than 16.8 lakh views on Instagram alone. After which elderly couples got immense support as people from all over the national capital visited their Dhaba on Thursday morning. Several netizens came forward and offered to help the couple financially and others have announced plans for lunch at Baba Ka Dhaba.
It also prompted an outpouring of support from people, including celebrities and political leaders, all of whom sought to support the couple. The campaign also caused #BabaKaDhaba and #Malviya Nagar to trend on Twitter and multiple people posted images and videos of their visits to the eatery after seeing the video. Several people also made contributions to the internet's "uncle and aunty".
The power of social media has revived the stall which is now flooded with people. Contributions are also flooding online for the elderly couple. The video even caught the attention of Bollywood actor Sonam Kapoor and cricketer R Ashwin. This story is proof that if used appropriately the power of social media is unmatched.