New Delhi, October 08: A Delhi-based journalist (41) and three others, who were detained by UP Police Monday afternoon from a toll plaza in Mathura, were on Thursday booked under UAPA, the stringent anti-terror law. According to the FIR filed in Maant police station, the journalist Siddique Kappan, Campus Front of India (CFI) office-bearers Atiq-ur-Rahman and Masood Ahmed, and a man identified as Alam, have been booked for an alleged "conspiracy behind their visit to Hathras", where a 19-year-old Dalit woman was assaulted and allegedly gangraped on September 14. She died at Delhi's Safdarjung Hospital on September 29.
While Kappan hails from Malappuram in Kerala and has been living in Delhi's Nizamuddin area, the others are UP residents. Kappan is secretary of the Kerala Union of Working Journalists (KUWJ) and is associated with various Malayalam news outlets, including the website azhimukham.com.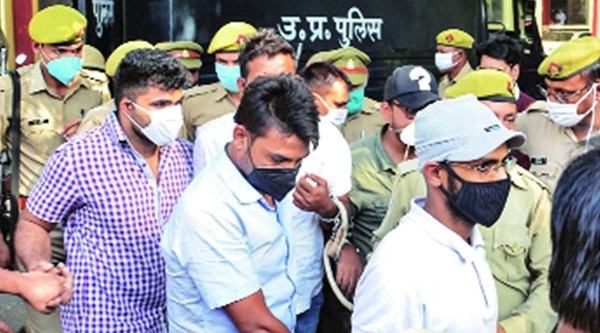 The FIR, filed on a police complaint, states: "During investigation, it was found that there was a conspiracy behind their visit to Hathras. It had been highlighted in media reports that efforts were being made by anti-social people to trigger caste tensions and unrest on the basis of the unfortunate incident in Hathras. In the wake of this, they were trying to collect funds and were also running the website carrd.co. They were trying to invoke riots and threaten law and order and social harmony.
It was found that the means of collecting funds was illegal and hence liable for seizure. The funds collected from abroad through this website would have been used to incite violence. A pamphlet, 'Am I Not India's Daughter', made with (the website), and many such pamphlets would incite violence. The website was being used to invoke caste-based violence. Such a website would invoke anti-national feelings in the youth. Through this website, an anti-national propoganda is being generated, and words like mob lynching, migration of labourers and support of disruptive elements in Kashmir are examples"
The FIR has been filed under Unlawful Activities (Prevention) Act sections 17 (punishment for raising funds for terrorist act) and 14, apart from IPC sections 124A (sedition), 153A (promoting enmity) and 295A (hurting religious feelings). Sections of the IT Act have also been invoked.
Police noted the website being referred to, carrd.co, is where one can create one's own site- 'in this case, justiceforhathrasvictim.carrd.co, which has since been taken down', IE noted