NSCN-IM, a currently active separatist group in Nagaland, has threatened to go on war while negotiating a permanent peace deal with the Indian government. I once met a man from the same group in Northeast India by chance. This is a diary entry.
Inside the separatist group -
He must be around 45-50 years of his age. 14-15 years ago, he used to be a drunkard larrikin from a border village in Purvanchal. I distinctly remember his typical northeastern rustic, rugged features, medium height and especially restless yet bright eyes. I couldn't miss the gleam of intellect in his eyes. I met him at an aboriginal temple in Purvanchal. He was wandering with a group of monks traveling from village to village for the propagation of Swadharma and Satsanga. This is his story.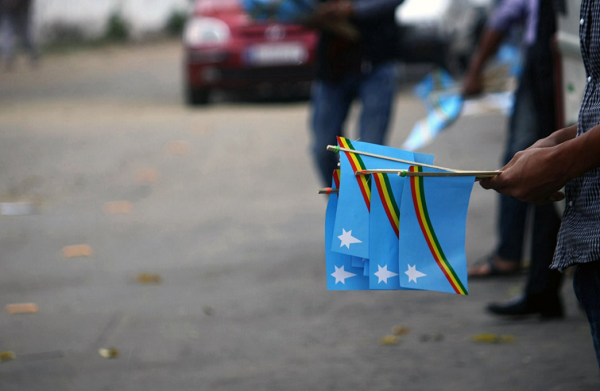 About 14-15 years ago, he was abducted from his village by the NSCN IM group. Then they started his training. Initially he used to do small chores. Then started getting good work. He got a good rank in the same group's 'Arms and Immigration Wing'. He visited Burma and South China as a part of his work. His main job was to smuggle weapons. He was arrested a few years later while doing this work. He returned to the village after serving a year. There was a message from the leader of another terrorist group. 'Just sitting idle?' The question was asked. He immediately took the invite as an opportunity and joined the group. He pretended that he was doing all these activities and making a revolution to create a corruption free system. Because corruption-free governance was 'his dream'.
He used to have many meetings with the chief. The chief of the terrorist group forcibly converted him to Christianity. But in his heart he believed in his traditional, tribal God. Here, this terrorist leader used to teach them that we should separate Nagaland, Arunachal and half of Manipur from India and join China.
But this man gave him the example of the Dalai Lama, Tibet. That said, "look at the plight of the Tibetans, despite their similarities with the Chinese Han ethnic group. The major religion in China is Buddhism. Despite all this, Chinese Communist Party try to assassinate the world's greatest Buddhist guru, The Dalai Lama. Just think, What can they do to you? We are of Mongolian descedents etc. things are no longer of any use to us. Finding an old genealogy, studying history no longer makes sense. There is cruelty, barbarism in Chinese rule. There is no value in individual freedom. In a way, our religion is similar to Hinduism. From the point of view of our society, it is better for us to live in India. We must save our people".
He has experienced for himself how China is playing in all this turmoil. He has many rank officers friends from all these terrorist groups. People from all over are on his list of friends. He was later arrested again. No one came to see him or to release him on bail. Finally, after 2 years, he was released. In prison, he says, he had a vision of the God of their religion. So when he was released from prison, he reverted to his religion. Now his brother keeps him with himself. He is an activist in an organization that seeks to preserve the culture of the indigenous people.
This hero now wants to work for the country, for religion. Over the last few years, he has seen the black, monstrous face of conversion. Nagaland is already out of hands, but we must save the rest of the people from getting converted, he says. We will stop them at the border! Pick up a weapon if needed. If they have a weapon, we ll have to take it as well. He gave me clear views on the interference of foreign powers.
He is looking for a better opportunity. He goes to temples and shares his experiences. Takes the veil of terrorism. He tells people to stay away from conversions, to save themselves, not to be afraid, not to fall prey to delusions. He told me that the Naga extremists call people from Nagaland and Tirap, Changlang, an easy pray. Because they are ready to convert themselves, just by showing the gun. It will not continue like this any more. I will stand with you. He was promising the people sitting by his side."Call me in a difficult situation," he said. He was talking nonstop. But some things I couldn't' understand because of his ascent and the language. But that speech, and that personality was very interesting. I enjoyed meeting him very much!