-Siddhi Somani
Khoob ladi mardani woh to jhansi wali rani thi! There was a time when the Britishers forced all the kings of India, one by one, to bow down in needs, power and self respects. But the Queen of Jhansi Lakshmibai had beaten the British with her courage.
Fighting courageusly for the mother land at the age of 29, she received Veergati in the battlefield later being an idol to many women getting trained in the wars. Born on 19 November 1828 in Benares, Raniji's childhood was affectionate, brawny. Here are 5 unknown facts about 'Manu' or 'Chabili', you need to know on her birth anniversary today.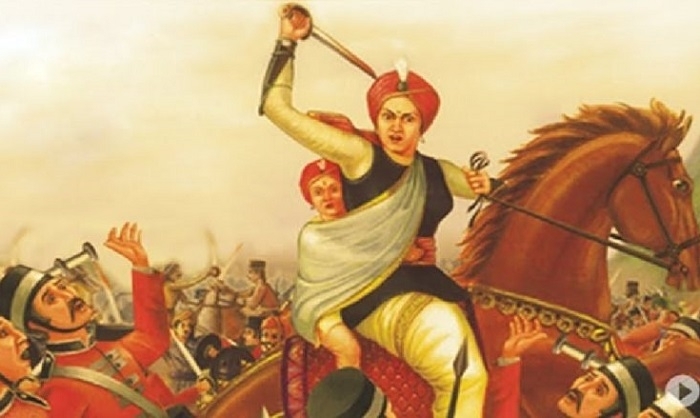 1. Manikarnika, who came from Maratha Brahmin, was rich in scriptures and master in knowledge since childhood. Her father Moropant served Maratha Bajirao (II) and mother Bhagirathibai was very intelligent and knowledgeable in Sanskrit, who died in 1832 leaving little 'Manu' lead her life herself.
2. In 1842, Manikarnika got married at the age of 14 to Gangadhar Rao Navalkar, the king of Jhansi. King Gangadhar Rao was a worthy Maratha king of Jhansi. Before his tenure, Jhansi was buried under the debt of the British. But in a few years after coming to power, he with the aid of Rani Manikarnika, drove the British out of their territory.
3. After the death of King Gangadhar Rao, Queen Lakshmibai began to weaken and the English government and neighboring states began to take advantage of the situation. All of these started an attack on Jhansi. By 1857, Jhansi was surrounded by enemies and then Rani Laxmibai took the responsibility of protecting Jhansi from enemies.
4. She was the first in the Indian history, who prepared a women's army and named it 'Durga Dal', trained them to fight for Swaraj. She made Jhalkari Bai the head of this Durga party.
5. During the war in 1858, the English army surrounded the entire Jhansi and took over the entire kingdom. But Rani Lakshmibai managed to escape. From there Raniji met Tatya Tope who helped her capture a fort in Gwalior. Fighting courageusly for the mother land at the age of 29, she received Veergati in the battlefield.
Indian history has not yet witnessed a woman warrior as brave and powerful as the Rani of Jhansi, Rani Lakshmi Bai. She martyred herself in a struggle to attain Swaraj and liberate the Indians from the British rule. Rani Lakshmi Bai is a glorious example of patriotism and national pride. She is an inspiration and an admiration for a lot of people. Her name is thus written in golden letters in the history of India and will always stay in the heart of every Indian.