Geneva, November 20: Amid ongoing controversy over IMA and Ayurveda, World Health Organisation has issued a conditional recommendation against the use of remdesivir in hospitalized COVID patients, after concluding that there isn't evidence that the drug reduces deaths or recovery times.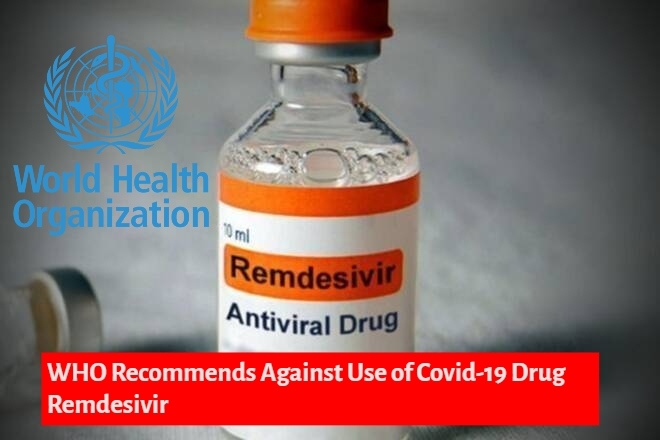 It is one of the two medicines currently authorised to treat the deadly virus across the world, but a large-scale Solidarity Trial led by WHO found that it had little or no effect on 28-day mortality or duration of hospitalisation of Covid-19 patients.
According to the WHO, this recommendation that released on 20 November, is part of a living guideline on clinical care for COVID-19. It was developed by an international guideline development group, which includes 28 clinical care experts, 4 patient-partners, and one ethicist.
WHO says remdesivir doesn't do much of anything to improve the health of people hospitalized with COVID-19. It should be noted that it same orgnisation that approves the medicine as a potentially effective treatment for COVID-19 in the summer after early trials showed some promise.
The guideline development group recognized that more research is needed, especially to provide higher certainty of the evidence for specific groups of patients. They supported continued enrollment in trials evaluating remdesivir.
As many as 50 countries have authorised the use of remdesivir to treat coronavirus.
The WHO's Guideline Development Group (GDG) panel said its recommendation was backed by an evidence review that consisted of data from four international randomised trials of over 7,000 Covid-19 hospitalised patients.
It also said that the evidence review found that the drug is costly and complex to administer and has very little efficacy.
"Especially given the costs and resource implications associated with remdesivir ...the panel felt the responsibility should be on demonstrating evidence of efficacy, which is not established by the currently available data," the panel said.
Same with HCQ,
This was not the first time, earlier WHO also issued a statement saying hydroxychloroquine does not have clinical benefits in treating COVID-19. The Solidarity Trial was established by WHO to find an effective COVID-19 treatment for hospitalized patients.
Apart from WHO the research, published in the journal The Lancet, analysed data from nearly 15,000 patients with Covid-19 who received chloroquine or its analogue hydroxychloroquine, taken with or without the antibiotics azithromycin or clarithromycin, and 81,000 controls.
In light of this new WHO directive, modern medicine has left with literally no anti-viral drug to combat COVID-19. This advice is a setback for the IMA and WHO who always promote allopathy.