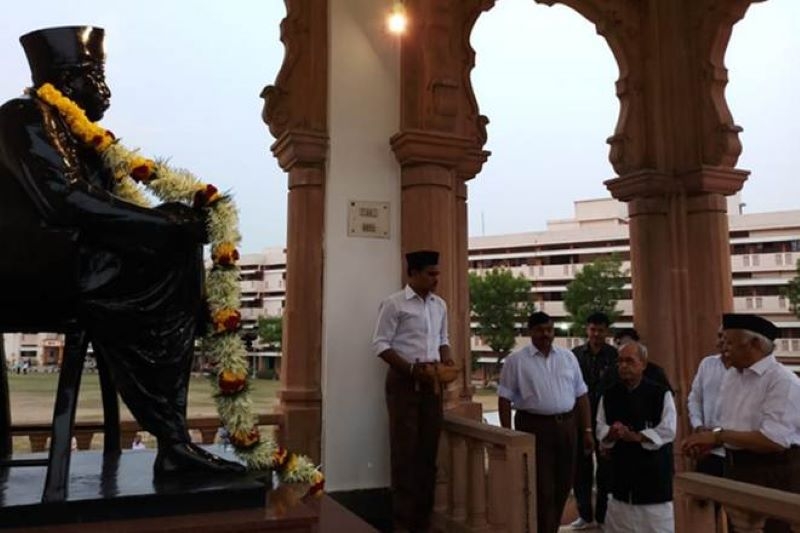 Former President Pranab Mukherjee paying tributes to Dr. Hedgewar at his memorial in Nagpur.
Former President of India Pranab Mukherjee is probably the first 'old school' Congress leader to describe Dr. Keshav Baliram Hedgewar, founder of Rashtriya Swayamsevak Sangh (RSS) as 'great son of Mother India'.
That Congress had developed a hatred for the RSS right from the pre-independence days is a known fact and against this background, it was but natural that Pranab Mukherjee invited the wrath and criticism of the present Congress leaders for this praise. But this is a different issue and not the subject matter of the present article.
Mukherjee had come to Nagpur in June 2018 accepting the invitation of the RSS Sarsanghchalak Dr. Mohanrao Bhagwat to preside over the valedictory function of the Third Year Sangh Shiksha Varg (SSV), the annual summer training camp the RSS organizes every year to train its cadre to make them efficient vehicles of social change.
It was during his itinerary he along with Bhagwat paid a visit to Dr. Hedgewar's house in Mahal area of Nagpur and noted his feelings about the great visionary organizer describing him as 'great son of Mother India'.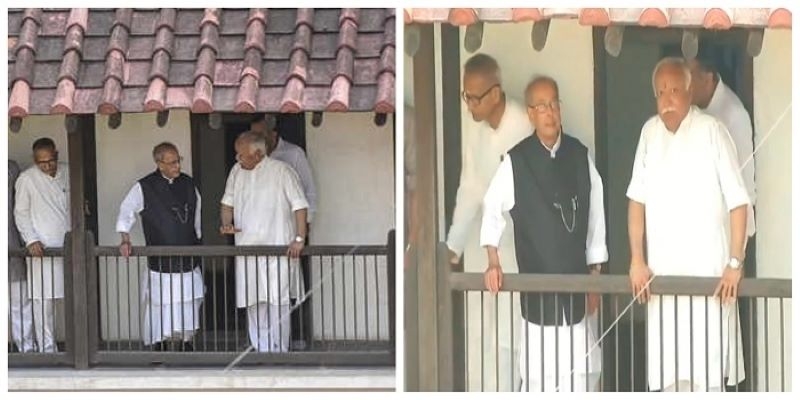 Mukherjee at Dr. Hedgewar's house in Nagpur.
"Today I came here to pay my respect and homage to a great son of Mother India," Mukherjee wrote in a visitor's book. Family members of another visionary leader of India Netaji Subhash Chandra Bose who shared identical vision and views with Dr. Hedgewar had accompanied him during this visit. Incidentally, Dr. Hedgewar and Netaji Bose were known to and admired each other. Netaji, in fact, had come to meet Dr. Hedgewar in 1940 before he went out of India and launched the Indian National Army from Singapore. Unfortunately, that meeting could not be materialized as Dr. Hedgewar was critically ill.
What makes Dr. Hedgewar really great son of Mother India? What is that trait of his personality that made him stand taller to all his contemporary leaders?
The greatness of Dr. Hedgewar lies, as noted social thinker Dattopant Thengdi said, in his vision of 'raising the level of national consciousness of common men' through the mechanism of daily 'shakha' of the RSS. A battery of such nationally conscious people is able to achieve the goal of social transformation, he believed.
Today the RSS has grown into a huge banyan tree whose innumerable branches have spread in various walks of our national and social life trying to raise this 'national consciousness level' of common citizens to a much higher level and the latest example of this is the response people gave to Prime Minister's appeal against the Coronavirus pandemic.
When he appealed to the citizens to follow a day's 'Janata Curfew' on 22nd March and later asked them to remain confined to indoors for three weeks, he appealed to their national consciousness and the way they responded it substantiated this fact.
RSS celebrates the birth anniversary of its founder every year though the organization does not believe in hero worship. Since its inception till today, the Sangh has created many a man of great caliber, competence, and superior qualities but made all of them 'faceless'. This appears to be strange as we see leaders around us busy in 'image building' exercise even on smaller or negligible achievements. Against this, this is the distinguishing feature of RSS founded by Dr. Hedgewar. He initiated a process to create people of great qualities and capabilities sans image building making them one with their life mission.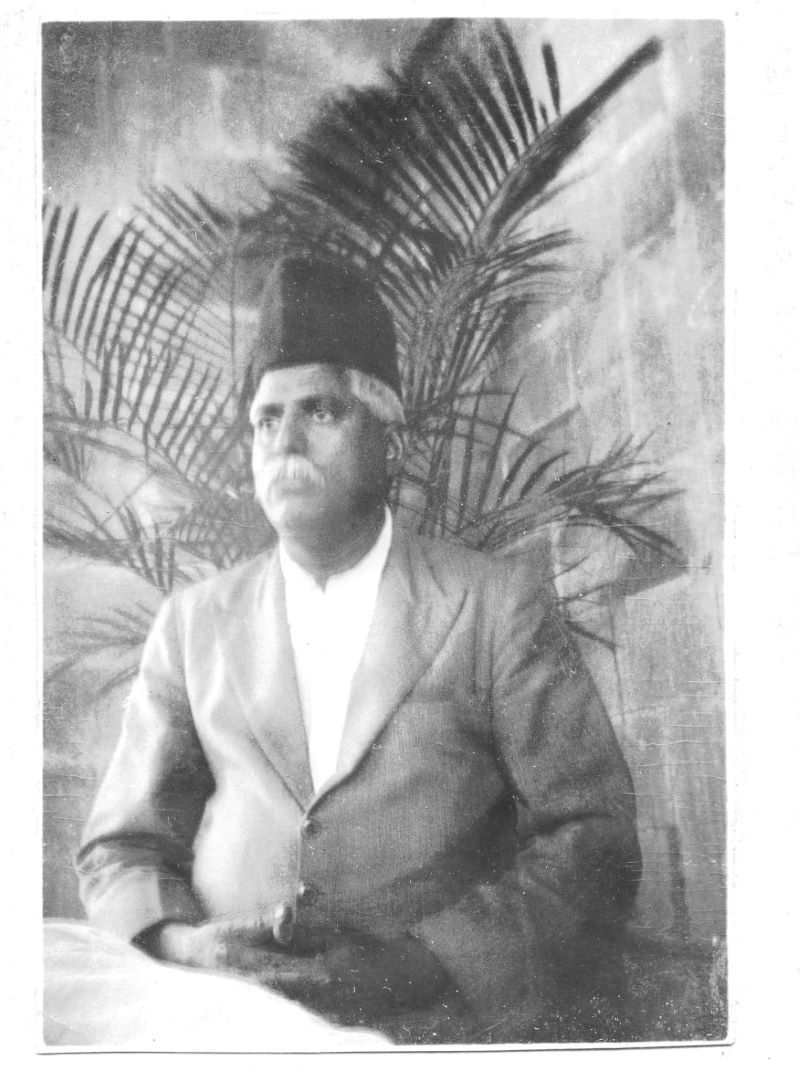 A rare photograph of RSS Founder Dr. Hedgewar
Dr. Hedgewar himself was a living example of this oneness with a mission.
No other thought would come to his mind and divert his thinking and concentration and dedication to his mission. There was no A
poet had most aptly described his life as '
ध्येय आया देह लेकर...' (Mission Personified).
Therefore, remembering him is remembering his mission, vision, and ideal.
In his persona
lity, there was no dualism. This was his unique leadership quality.
Though he founded the RSS on September 27, 1925, on the auspicious occasion of 'Vijayadashami' in Nagpur, his mind was obsessed with this thought since 1916 when he came back to Nagpur after completing his degree in medical science from Kolkata. During his stay at Kolkata, he got associated with the 'Anusheelan Samiti', a revolutionary organization and became its most trusted internal member. Trailokya Nath Chakraborty, his close associate in Anusheelan Samiti had talked about his obsession with this thought.
Freedom of motherland was definitely the top priority for Dr. Hedgewar. But he believed that alone will not serve as Alladin's Magic Lamp to rid our society of all the problems. Dr. Hedgewar said often, "Even if the British leave unless the Hindus are organized as a powerful nation, where is the guarantee that we shall be able to protect our freedom?"
He delved deep into the reasons for the present problems of our society and after a careful study and realized that lack of national consciousness was the major reason for the ills that plagued the Hindu society making it submissive and defeatist resulting in the slavery of hundreds of years. That was the point he decided his life mission: To organize the Hindu society and to take this Hindu Rashtra at the pinnacle of glory making it the 'Vishwaguru' or world leader.
When he started the RSS shakha to revive the dormant spirit of the society with the younger boys on the ground, he was ridiculed by his contemporaries. They laughed at him. That was the time when people were scared and ashamed of calling them 'Hindu'. 'Call me anything, even a donkey, but call me Hindu' was the general attitude of the Hindu society then. In such a situation Dr. Hedgewar stood alone like a solid rock proclaiming loudly "this is the land of Hindus-Hindu Rashtra, and will remain so, as long as there lived even one Hindu".
Now, this was something new. Gradually, through the daily 'shakha' technique, he developed this consciousness among the minds of the youths he collected and raised the level of it so high that they became the bulwark of this mighty organization in the future. They sailed the RSS through the turbulence of freedom struggle, the partition of the motherland and murder of Mahatma Gandhi and successfully thwarted the plan to impose dictatorship during the 1975 emergency. RSS played a key role in the restoration of democracy in 1975-77 and the world acknowledged it.
Dr. Hedgewar believed that Bharat was not a new nation. It has been there for millennia and made valuable contributions to the phenomenal progress in science, technology, arts and commerce, agriculture and industry and of course, philosophy and spiritual domain. Over the millennia it developed certain permanent life values and ethos and principles that could prove to be guiding light for making our future bright. The Hindus had developed a constantly changing life system on the strong basis of these permanent principles.
As Sister Nivedita had said "from the past to the future through the present", Dr. Hedgewar decided to put all his energy in re-inventing this eternal Hindu Rashtra to take it to the highest glory in his lifetime!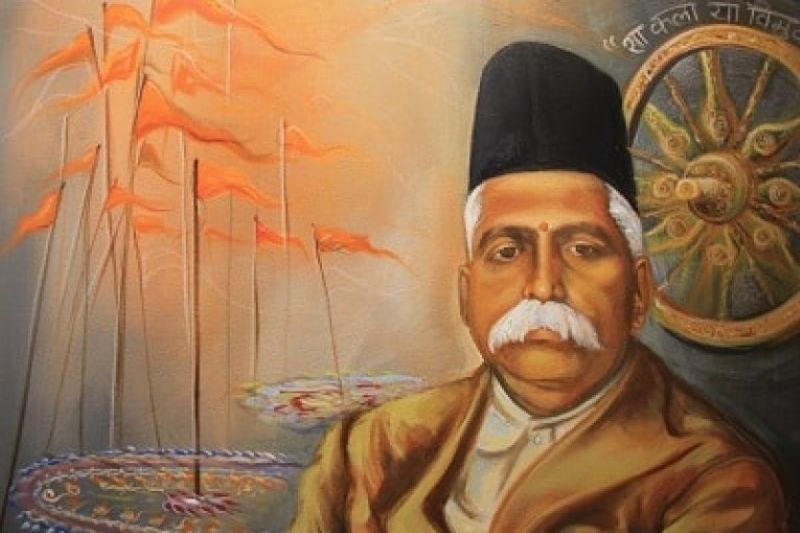 Dr. Hedgewar: His personality and mission was inseparable
And he succeeded! Addressing the swayamsevaks days before he left his mortal frame on June 21, 1940, Dr. Hedgewar said that he was immensely pleased to see the 'miniature Hindu Rashtra' in front of him as swayamsevaks from almost all major provinces had gathered at the Third Year Sangh Shiksha Varg (SSV) that year in Nagpur.
Today, the situation is no different than it was at the time for starting the RSS. The RSS has made good and deep inroads into various sections of the society and increased its influence in the political field. But this very fact is disturbing its opponents. They are afraid of being defeated at the rising trend of Hindutva and therefore, using all sorts of romantic concepts of secularism, nationalism, economic freedom and unlimited consumerism to defeat the Hindutva forces. Every effort is being made to weaken the Hindu society by these elements inimical to the very concept of Hindutva.
These anti-Hindu elements and tendencies receive support from certain international agencies that encourage and support the conversion of poor people, encourage Naxalism, and confuse the people through influencing their thought patterns and academic system. In such a situation, the philosophy and ideology of Dr. Hedgewar that provided the sound and unshakable foundation to RSS can save the nation from these forces.
Remembering and understanding Dr. Hedgewar is, therefore, the "historic necessity" of Bharat.
His long-range vision is more relevant in modern times making it mandatory for the country to know his message and mission for a better future.