New Delhi, April 01: The total GST tax collected by the Central and the State government stands at Rs 97,597 crore for the month of March, 2020 as against the Rs1.25 trillion target for the month, amid an economic slowdown. In the April-March period of FY 20, GST revenue collection grew by 3.8% to Rs 12.2 trillion from the year ago period, as revealed by the official data on Wednesday.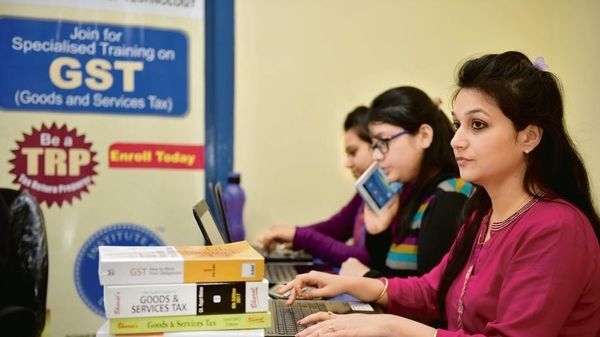 "The government has settled Rs. 19,718 crore to CGST and Rs. 14,915 crore to SGST from IGST as regular settlement. Inaddition,Centre has also apportioned unsettled balance IGST of Rs. 6000 crores on ad-hoc basis in the ratio of 50:50 between centre and States and UTs.The total revenue earned by Central Government and the State Governments after regular settlement in the month of March,2020 is Rs. 41,901 crore for CGST and Rs. 43,516 crore for the SGST", the statement read.
GST authorities had in recent past taken a slew of measures including restricting the use of tax credits by buyers of goods and services in cases where suppliers have not provided the required documentation. An official statement from the finance ministry said that the total revenue earned by Central and state governments after settlement in March, stood at Rs41,901 crore and Rs43,516 crore, respectively. Out of the total 1.2 crore businesses registered for GST, 76.5 lakh filed returns for the month of February till end of March. Revenue collections in March represent sales in February.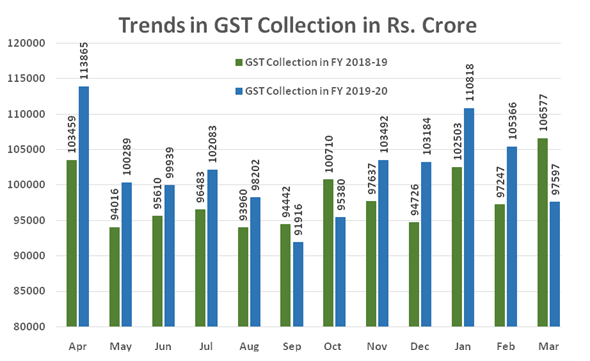 It also showed that among states with a large revenue base, Gujarat registered a 7% growth in FY20 from a year ago, while Delhi reported an 11% growth and West Bengal 9% growth. Many states with smaller tax base have reported higher growth rate, while Uttarakhand reported revenue contraction. The sluggish pace of annual GST collection growth comes amid a sharp economic slowdown marked by a slump in consumption. GST, a tax on consumption, mirrors the deceleration in economic growth rate, projected at 5% in FY20, compared to a 6.1% growth in the previous year.
In the coming months, GST receipts are to mirror the impact of the ongoing lockdown on economic activity. With most businesses being non-operational for a considerable period in March and the relaxation of delayed payments being allowed, collections in the coming quarter are slated to note quite a fall.