Mumbai, May 30: A set of Indian engineers from Jaipur with a group named onetouchapplabs have developed an app that detects apps made in china given a very simple UI to remove them.
In a span of 2 hours Remove China Apps applocation got 5300 plus reviews. Considering the exponential growth in play store reviews, it is evident that 20,000 plus app installations are happening every 3 minutes.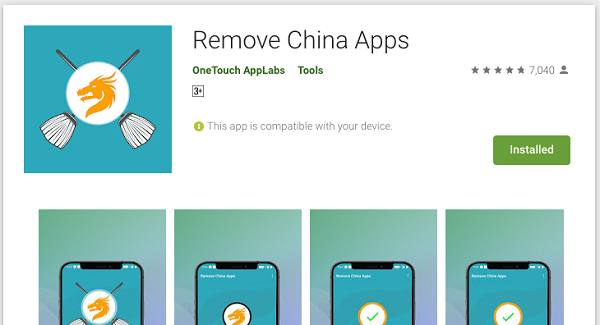 Remove China Apps is a tool that is easy to find and uninstall Chinese apps. This tool lists all Chinese apps ans the user can easily remove selected apps.
How to use Remove China Apps?
1. Download Remove china apps from play store
2. Open the Apps after installation
3. Click "scan china apps"
4. Click on bin icon in the right to remove the specific app
More than 58,000 tweets have been made with the hashtag #BoycottMadeInChina. A good percentage of users have been sharing the screenshot of having no china apps on their phones and considered to go in trending.
App Download link-