New Delhi, June 12: Indian football skipper Sunil Chhetri revealed that he does not see himself retiring from the sport in the coming times as he finds himself the fittest even now during a live chat on the Indian football team official Facebook page. He even further explained spreading awareness and educating people in the society can help to overcome the racial discrimination in society.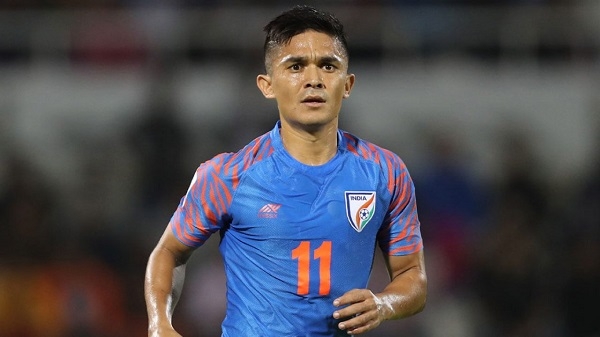 Speaking about his retirement, the captain said, "I do not want to put numbers. My wife keeps reading stuff on the internet and asked me 'what do you think', I said I feel fittest in my life." He believed that he has the most knowledge and enjoying his football currently after playing for so many years. "So, I do not see it anytime soon, " the 35-year-old added.
Earlier, even his teammate Gurpreet Singh Sandhu said the skipper is "getting younger day by day" and can play the game till he turns 41.
Further, he explained how the awareness and education can eradicate racism in society. " "It hurts me like anyone else. It is bad. But most of the time, it is due to ignorance, it is because of not knowing. If you catch a person who is talking these things (racist remarks) you will find he is ignorant and not knowing the things ut you talk to them and make them understand, most of the time they do understand," Chhetri said.
"You are looking down somebody on the basis of color or caste or religion, it does not make any sense. There is no logic or truth in that, it should not be done. The more people will get aware and educated about it, it will lessen and we need it," he added.
His remarks came in the backdrop of the Black Lives Matter after an African-American was killed by an American officer in the US. On the other hand, the discussion started when the former West Indies captain accused that he and Sri Lankan all-rounder Thisara Perera faced racist jibe (Kalu) when he was playing in the Indian Premier League (IPL)'s franchise Sunrisers Hyderabad (SRH) representing the team in 2013 and 2014.