Nation must know Chinese force levels and their capabilities; otherwise, assessments or judgments of Chinese postures on the Line of Actual Control (LAC) and their intent may be wayward. In 1984, Deng Xiaoping set the course for "Four Great Modernizations" that included "Modernization of Peoples Liberation Army (PLA). Since 2015, under the leadership of Xi Jinping, significant changes have been made modernizing and optimizing armed forces for battlefield jointness and effectiveness. Prior to reviewing data available in public domain, let me highlight China's policy or strategy or doctrine: "Creeping Incrementalism and Extended Coercion"; and Salami Slicing in disputed areas so that the border disputes are kept alive until they gain predominant status by 2030 or 2049.
To recount developments in the past, in the White Paper published in 2015, China maintained that its intentions in force modernization were defensive and in the interest of safeguarding national security and development interests. As per US Department of Defense's 2018 China Power report, China's military has introduced reforms of PLA for the "most comprehensive restructuring of forces in its history." On the other hand, the 2019 White Paper stated the impact of competition in the military sphere with the US and to bring about a synergistic approach under informationised conditions. Yet another key factor that must be factored by analysts regarding PLA's capabilities is its Strategic Support Force (PLASSF) comprising cyber, space, electronic and electromagnetic spectrum management aimed to dominate the electromagnetic spectrum. They can disrupt adversaries Air, Land and Naval Force's electro-magnetic spectrum absolutely essential for successful combat.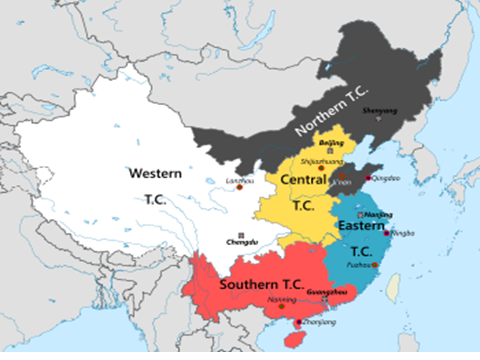 Viewed from the military strategic options available to PLA, none can rule out the likelihood of graduated escalation of "Localized Two Front War" – from Siachen to the LAC in Ladakh. Ipso facto, the PLA has been carrying out joint exercises - Shaheen-VIII joint exercises since 2011 with the Pakistan Air Force and Warrior Exercises since 2013 with Pakistan Army across north Ladakh. If so, PLA-Pak joint forces have capability to achieve 'end objective' to secure the CPEC corridor. In January 2016, on the restructuring drive, China downsized the seven Military Regions into 5 theater commands: Eastern, Southern, Western, Northern, and Central Theater Commands. The theater commands will have Army, Navy, and Air Force components integral to them (on need basis).
Today, PLA reforms have taken giant steps – 18 Group Armies have been re-organized into 13 larger and more powerful outfits as given below with their number designated from 71st to 83rd:
• Each Group Army with six combined-arms brigades integral, as the primary maneuver force.
• Six other brigades responsible for combat and combat support functions: artillery brigade, air defense brigade, army aviation or air assault brigade, special operations forces (SOF) brigade, engineer and chemical defense brigade, and a service support brigade.
• Combined-arms brigades' have subordinate combined-arms battalions to enable them to conduct independent/joint operations.
• Combined arms battalions into three types: heavy (tracked armored vehicles), medium (wheeled armored vehicles), and light (high-mobility, mountain/jungle, air assault and motorized battalions).
• Two air-assault brigades established in 2017 for force projection and air insertion missions.
• Newly modularized 15 Airborne Corps' under PLAAF and now comprises six airborne brigades and a special operations brigade - strategic force: rapid reaction units (RRUs). Way back in 1988 well before current dynamic modernization, there were reports that a 10,000 man airborne division was transported to Tibet in less than 48 hours.
• Restructuring provides the PLA flexibility to structure future force deployments without needing to task organize units that may not have sufficiently trained together.
• Border defense regiments have been reorganized as brigades in most theaters, except the Western Theater.
A new army-subordinate intelligence and reconnaissance brigade has been established in the Southern Theater. Lower level changes are also simultaneously occurring within the PLAA, including an ongoing increase in the size of tank platoons from three to four tanks and the reported doubling of the time PLAA recruits spend completing initial training. The only solace is the reports in public domain that the PLA is missing modernization targets scheduled to be achieved before the 100th anniversary of the founding of the Chinese Communist Party (CCP) in 2021. Although, Xi has announced that the PLA had already achieved mechanization, the PLA is yet to meet the goals of achieving basic mechanization and making significant progress towards informationisation. Therefore, the PLA has been assigned revised targets - 2020, 2035 and 2049.
Aghast at Rahul Kanwal on IndiaToday TV projecting data of opposing air forces and missiles with two former Lieutenant Generals and Air Marshal participating in the debate. One cannot help but producing data available in public domain. Air Vice Marshal (retd) A Submramaniam had argued that the ability of the latest variant of the Chinese-built H-6 bomber to carry six DH-10 cruise missiles—each with a range of around 1,500 km and a combat radius of 1,800 km—means that "Chinese stealth fighters and bombers do not need to become airborne from airfields in Tibet and can launch their cruise missiles on critical Indian targets from well outside any kind of air defense umbrella the IAF can put in place over the next decade." As per former Vice Chief of Army Staff, Lt. Gen. Sarath Chand, statement last year to the Parliamentary Standing Committee, "68% of our equipment is in the vintage category; just about 24% in the current; and 8% in the State-of-the-art category. Similarly, the Indian Air Force (IAF) fighter squadrons (multi-role fighters and Ground Attack) as against authorized 42 squadrons is down to 31 combat squadrons as on date to include: 11 x Su-30MKI; 3 x MiG-29; 3 x Mirage 2000 (undergoing upgrade), 6 x the Jaguar – ground attack (initial stage of upgrade); 2 x two upgraded MiG-27; and 6 x MiG-21Bison (sitting ducks or Flying Coffins in any future war).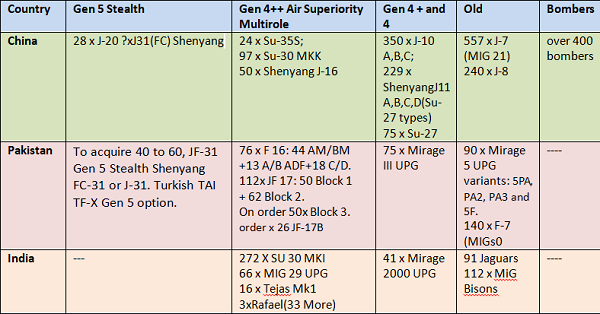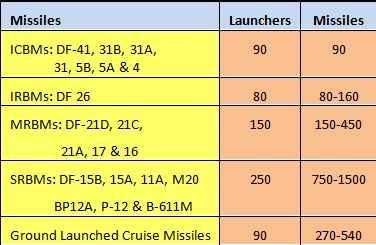 The primary Indian concern is the grouping and capability of Western Theatre Joint Operations Command (covering five Provinces: Sichuan; Qinghai; Gansu; Tibet Military District; and Xinjiang Military District) is responsible for India-Tibet Centric operations. The 2015 reorganization brought together Chengdu (which had responsibility for most of the Sino-Indian border) and Lanzhou (which oversaw Aksai-Chin) into the Western Theatre Command. This regrouping, with enormous military resources at its command, will have important consequences in case of a border conflict between India and China. Affiliated to the theatre are: 1) 76th Group with headquarters located in Xining City, Qinghai Province; 2) 77th Group Army with headquarters located in Changzhou City, Chengdu City, Sichuan Province; 3) Xinjiang Military District forces; and 4) Tibet Military District forces.
In particular, the forces available to Tibet Military District include: • 52nd Mountain Combined Arms Brigade; • 53rd Mountain Combined Arms Brigade; • 54th Heavy Combined Arms Brigade; • 85th Special Operation Brigade; • 85th Army Aviation Brigade; • 85th Artillery Brigade; • 85th Air-Defense Brigade; • 85th Engineer and Chemical Brigade; • 7th Electronic Countermeasure Brigade. However, there are two versions of the Border Defense Forces (BDR) available to Tibet Military District. As per one version, there are 8 BDRs (351 to 358) guarding the border. As per Indian analyst version, the Border Defense Forces available include: • 1st BDR (Shannon City, Longzi County) Unit-77629 - China-India and China-Bhutan Border; • 2nd BDR (Shannon City, Cuona County) Unit-77635 (China-India, China-Bhutan Border); • 5th Independent Battalion (Shannon City, Luoza County - China-Bhutan Border); • 3rd BDR (Shigatse City, Tingri County) Unit-77639 (China-India and China-Nepal Border); • 5th BDR (Shigatse City, Saga County -China-Nepal Border); • 6th BDR (Shigatse City, Yadong County Unit-77649 – (China-India and China-Bhutan Border with Nathula outpost is the 1st outpost of South West, Zhangniangshe Outpost of the 6th BDR is the Yunzhong outpost); • Gyantse 1st Independent Battalion (Shigatse City, Gyantse County) Unit -77655 (China-India and China-Bhutan Border); •Gangba 2nd Independent Battalion (Shigatse City, Gangba County) Unit-77656 (China-India Border (Chaguola Outpost is the High Plateau Red Border Defense Troops); • 4th BDR (Chayu, Linzhi), Unit-77643 (China-India Border); • 3rd Independent Battalion (Beibeng village, Linzhi City, Medog County) Medog Garrison , Mofan Battalion,Unit-77659 (China-India Border); and 4th Independent Battalion (Nanyi Township, Linzhi City, Milin County) (China-India Border).
Thus, the force levels available for Indo-Tibet contingency for 77th Army Group located at Chengdu totals: 10 Combined Arms Brigades; Supporting arms Brigades; and nearly 8 BDRs. In the follow up, the PLAAF can deploy its RRU – 15 Airborne Corps – in 48 hours. And, they can even mobilize other RRUs thereafter from other Commands. Next, the induction of new combat systems and training activities also indicate the PLA buildup. Since the Doklam standoff with India in 2017, advanced high-tech combat systems, like the Type 15 tank, PCL- 181 howitzer, Z-20 helicopter, modified Z-8G large transport helicopter and GJ-2 drone meant specifically for high-altitude conflicts, have been inducted. Both the Type 15 tank and the PCL-181 howitzer were displayed in the high-elevation plateau region of Tibet on exercises in January 2020. Also, a multiple-rocket launcher system, which uses an 8x8 wheeled high-mobility chassis and carries two sets of four 370-millimeter rockets, making it viable for high-altitude deployment. The only solace as per military observers is about 60% could be classified as modern with the remaining 3rd Generation systems.
Most importantly, the review of training exercises carried out in the Tibet Plateau in the past provides insight into China's intentions. Since 2013, PLAAF aircrafts and helicopters have increased to include helicopters engaged in regular patrolling of the border areas across the Ladakh sector and PLAAF aircraft of the Lanzhou Military Region engaged in combat confrontation exercises. From April 2015, J-11 and Su-27 aircraft from the Lanzhou Military Region have been increasingly sighted engaging in regular exercises. A regiment of the J-11 was also reported to be engaged in night-combat training in Tibet in early August 2015. Of utmost significance is the participation of J-20 heavy stealth fighter participating in military exercises in Tibet in 2018, besides J-10 and J-11 fighters. The former Indian Air Force Air Chief Marshal B.S. Dhanoa, for instance, had noted the big increase in the number of Chinese aircrafts in the TAR. He mentioned in particular the deployment of Sukhoi-27 and J-10 aircraft for year-round operations, giving the PLAAF possibly a major tactical boost.
A detailed February 2018 report from a well-known Indian satellite imagery expert noted a sharp increase in PLAAF activity in Tibet, including the building of airports and helipads. The air infrastructure in Tibet has also been upgraded, including the Shigatse airbase; and the Lhasa Gonggar, Qamdo Bamda, and Nyingchi airports. New heliports were also built in 2017, including at Lhasa and Ngari. At the Lhasa Gonggar airport, satellite imagery showed the permanent deployment of two KJ-500 AEW aircraft. Separately, satellite imagery from late 2017 confirmed the presence of 20 J-11s, eight J-10s, and eight Mi17-IVs. Next, the Shigatse airbase reportedly operates UAVs that have been sighted in August 2017. Civilian flights out of Shigatse airport have also been suspended, indicating that it has become a full military facility. The Qamdo Bamda airport also reportedly went through an upgrade with the establishment of a longer runway in 2017 and another airstrip has been created on the Eastern side after the Doklam standoff. Developments at the Nyingchi airport suggest possible heavier traffic in the coming years.
The PLAGF have also been regular training and live-fire exercises conducted by the regiments of the 2nd Artillery, Rocket Artillery and Army Brigade in the TAR. In August 2015 that the PLA Chengdu Military Area Command started a joint military drill, "joint action- 2015 D" that demonstrated live-fire drills with the first of the five drills involving more than 140,000 soldiers. A China Central Television mentioned an exercise in which two DF-26 ICBMs were launched during a rocket force exercise in January 2019. Months after, in July, artillery brigade of the Tibet District was sent to Northwest China's Xinjiang for a live fire drill. The exercise was meant to test the real combat proficiencies including in areas such as electronic jamming and communication loopholes. As India and China were dealing with the Doklam crisis in mid-2017, the PLA was involved in a joint military exercise on the Tibetan plateau. The exercise was reported to have involved a live-fire drill with a ground combat brigade and meant to demonstrate the agility of the local PLA forces and validate their combat capabilities such as assault on enemy positions and destruction of targets like bunkers. The brigade was able to mobilize the forces along with the equipment, taking six hours to transport them from the barracks to the drill zone at an altitude of 16,400 feet above sea level. Commenting on the exercise, military analyst Zhou Chenming said that while India may have more troops present in disputed areas, "China has a clear advantage in terms of speed of movement, fire power and logistics."
Finally, China has developed physical border infrastructure along with the military hardware and forces in this region enhanced its overall capabilities in the event of a war with India. Chinese PLA have erected several military camps close to the border areas, which means that their forces have grown relatively acclimatized to the region's prevalent high-altitude conditions. The Lhasa-Nyingchi railway line will run parallel to Arunachal Pradesh. And, China has plans to launch a 1,700-km railway line from Sichuan to Tibet to be completed by 2026. Moreover, Beijing has developed a 1,080-km-long oil pipeline from Golmud to Lhasa with a carrying capacity of 0.5 million tons per year. These, along with the number of helipads and airbases along with logistics and oil depots in the TAR suggest that China is planning for not only mobilizing forces at the border quickly but also for sustaining them on the border areas for longer periods of time. So, they will have major implications for India's border security in midterm context by 2025.
In contrast, India faces tougher geological conditions in improving its infrastructure, particularly in the NE due to North-South flow of rivers on our side, developing lateral connectivity is challenging. To sum up, since the forces of Tibet Military District are located in the Tibetan Plateau, they are acclimatized in situ for High Altitude battles. The PLA is also capable to undertake rapid build up to the Sino-Indian border areas. The Rapid Reaction Forces (or RRUs) can be moved at short notice to the border areas in any weather or season. The quick mobilization capabilities have been tested validating the effectiveness from operational perspectives. The establishments of logistics centers and oil depots in TAR and Sino-Indian border areas along with the improved road, air and rail networks have enhanced their capabilities for rapid mobilization. PLA's impressive achievements with regard to troop mobilization, joint training, and integration on the Sino-Indian border as well as in the TAR should be vital concern for India. So, the initial outcomes may tilt in China's favor, at least in the initial stages of a conflict.
A word of caution! This review of China PLA capabilities and intent is focused on one likely scenario. No need for paranoia. Mountain warfare is a different ball game. A determined and well led junior leader can inflict unacceptable casualties on attacker. Furthermore, Indian armed forces despite constraints are spiritedly led and have up their sleeves classified war plans to dissuade and deter any misadventures by adversaries. No need for the nation to be misguided by various articles and debates or politicization by "Blind men of Hindustan". Remember always, China has to face Indian riposte in the Malacca Straights and IOR through which 75% of their maritime traffic passes through. Of utmost importance is modernization of Indian Security Forces by restructuring of forces earliest and induction state-of-the-art Generation 4++ and 5 combat systems. Political decision makers and scientists must focus their attention to provide the 'wherewith all' to soldiers to deliver a befitting reply to adversaries. It is despite 'economic recession' due to post-COVID 19.