-Anjali Ankad
Rajiv Gandhi Khel Ratna Award, the highest sporting honor in India is annually awarded by the Sports Ministry to sportsperson for their "spectacular and most outstanding performance in the field of sports over a period of four years" at the international level. This time, eight sportspersons have been recommended for this award from their respective recommenders.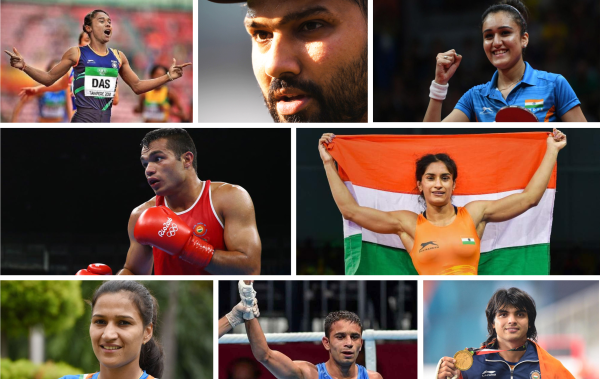 The authorities examining the period of consideration for the Khel Ratna Award will be between January 1, 2016, to December 31, 2019. Till now, the sportspersons selected for the nominations are five men and four women. Now, there seems to be some "equality" and the field of the sport they come from is varies which can be considered slightly fair! Here goes the list -
Rani Rampal (Hockey)
Since 2017, this hockey player has contributed immensely while leading the Women's hockey team to major victories at international levels. Being a captain is not everyone's cup of tea but Rampal made the captain's role look so easy because she chose to see it as a responsibility rather than a burden. She has played a crucial role in the FIH Olympic Qualifiers in 2019 by scoring the deciding goal that helped in India's qualification for the Tokyo Olympics. Due to her captaincy, the team also climbed to a career-best FIH World Ranking of No.9. She was also the first from India to be named as the World Games Athlete of The Year 2019. Rani has also been the recipient of the Arjuna Award in 2016 and the prestigious Padma Shri award in 2020. If she is awarded the Khel Ratna Award, it will be no big surprise because she deserves it!
Hima Das (Sprinter)
Young talent being nominated for the Khel Ratna might feel a bit shocking but given the accomplishment achieved by Hima Das, it does not seem so. One of the ace sprinters India has ever produced has garnered praises all over the nation. The 20-year-old hailing from Dhing village in Assam is India's first track athlete to win a global title at U20 World Championship in Tampere, Finland in 2018 clocking 51.46 seconds. She literally conquered the year 2018 earning historic titles while representing India as he clinched 4X400 mixed relay gold (upgraded) and women's 4X400m gold at the Jakarta Asian Games and U-20 world title with 400m silver. Her success in 2019 continued as she won three gold in a month and overall, five gold medals. She is one of the youngest recipients of the Khel Ratna award but a tough competitor to beat in this national award.
Manika Batra (Table Tennis)
Manika Batra is one of the unsung heroes who have attained so much in her career yet she is not recognized at a wider scale. Debuting at a very young age, the paddler became one of India's best paddlers. She is also the only Indian to have received The Breakthrough Star Award by the International Table Tennis Federation (ITTF). She had achieved her career-best ranking in 2019 after ranking 47th in the world becoming a top-ranked female table tennis player in India. She went to win several gold medals in the South Asian Games and the Commonwealth games. Sigh of relief! That she chose table tennis and making the nation proud on many occasions.
Vinesh Phogat (Wrestling)
Coming from a family who is already successful wrestlers, Vinesh Phogat has lived up to her family with all her triumphs. Her family has faced a lot of criticism from their community but it did not stop her to be become a wrestler and becoming the first Indian woman wrestler to win Gold in both Commonwealth and Asian games. She is also the First Indian Athlete to be Nominated for Laureus World Sports Award. She is only an Indian woman wrestler to earn a Tokyo Olympics berth. If she is awarded the Khel Ratna then she will the second female wrestler to earn it.
Amit Panghal (Boxing)
Inspired by his army brother who was a former amateur boxer, Amit Panghal took up boxing gloves and competing in the flyweight and light flyweight divisions. Making his debut appearance, he already clinched a gold medal at the National Boxing Championships in 2017. Later on, he went on to secure several medals for India in Asian Championships, Commonwealth Games, and World Champions including a silver medal at the 2019 AIBA World Boxing Championships in the Flyweight division. He is also a Junior Commissioned Officer (JCO) who served in the Indian Army in 2018. The pugilist also booked a berth for Olympics 2020 that were to be held in Tokyo. Since 2009, no pugilist has won the Khel Ratna award, this would be a great opportunity for him to break that.
Neeraj Chopra (Javelin Throw)
This athlete has neither won a silver nor a bronze but only gold whenever he made an appearance as a javelin at international events while competing in the javelin throw. He is well-known for his breaking his personal records as well as national records. In his Commonwealth Games (CWG) debut, he not only joined an elite list of Indian athletes to win a gold medal but also became the first Indian to triumph in Javelin Throw at CWG. In the 2018 Asian Games, the Haryanvi Munda threw a distance of 88.06 m to win gold in the men's javelin throw and set a new Indian national record, bettering his own previous record (87.43m). Missing out the entire season of 2019 due to an injury, he made a grand comeback by throwing 87.86m at the ACNE League earning him a ticket to Tokyo Olympic Games, his first-ever. With all these unbelievable feats in Javelin throw which is practiced by very few athletes, Chopra will inspire many people to take up this sport as a career after he receives this award.
Vikas Krishan Yadav (Boxing)
Debuting at the age of 18, Vikas Krishan Yadav had already won a gold medal in the 2010 Asian Games. Further, there was no stopping for the pugilist as he has mastered to earn triumphs in the lightweight, welterweight, and middleweight divisions and has emerged as victorious attaining several medals in Asian Games, World Championships and Commonwealth Games. Taking a break after 2012, on finishing his education and trained with the Haryana State Police to become an official, however, he continued to chase his dreams in 2014. He was inconsistent but finally gained the pace while and picked a few gold medals under his name. He also defeated Japan's Sewon Okazawa, World No. 6 to book his Tokyo Olympic ticket. He became the only second Indian men boxer after Olympic bronze medalist Vijender Singh to qualify for Three Olympics. In his 10-year career, receiving this award would mean a sweet yet great accomplishment.
Rohit Sharma (Cricket)
Everyone Indian might know this person due to his out-of-the-world batting and earned the title of ODI Cricketer of the Year by the International Cricket Council (ICC). He is not only an exceptional batsman but also a match-winner. The Arjuna awardee has scored 39 international centuries making several records given his powerful hitting gaining the name "Hitman". A unique record he holds that he is the only player to have scored three double centuries in ODIs. In T20 international cricket, he holds world records for most career centuries and most career runs among many of his other records. He is also the skipper of Indian Premier League's franchise Mumbai Indians that has won four times under his leadership. He is also the third-highest run-scorer in IPL after Virat Kohli and Suresh Raina. He is widely appreciated for his performance and helping India to win at many matches, so earning this award would be nothing of a shock!
Kidambi Srikanth (Badminton)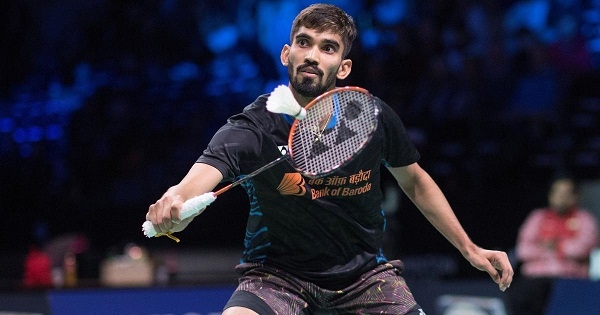 Indian shuttlers are always making the nation by their record-breaking performances and so is Pullela Gopichand another gem Kidambi Srikanth. He is former world one who made his Olympics debut at the 2016 Rio Games and went on to become the first Indian to win four Super Series titles in a calendar year (2017) – Indonesia Open, Australian Open, Denmark Open, and the French Open. Even in the year 2018, he along with his Indian squad won a gold medal at the Commonwealth Games and a silver medal at the individual's event. He followed that with another team event gold medal at the 2019 South Asian Games.
The award comprises a medallion, a certificate, and a cash prize of ₹7.5 lakh (US$11,000). Being a national sports award, it is a privilege for any sportsperson to achieve it. From 1992 to 2019, only 38 sports personalities have earned this award. The Rajiv Gandhi Khel Ratna Award can be given a maximum of three persons in a year. The awards, including the Rajiv Gandhi Khel Ratna, are given away every year on August 29, the birth anniversary of hockey wizard Dhyan Chand, which is also celebrated as the national sports day.
Tell us who deserves more than these players, if you think there are any!