-Shivani Shinde
In this EDM music world, the soulful music of Rahul Dev Burman stands apart. Though several years have passed away he is always remembered who created soulful music which made him into India's legendary musician. The songs of timeless music maestro have always been full of emotions and for creating with a touch of uniqueness. He is that music composer who changed the sound of music in Indian cinema that has left behind a rich legacy for generations to come.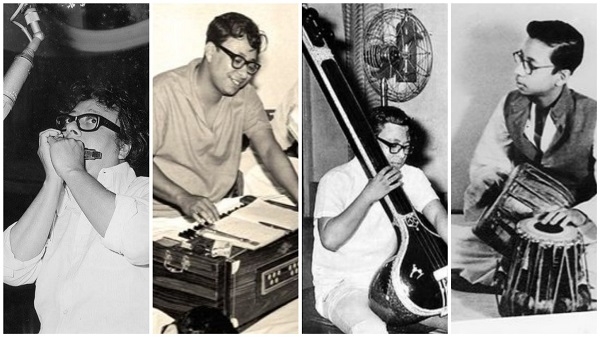 Born on 27 June 1939 in Calcutta to the singer and composer Sachin Dev Burman was called 'Pancham' as he used to cry in five different notes when he was a child. Learning under masters like Ustad Ali Akbar Khan and Ashish Khan, he made music that the country had never heard before. He entered the Bollywood industry in the 1950s when he composed his first song while he was merely 9-year-old, 'Aye Meri Topi Palat Ke Aa', which his father used in the film 'Funtoosh' in 1956. Since then, there was no stopping for him as he kept going forward exploring a different kind of music.
Since the 1960s to the 1990s, he composed musical scores for almost 331 films. He started his career as music director in 1961 with 'Chhote Nawab'. In 1966 was the year of Rahul Dev Burman's breakthrough film, Teesri Manzil, produced by Nasir Hussain and directed by Vijay Anand. Each song he created was epic and suddenly, the entire country was grooving to 'O Haseena zulfon waali jaane jahaan', 'Aaja aaja main hun pyaar tera' .
The uniqueness of his composition comes when not only make folk and classical music accessible to the modern listeners, but present them in an original, yet contemporary manner for young listeners. This trick of him is rarely to be seen in current music composers. He was also known for mixing rock and disco elements with Bengali folk music whose soulful compositions never fail to strike a chord. For more than three decades, his versatility has inspired so many generations.
Burman introduced influences from around the world in his works, giving us masterpieces like 'Kya Hua Tera Wada', 'Ek Ajnabee Haseena Se', 'Kuch Na Kaho', and 'Aane Wala Pal Jane Wala Hai'. The music composer worked majorly with Mohammad Rafi, Asha Bhonsle (his wife), and Lata Mangeshkar. He composed fresh tunes, which were a combination of rock and disco with classical beats and sometimes even tunes inspired from Western dance numbers. His rhythms steeped in African drums, bass guitar, acoustic guitar, madal, shakers, bongo, and tabla, among other instruments, are irresistible.
Pancham da gifted some of the best music scores to Bollywood in films like Chhote Nawab, Baharon Ke Sapne, Pyar Ka Mausam, Yaadon Ki Baaraat, Padosan, Jewel Thief and Aradhana, among many others. He continues to bring a smile and manages to make us cry with his soulful music. On his 81st birth anniversary, we still remember his renditions. So as a tribute to this maestro, let's walk down the memory lane, here are 10 of his most beloved evergreen tracks that are still ruling the charts today.
'O Mera Sona Re Sona Re' — Teesri Manzil
'Chura Liya Hai' — Yaadon Ki Baaraat
'Humne Tumko Dekha' — Khel Khel Mein
'Ek Ladki Ko Dekha Toh' — 1942 A Love Story
'Tum Aa Gaye Ho' — Aandhi
'Kora Kagaz Tha Mann Mera'
'Piya Tu Ab Toh Aaja' — Caravan
'Gulabi Aankhein' - The Train
'Kuch Na Kaho' - 1942 Love Story
The list will never stop as he has created so many hits that it will not be never enough to mention his songs. He was an experimental music director who always played around with different kinds of music. His music marked a turning point in Indian Cinema. With songs that find relevance even decades later, RD Burman's legacy will live on in everyone's hearts!
Happy Birthday, Pancham Da!