-Anjali Ankad
With the whole world protesting against the killing of George Floyd, an Afro-American man by a white police officer in the USA, several athletes have come forward to speak up against racism. Most of them have also urged the people to break the silence and speak up for the racial discrimination they have been facing. Thereafter #BlackLivesMatter is trending for days with people taking to the streets from all walks of the lives shared their stories and revealed the moments when they faced such racism based on the color of the skin.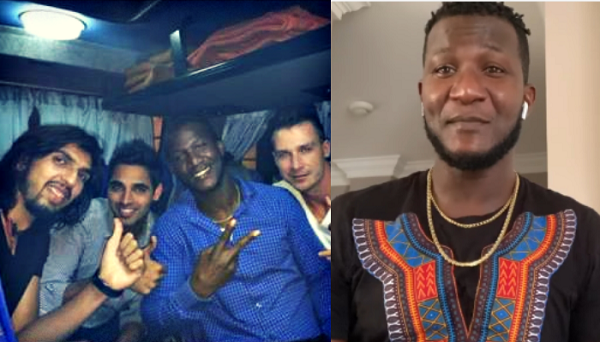 Amongst them is the former West Indies captain Daren Sammy. However, he not only insisted to stand up against the injustice but also made shocking revelations about the racism he faced within Sunrisers Hyderabad. On Saturday (June 6), Sammy had accused that he and Sri Lankan all-rounder Thisara Perera faced racist jibe when he was playing in Indian Premier League (IPL)'s franchise Sunrisers Hyderabad (SRH) after he had represented the team in 2013 and 2014.
Sammy, who represented SRH in 2013 and 2014 lost he cool when he realized he and Perera were named as 'kalu' meaning 'black person' when they were part of the franchise."I just learnt what that kalu meant when I played for sunrises in the IPL. They called me and Perera by that name. I thought it meant strong Stallion. My previous post tells me something different and I am angry, " he wrote in his Instagram story.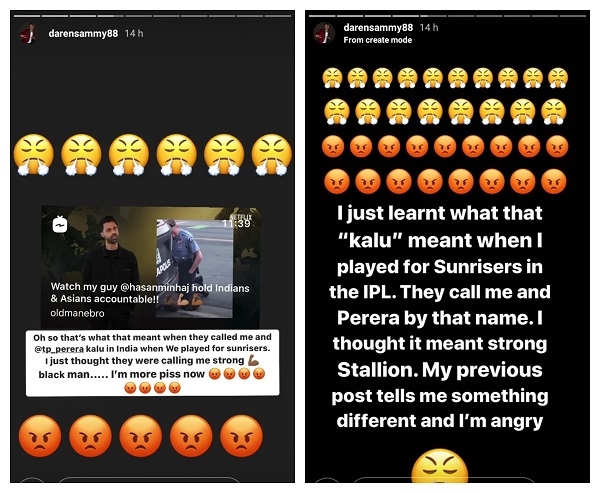 Last week he even appealed to the ICC and other cricket boards to support the fight against social injustice and racism.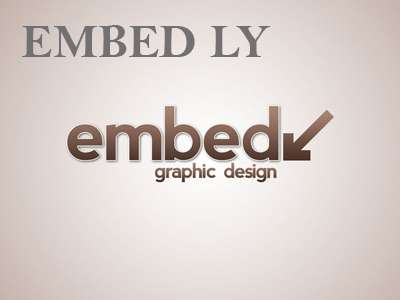 This somewhat sparked debate among few cricketers who were part of the SRH at that time including Parthiv Patel, Irfan Pathan, and Venugopal Rao stating that they were not aware of any such racial comments made towards the West Indian all-rounder. "I don't think I have heard anyone using those (derogatory) words," Parthiv was quoted as saying who was with SRH in 2013. Meanwhile, Venugopal, who joined Sunrisers in 2014 is currently director of the Andhra Cricket Association said, "I'm not very sure… Not aware of it".
Even the former Indian bowler Pathan who was also part of SRH in 2014 said if such incidents really happened then it would have been immediately discussed adding that he was oblivious of such things as nothing was discussed in a larger way but he said, " he (Sammy) has to take responsibility for his comments".
However, later he said, "Some of our cricketers from the south, especially, have faced that in the northern and western parts of the country, though I don't want to name anyone. What happens is among the crowd, someone tries to act like a jester. It's not because people are racist, but it's like someone trying to be popular by saying something seemingly funny that amounts to crossing the line on certain occasions. I believe in the society we need to educate everyone, elders and family should teach what is right to say and what's not, we need to value faith and beliefs of others, we can do better by educating kids of our generation," he added.
It was reported that the BCCI did not receive any such complaint in the history of IPL and a board official said, "Sammy should have reported at that time if he had any complaints. If he wants he can still lodge a formal complaint with the specifics and the Board can investigate if needed".
Today, the former T20 World Cup-winning captain making everything uploaded a video addressing the racism within the SRH camp saying he will message all those called him with that word. "I have played all over the world and I have been loved by many people, I have embraced all dressing rooms where I have played, so I was listening to Hasan Minhaj as to how some of the people in his culture describe black people," Sammy said in a video posted on his Instagram account.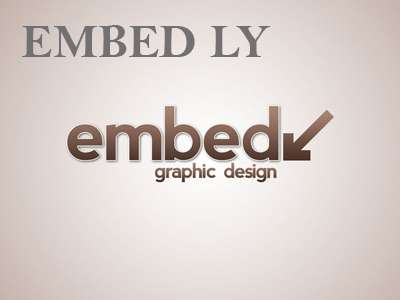 Explaining how he came to know the meaning of the video, he said, "This does not apply to all people, so after I found out a meaning of a certain word, I had said I was angry on finding out the meaning and it was degrading, instantly I remembered when I played for SunRisers Hyderabad, I was being called exactly the same word which is degrading to us black people," he added.
At the time when he was being called with the word, he didn't know the meaning, and his teammates used to laugh every time after calling him by that name, he recalled. "I will be messaging those people, you guys know who you are, I must admit at that time when I was being called as that word I thought the word meant strong stallion or whatever it is, I did not know what it meant, every time I was called with that word, there was laughter at that moment, I thought teammates are laughing so it must be something funny."
"Now, I realise it was degrading, I will be texting you guys and I will ask you as to when you called me with that name, did you all mean it in any bad way or form? I have had great memories in all my dressing rooms, so all those who used to you call me with that word, think about it, let's have a conversation, if it was in a bad way then I would be really disappointed," he added.
Having said that, an Instagram post shared by Indian pacer Ishant Sharma is now doing rounds where the caption reads "Me, bhuvi, kaluu and gun sunrisers," which has him, Bhuvneshwar Kumar, Sammy and South Africa's Dale Steyn in the frame.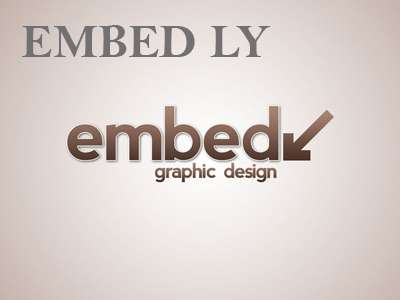 This is not the only racism existing in India. People especially from the north-east part of India have to face a lot of racism due to their facial features. There have been many examples in this ongoing crisis where these people were regarded as Chinese people calling them as 'Chinese virus'.
Is there as end to this?