Southhampton, July 11: Dr Vikas Kumar who hails from New Delhi one of the health workers whose name was featured on the jerseys of England's Test players to honor the health professionals working at the forefront to combat COVID-19. The jersey with his name was worn by none other than England Test captain Ben Stokes.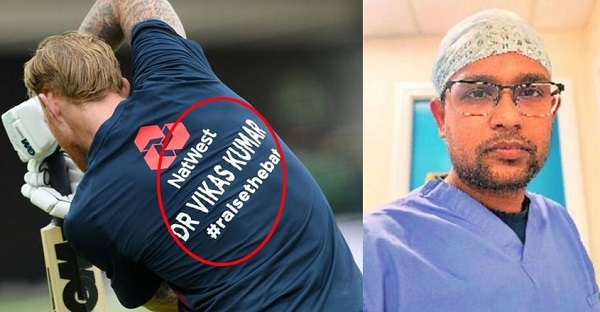 Kumar works at the critical care unit of a National Health Service (NHS) Trust hospital at Darlington in Durham. He was selected by cricket clubs in England as part of their Raise The Bat campaign. He is an anesthetist and a cricket enthusiast was very happy about it, and dedicated this to all the doctors around the world, including his 'friends in India'.
He completed his graduation from Delhi University and then did his post-graduate diploma in anesthesia from Maulana Azad Medical College. He then shifted to England in 2019 and now plays for the local Gilli Boys Amateur Club and Cowgate Cricket Club in nearby Newcastle.
Meanwhile, Stokes also had a heart-warming video message for Kumar. "Hi Vikas, a big thanks for everything you have done throughout this pandemic. I want to wish you a happy return to cricket, all the best mate, get as many runs and wickets as you can." Responding to this message, the doctor's said, "I wish you on your first Test as captain."
The names of three other Indian-origin health workers — Dr. Jamasp Kaikhusroo Dastur from Norwich, and Harikrishna Shah and physiotherapist Krishan Aghada from Leicester — were also featured in the campaign for the ongoing series against the West Indies.