Mumbai, July 15: Reliance Industries Chairman and MD Mukesh Ambani announced a major strategic deal with the search engine giant Google during the 43rd Annual General Meeting (AGM) of the company. He announced that Google has signed an agreement to invest $4.5 billion (INR 33,737 crore) for a 7.7 percent stake in Jio Platforms.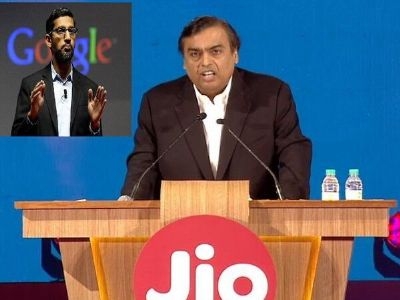 "We are delighted to welcome Google as a strategic investor in Jio Platforms. We have signed a binding partnership and an investment agreement, under which Google will invest Rs 33,737 crore for a 7.7 percent stake in Jio Platforms," Ambani asserted. Google becomes the second-largest investor in Jio after Facebook which has a 9.9% stake in the company. This investment by Google valued Jio Platforms at an equity value of Rs 4.36 lakh crore.
Further, he said that last year's AGM speech, I had shared our goal of being net debt-free. I have happy to report that we have met our goal ahead of the target. We also completed India's largest rights issue. "Jio is now the undisputed leader in India with the largest customer base, with the largest share of data and voice traffic, and next-generation broadband network," he added.
Google and Jio are partnering to build an Operating System that could power a value-engineered, entry-level 4G/5G smartphone. The Jio-Google partnership is determined to make India 2G-market, Mukesh Ambani said. With this investment Google and Jio Platforms have entered into a commercial agreement to jointly develop an entry-level affordable smartphone with optimizations to the Android operating system and the Play Store.
"The pace and scale of digital transformation in India is hugely inspiring for us and reinforces our view that building products for India first helps us build better products for users everywhere. Google is proud to invest ₹ 33,737 crores into Jio. I am excited that our collaboration will focus on increasing access for hundreds of millions of Indians who don't currently own a smartphone while improving the mobile experience for all, "Sundar Pichai, Google CEO said in the statement.
"Together we are excited to rethink, from the ground up, how millions of users in India can become owners of smartphones. This effort will unlock new opportunities, further power the vibrant ecosystem of applications, and push innovation to drive growth for the new Indian economy," Pichai, said in the statement.
Ambani also announced that Jio has developed a complete 5G solution from scratch, this will enable us to launch a world-class 5G service in India. This will be ready for trial as soon as the 5G spectrum is available & can be ready for field deployment next year. "As India is standing at the doorsteps of the 5G era, we should accelerate the migration of 350 million Indians, who currently use a 2G feature phone, to an affordable smartphone, Mukesh Ambani said
He also added that Reliance will work with other Indian companies, including start-ups, to vigorously promote "Made-in-India", "Made-for-India" and "Made-for-the-World" products.