Inside Paris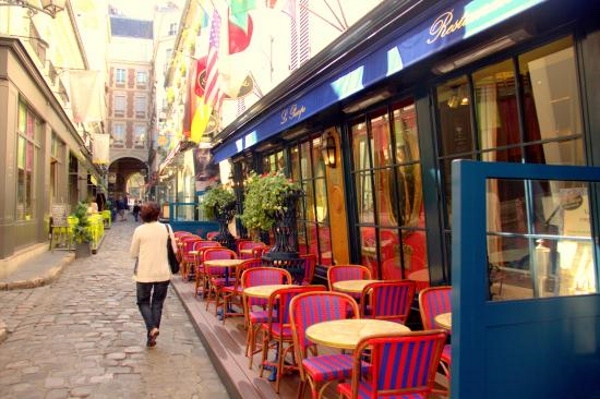 I mentioned about my short tours within Paris city limits along with my French teacher, in last part. The highlight of one of such tours was a 17th century restaurant near metro station Odeon, which is operational and in regular business for last over 250 years, where we ate lunch. She ordered oysters (raw, to be seasoned with lemon juice, red onion syrup mixed with vinegar etc. before eating or rather gulping), a delicacy for the French. It wasn't my idea of a good lunch, but I gulped down my ideas along with the oysters because I was highly impressed by the place, and happy that she had brought me there. That restaurant was a meeting place for the likes of Voltaire (1694-1778) for evening coffee and rendezvous with like-minded friends. The table used by Voltaire for writing either before or after the coffee, has been preserved till date. They have also maintained Napoleon Bonaparte's (1769-1821) military cap as souvenir, which he had to leave with them when he, a lieutenant then, had no money on him to pay for the lunch he ate there once.
The city of museums, as Paris is popularly known, continued to beckon me. I visited one at Trocadero that exhibited various styles of French architecture that evolved with time since the 11th century. One wouldn't be able to imagine the feeling of surprise one would experience after discovering that the things that appear as relics of forts or palaces are not real but their prototypes, skilfully crafted by a set of artisans. Hats off to the great minds who conceived the idea and the hands who crafted them! There was an altogether different show at famous Qai Barnly. It was an exhibition of the tribal art of India, organised by chief curator Jyotindra Jain, by fetching pieces of art (paintings, sculptures et al) from Delhi, London as well as from some private collectors. It covered the geographies from Gujarat to Nagaland and Rajasthan to the Andamans. It had the Warli paintings of then 75 years old tribal Jivya Soma Malshe from Thane district (now Palghar), and also lovely work by legendary late Jangarh Singh Shyam, from Pardhan Gond tribe of Madhya Pradesh.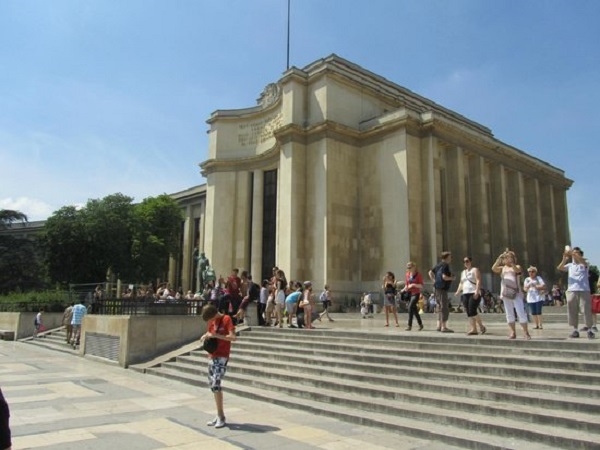 It's a must for a tourist to take the cruise in Seine. This river defines Paris and gives it its character. It flows by the most important sites of tourist attraction and provides a lovely backdrop to them all. Imagining Paris's beauty without Seine is unthinkable. And what a choice of day & time for that! It was Friday evening and it was a pleasure watching (besides the beautiful buildings that passed by and the lit-up, shimmering Eifel tower) the young Parisians having fun by partying/playing music in their week-end get-togethers on both its banks without bothering their neighbours who were equally into it. I recalled what I read somewhere in Paris itself that said, "Your right of freedom is restricted by the same of others". How true? Life will be so beautiful in India too, if that starts happens here!
I also happened to be there in Paris on their longest day of the year i.e. 21st June. There was bright sun in the sky even at 10 pm, just like we would see it in India around 5 pm. In celebration, enthusiastic crowds were out on the streets, singing, dancing, playing various instruments, in open for all, informal music festivals.
I was lucky to be present at the time of pre-Christmas arrangements and festivities, which is a big-time special season there. I roamed through the special street-shops (very well organised, dirt/litter-free) quite a few of which were make-shift eateries where you got to eat the exotic cuisines like the Caribbean and Latino. Similarly, one could also sample variety within the French cuisine fold e.g. Corsican. I had heard about the taste for the horse-meat the French had, in general. But, it was at that Corsican joint I learnt that the islanders had gone a step further by habitually relishing donkey-meat. I admired the donkeys of Corsica for having fed the likes of Napoleon and made him what he became, though their brethren in our part of the world were always considered worthy of only 'donkey-work'. On second thought, with the real evidence on hand such as Napoleon's, one could recommend replacing the measure of horse-power with that of donkey-power.
Outside Paris
When in Rome behave like a Roman, they say. Similarly, when you're in Paris, you drink enough variety of wine or at least talk about it, turning your attention gradually to the high prestige point of champagne. That is how you connect with them and fit in well. I was lucky to be a part of a tour of the kingdom of champagne viz. Reins region, on the outskirts of Paris. The guided tour of a century old winery with an imposing fortress-like structure and bottomless basements used for storing the produce at the right temperature, was hugely impressive. It exactly lets you know about the seriousness with which the French handle their wines. Needless to say, the tour had the necessary hospitality element built-in.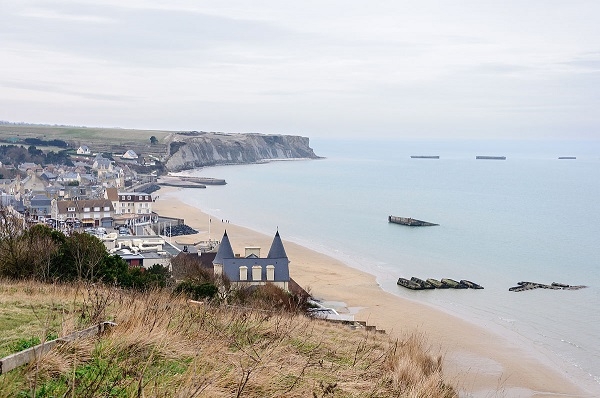 Another must on the French soil, apart from wine in the F&B department, is cheese. One would be simply floored by the variety of cheese that is available and eaten there. A French woman told me that they had 364 varieties for 365 days of the year, thus allowing only 1 chosen type to be tasted twice in a year's span. Although one can always take such proud comments with a pinch of salt, the variety is astonishing doubtlessly!
I visited the north-western French province of Normandy for a day's work. I spent the previous night at Le Havre from where boats ply twice a day to England's shores through what we know as the English Channel. My French colleague chose to address it as "the channel". I got the message. Voyage takes only six hours one way. The Normans of this Normandy had once ruled England. In 1066, William of Normandy was crowned as the King of England and for the next 20 years French (regional version) was the language of the aristocracy, law-courts and the church hierarchy in England. Sounds unbelievable now, right! Quite a few English words as a result, started being spelt differently. Let's take the word quick; it was the French influence that converted original 'cwic' to today's quick. Interesting, isn't it!
Our factory at Bolbec-Baclair was half an hour's drive from Le Havre. The site, as the introduction went, first manufactured printed cloth, before it was acquired in 1961 and converted into a bulk drugs factory. Interestingly, the printing on the cloth was known as Indian printing. Why? The people living, working there now can't explain it, but can only confirm that it was so. May be some connection with the traditional textile industry secrets reportedly stolen by the British from the Indian subcontinent to raise their Manchesters, having a spilling over effect across 'the channel'!
I took time out to land in a small southern historical town of Orleans. It became famous for the historic battle the French fought with the British, driving them out, where the famous young girl Jeanne D'Arc played a leading role and became a martyr. The town has not only proudly installed her horse-riding / sword-wielding statue in its centre but has also preserved her house, existing since 1429 and converted it into a museum of sorts. Hats off to the French! Had we been just as good, the forts of Chhatrapati Shivaji wouldn't have reached the stage which they have.
I seized an opportunity of a day trip to Brussels, capital of neighbouring Belgium and also of the European Union. It was only one hour twenty minutes one way by the bullet train. A nice one day adventure, never giving one a feeling of crossing into another nation, because a sizable population (a slight majority) there speaks French. However, the major bone of contention between the two nations is who truly invented the fries that are served in restaurants all over the world. The Belgians blame the French for unilaterally calling them the French fries. Taking a cue, we should be on the lookout, not allowing Pakistan to take the credit for tandoori chicken, which they may claim to have been invented in Lahore and not Amritsar.
Last but not the least, although I thoroughly enjoyed my two month long stay in the world's arguably most liveable city, including the great international spread of food options it offered and such things, I was startled by one sudden, unconnected question on a nice evening coming from my French colleague sitting beside me for the gala dinner, "how many Christian employees do you have in your Indian subsidiary"? I almost choked on what I was eating then, and although I replied 'satisfactorily', it left me wondering whether a Hindu (me or any other) would ever dream of asking such inquisitive questions to a foreign visitor to India.
That's all that I had to share with you about Paris and a bit of rest of France. Let's try to catch up with a few more interesting places soon!