Kerala, July 20: After a year-long journey from Maharashtra to Kerala, the 70-ton truck with 74 tyers carrying an aerospace horizontal autoclave on board finally reached its destination at ISRO's Vikram Sarabhai Space Centre in Thiruvananthapuram.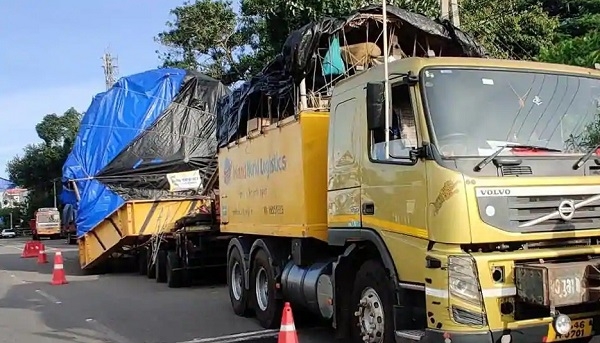 "We started the journey on July 8, 2019, from Maharashtra. Now after traveling for one year and across four states, we have reached Thiruvananthapuram. We hope to deliver the cargo today at VRCC," a staff member traveling with the cargo told. The heavy machinery weighed 70 tonnes and has a height of 7.5 meters and a width of 6.65 meters. It is manufactured in Nasik's Unique Chemoplant Equipment company. Due to the height of the machine, they were unable to transport it via Cargo in the ship and thus had to choose the road.
This mega-truck in total has traveled through four states at the pace of only 5 kilometers a day. The road distance between Nashik to Thiruvananthapuram is 1796 km. A team of 30 staff members comprising of engineers, electricians, and other experts facilitated the journey. While it was moving, no other vehicle was allowed on the road.
At many places, the authorities have to remove tree branches and even remove electricity poles to clear path for the vehicle. At two locations, they had to install iron girders to allow smooth passage over bridges. However, when the truck reached Panakam in Andhra Pradesh, their journey was stopped due to lockdown. The stay lasted two months.
"We're using a rope to carry cargo's weight. It's being pulled by two axels, front & back, both have 32 wheels each & puller has 10 wheels. Puller is pulling it all. Drop deck weighs 10 tonnes and cargo weighs 78 tonnes. Weight is being distributed in two axels," a staff with the cargo said. ISRO has paid around nine crores for the equipment that includes transportation. This autoclave is going to be the largest one installed at ISRO's facility at VSSC. The autoclave can't be dismantled to be transported in pieces and had to be transported in a single giant piece.
This large cylindrical piece of machinery will enable ISRO to manufacture a cost-effective, extensive, and light-weight structure needed for satellites and launch vehicles. Autoclaves are used to process materials needing exposure to elevated temperature and pressure.. The machine will be brought to the center in Vattiyoorkavu and commissioned by the end of this month, said VSSC authorities.