New Delhi, July 27: Following China asked to shut down the United States its consulate in Chengdu, the American flag has been taken down at the US consulate and has suspended operations in its Consulate in Chengdu on Monday morning.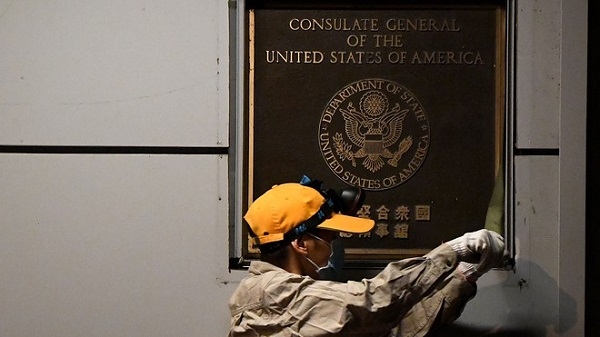 The United States Department had released the statement that the consulate suspended operations at 10 a.m. on Monday. It also expressed disappointment at China's decision and said the US would try to continue its outreach to the region through its other missions in China. The Chengdu Consulate "has stood at the center of our relations with the people in Western China, including Tibet, for 35 years", it added.
Police have closed off a two to the three-block area around the consulate, cutting off virtually any view of the property. Chinese Ministry of Foreign Affairs said in a statement Monday that the Chengdu consulate closed at 10 a.m adding that Relevant Chinese authorities then entered from the main entrance and took over."
Last week, the US government ordered the closure of China's consulate in Houston, Texas, claiming the mission had been involved in a larger Chinese espionage effort using diplomatic facilities around the US.
The US on Sunday forcible shut down of the Chinese consulate in Houston. After that China's Foreign Ministry Spokesperson Hua Chunying has slammed the US alleging that their 'break-in' was a violation of the Vienna Convention on Consular Relations which clearly states that consulates and embassies of a country on foreign land are its properties. Calling the incident 'a burglary', Hua Chunying said that the 'break-in' was 'a violation of the US constitution and the Foreign Missions Act.'