Mohun Bagan, one of the oldest football clubs in the country is not just a football club but an emotion to all millions of football fans. The biggest glory for the club came when Mohun Bagan had defeated East Yorkshire, The British Regiment in the IFA Shield Final on July 29, 1911, bringing an iconic pride to the nation. The club became the first Indian club to end the British suppression in the tournament. That victory of the club turned 131 on Wednesday.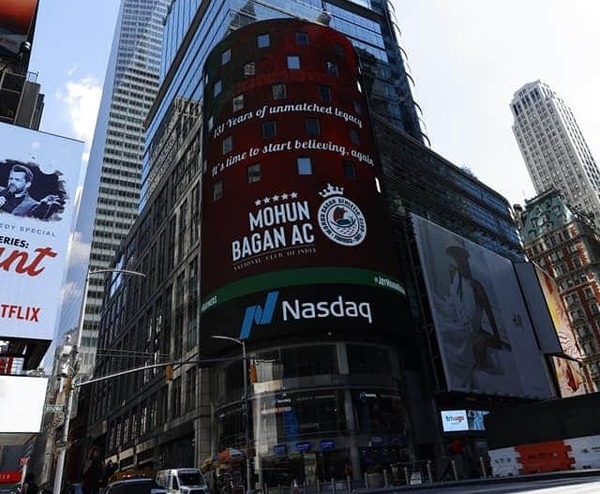 Founded in 1889, the club celebrated July 29 as Mohun Bagan since the historic win to honor the legacy. However due to the complete lockdown in West Bengal which is a state where football is more than a passion but the biggest applause came from thousands of miles away, from New York, USA when the NASDAQ billboard at the iconic Times Square in New York City featured Mohun Bagan logo, in slides and remembered it's the biggest achievement and even turned into the club signature maroon-green color.
"It is a matter of great pride for all Mohun Bagan fans and supporters. It shows the kind of stature the club enjoys. No Indian sports club has ever featured on something like this, so it is significant, very different," Mohun Bagan's top official Debashis Dutta told to a private media.
This tribute by the NASDAQ brought delight, joy, and tears to many fans, making it an unforgettable moment for many fans of the club. The 1911 triumph was was significant as it took place during India's freedom struggle at the time that giving hope to the people that the British could be defeated. It was India's victory and not just the 11 barefooted natives that turned to face their well-oiled opponents.
Mohun Bagan won the National Football League three times and the I-League twice, including in 2020. They had managed to clinch the title just before the league was suspended due to the coronavirus outbreak. Earlier this year, the club announced a merger with the Indian Super League (ISL) club ATK and will be rechristened as ATK-Mohun Bagan. The club will be part of the next season of the ISL, which will be held behind closed doors from November this year to next March.
Fans share their joy on social media!