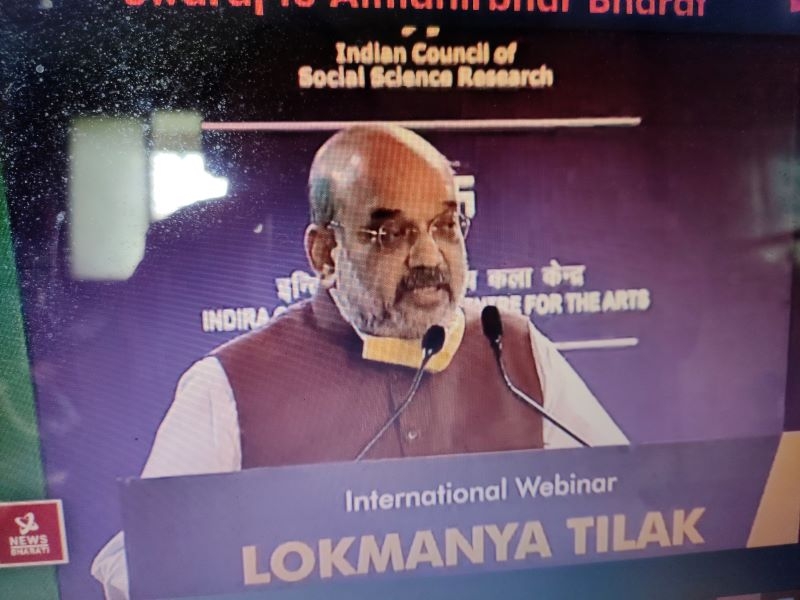 New Delhi/Pune, Aug 1: Lokmanya Bal Gangadhar Tilak was the first nationalist leader who truly Indianized the freedom struggle, observed Union Home Minister Amit Shah here today. It was after the entry of Tilak Maharaj in the Congress movement, the freedom struggle truly became the struggle of the masses, Shah said.
He was addressing the inaugural session of an International Webinar on "Lokmanya Tilak: Swaraj to Atmanirbhar Bharat" here this morning. The webinar was jointly organized by Indian Council for Cultural Relations (ICCR), Deccan Education Society (DES), and Indira Gandhi National Centre for Arts (IGNCA) to commemorate the 100th death anniversary of Lokmanya Bal Gangadhar Tilak.
The program was simultaneously held at Pune and New Delhi. ICCR Chairman Dr. Vinay Sahasrabuddhe, IGNCA Member-Secretary Dr. Sachchidananda Joshi were present at Delhi while DES Chairman Dr. Sharad Kunte, Vice-Chancellor of Tilak Maharashtra Vidyapeeth Deepak Tilak and former Pune Mayor Mukta Tilak were present at the program at Pune.
Addressing the inaugural session of the day-long international webinar Union Home Minister Amit Shah said that even after 100 years of his death Tilak is still relevant in the present times. This reflected upon the visionary leadership of Lokmanya Tilak whose life should be studied by the younger generation of our country. It will give them way and vision to fulfill the dream of Atmanirbhar Bharat, he added.
In his well-studied address replete with suitable examples from Tilak's life to substantiate his point, Shah said Tilak used every bit of his capacity, his multi-dimensional personality, his intellect, his austerity for the welfare of the masses. His every breath was for the country.
He thundered "Swaraj is my birthright and I will have it" at a time when it was thought very daring and difficult. But he did not stop at that only. He made this slogan a part of his life and inspired millions of countrymen to come forward and sacrifice everything at the altar of the Motherland to free her. His slogan will be inscribed in Golden Letters in our history of freedom struggle.
This slogan filled the masses with new inspiration and consciousness. It was Tilak Maharaj, who Indianized the freedom struggle and that is why he earned the epithet of 'Lokmanya' instantaneously from the masses, Shah said.
Tilak was a revolutionary and radical thinker. He was a class orator, thinker, philosopher, a successful journalist and editor, and a social reformer. At the same time was very humble. He suffered jail terms but the British could not stop him from performing his duties. He used to relate revolutionaries with Shyamji Krishna Verma.
Using Shivaji Jayanti and Ganeshotsva as effective media for generating public awareness and inspiring the masses to join the freedom struggle was the unique vision of Lokmanya Tilak. This made the freedom movement mass-oriented, Shah said adding that great leaders like Mahatma Gandhi, V D Sawarkar, drew their inspiration from Tilak's life and personality.
Tilak was dead against the inhuman practice of untouchability. Addressing a Dalit Sammelan in Mumbai in 1918, he thundered: "If untouchability is acceptable to God, then such a God is not acceptable to me." Now, this was something very revolutionary in those times but he did not hesitate to declare his opposition to such an outdated and inhuman social custom then, Shah said.
Tilak was a great supporter and admirer of Hindu culture, dharma, and traditions and made the basis for the freedom struggle. His four-pronged strategy for freedom was based on Swaraj, Swadeshi, Boycott, and National Education. The National Education Policy brought out by the Narendra Modi government has incorporated this element, he said. His treatise on Gita – Gita Rahasya – which he wrote while he was incarcerated at Mandalay Jail, is the best commentary on Karmayoga mentioned in the divine book, Shah said.
He established the Deccan Education Society in 1880 in Pune to impart national education and produced students like VD Sawarkar and Acharya J B Kriplani. He started the "Paisa Fund" movement to financially help the swadeshi entrepreneurs. Drawing inspiration from Tilak, Chidambaram Pillai started a swadeshi shipping company and challenged the British.
Shah made a fervent appeal to the young generation of the country to read, understand and draw inspiration from the life of Lokmanya Tilak to make the dream of 'Atmanirbhar Bharat' a reality in the coming days. His life will provide solutions to many a problem of the present era, he said.
Shah said that the life of Tilak will shape the life of the young generation. He lived for the country, its people, culture, traditions, and spent every moment of his life to free the country from the foreign yoke. This makes his thoughts still relevant today even after a century of his departure from our midst, Shah added.
Dr. Vinay Sahasrabuddhe, Chairman of ICCR said that drawing inspiration from Lokmanya Tilak's life and mission, the Modi government has come out with the NEP 2020 which envisages imparting instructions to students through their mother tongue/regional languages. It is the beginning of de-Macaulization of our education system, he said. This will lead to 'Atmanirbhar Bharat', he said.
Earlier, Dr. Sharad Kunte, Chairman of DES delivered the welcome speech from Pune while Deepak Tilak, Vice-Chancellor of Tilak Maharashtra Vidyapeeth expressed his views on the life of Lokmanya Tilak.