Bengaluru, Aug 11: The Sports Authority of India (SAI) said the forward hockey player, Mandeep Singh became the sixth India player to test positive for coronavirus after reaching here to report for the national camp. On Friday, five other players – captain Manpreet Singh, goalkeeper Krishan Pathak, defenders Varun Kumar, and Surender Kumar, and midfielder Jaskaran Singh too had contracted the virus. The players had returned to the national hockey camp here following a month-long break.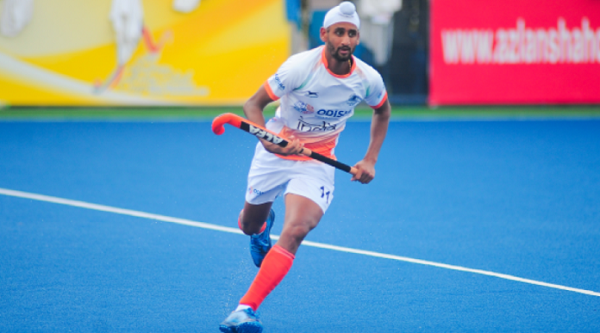 The SAI on Tuesday said that Mandeep Singh has been shifted to a hospital after his blood oxygen level dropped below normal. However, SAI said that Mandeep's condition is currently 'stable'. SAI said all six athletes in the National Centre of Excellence (NCOE) Bengaluru were being monitored constantly and their vitals were being checked four times a day - in the morning, afternoon, evening, and in the night before sleep.
"During night monitoring of vitals on August 10 (Monday) it was found that Mandeep Singh's blood oxygen level was dropping below normal which indicated that he is moving from mild to moderate severity of COVID.SAI authorities on campus took an immediate decision to shift him to SS Sparsh multispeciality hospital as a precautionary measure. His condition is currently stable," the statement read.
Earlier, SAI had said, "As a proactive step, SAI had made it mandatory for all athletes, who reported back to the camp to take a rapid COVID-19 test upon arrival. Since all the athletes who tested positive had travelled together, there is a high likelihood that they contracted the virus while travelling from their hometowns to Bengaluru."
Meanwhile, the men's Asian Champions Trophy, which is supposed to kick-start from November 17 to 27 in Dhaka, will be postponed, according to Asian Hockey Federation chief executive Tayyab Ikram. He said due to the increasing number of cases in the subcontinent and the travel restrictions have made it 'very difficult' for them to hold the tournament as scheduled.
If the official postponement of the Asian Champions Trophy is announced, the next scheduled international competition for the men's team is in April 2021 when they resume their FIH Pro League commitments. The tournament was suspended mid-way this year due to the pandemic but is set to resume in Europe next month. India will rejoin the nine-team competition only in April.
The women's Asian Champions Trophy, which was to be held in the South Korean city of Donghae from June 14 to 21, has already been pushed forward indefinitely. The women's team which is not a part of the Pro League does not have a fixed schedule. Although it is learnt that both teams will be playing in invitational tournaments and test matches early next year.