New Delhi, August 15: On this special occasion of 74th Indian Independence Day, Google has commemorated this day in a different way by representing a doodle that celebrates the diversity of Indian art and culture of the country.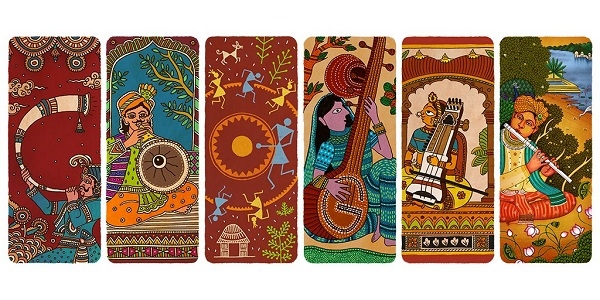 This google doodle is illustrated by Mumbai-based guest artist Sachin Ghanekar. While speaking about the doodle he said, he gets drawing inspiration from various Indian art forms like Kalamkari, Madhubani, Warli, Gond, Phad, and Pichwai to bring this idea to life. He also added that he hopes this Doodle reminds people of our rich heritage and how privileged we are to be a part of it.
He also shared what Independence Day means to him personally Independence Day is a matter of pride for every citizen, and for me as an artist, it signifies the freedom to express your ideas, views, thoughts, and opinions. I owe my freedom to all those who dreamt of it and fought for it.
The Doodle artwork shows several iconic Indian folk instruments including the tutari, shehnai, dhol, veena, sarangi, and bansuri. From the versatile double-reeded shehnai to the resonant stringed sarangi, these instruments are but a few that makeup India's rich musical legacy, which dates back over 6,000 years. The musical diversity represented by this unique collection reflects the patchwork of Indian cultures that is celebrated across the nation today.
Apart from this Prime Minister Narendra Modi unfurled the national flag from the Red Fort today. Addressing the nation in his seventh Independence Day speech, Modi paid tribute to the freedom fighters, security forces, and Covid-19 warriors. The Prime Minister also spoke about unity in a large country like India saying, "Indians have chosen to be united. Peace and respect for each other is what defines us as a nation." PM Modi highlighted the importance to make India self-reliant, saying it was not just a word but should be a "mantra" for all countrymen.