"As a Hindu, I felt that a wrong done to my country is an insult to God. Her cause is the cause of Sri Ram! Her services are the services of Sri Krishna! Poor in health and intellect, a son like myself has nothing else to offer to the Mother but his own blood and so I have sacrificed the same on her altar..." - Madan Lal Dhingra
"Moral force, like gentle tides at the touch of the storm, sweeps away hills and lands. The act of a patriot comes like a storm to the moral waves of human society, and sweeping away barriers, leads the cause to success."
(From a Statement by the Indian Revolutionaries issued in the memory of Dhingra on Aug 17, 1909)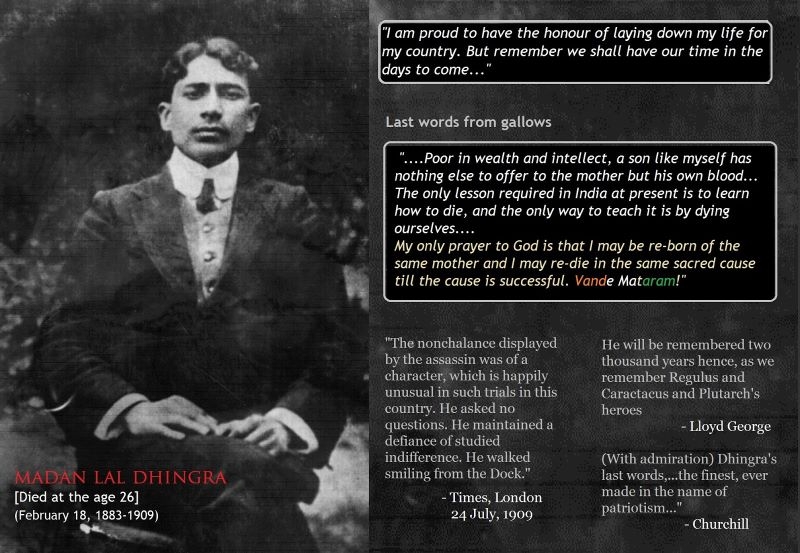 17 August 1909. Penton Ville Prison. A young man was standing before the gallows waiting to be hanged. When he was asked as to why did he do this, his response was clean and clear:
"I hold the Englishmen responsible for the killing of 8 crore Indians during the last 50 years. I hold them accountable for looting 10 crore pounds every year from India. As the Germans do not have right to rule this country, so the British also do not enjoy any right to capture and rule India. In such a situation it is perfectly just to kill Englishmen who are polluting our sacred land".
This youth was hanged and the country for which he kissed the gallows attained independence 38 years later.
This 25-year-old youth was none other than the shining star of the revolutionaries Madan Lal Dhingra.
The generation today may not be aware of this name. But that is not their fault. We are, for the last seven decades, being hammered that the country attained freedom only through the non-violence and non-cooperation and the contribution of the countless revolutionaries like Madan Lal Dhingra, Khudiram Bose, etc. was systematically, deliberately ignored under a well-thought-out conspiracy to establish the supremacy of one particular family. Therefore, it becomes all the more important and pertinent to remember these martyrs and pay homage to them and draw inspiration from their sterling lives to do some service to our motherland.
There is a place called India House in London. Famous patriot of yesteryears Pt. Shyamji Krishna Verma bought this house in 1905 to provide hostel facility to Indian students coming to London for studies. But soon it turned out to be the secret meeting place of the zealous patriot youth whose leader was Vinayak Damodar Savarkar who shook the British Empire and was handed over two life terms by the British for his revolutionary activities.
Madan Lal Dhingra was born in a well-to-do family in Amritsar. His father was an eye surgeon and civil surgeon at Amritsar and was very close to the British government, especially to Sir Curzon Wyllie who was a Political Advisor to the Secretary of India Office. Sir Wyllie was so powerful that he was known as "Eye of the Empire in Asia". Two of Madan Lal's brothers were already in London for medical studies and now Madan Lal too arrived there to study mechanical engineering.
Since Dhingra's family was close to this "Eye", his friends in the India House were naturally worried that Wylie might use his closeness with Dhingra to have a watch on their activities. So, they approached their leader Vinayak Savarkar and expressed their apprehension.
Their doubt further got intensified as Madan Lal Dhingra joined Indian Association and Aristocratic Club where British Officers and those Indians loyal to the British Empire used to gather. Dhingra's father wrote to Curzon Wylie that his son Madan Lal was in touch with the India House and requested him to be in his contact. Following this Sir Curzon Wylie had called Madan Lal to meet him at India House.
Viceroy had appointed Curzon Wylie to a committee set up to end the revolution of Indian students. But Savarkar assured his colleagues saying that since they did not have sufficient evidence against Dhingra, it would be better to wait and watch for some more time.
In one of the Sunday meetings at 'India House', Savarkar was delivering an impassioned speech on India's freedom. Madan Lal and his friends were creating a ruckus in the adjacent room. The din forced Savarkar to interrupt his speech and peep into the adjacent room. There he saw Madan Lal and his friends enjoying themselves. "What's the matter, Madan? You talk of action and bravery and avoid coming to our weekly meetings. Is this the bravery you keep talking about?" reprimanded Savarkar.
Emboldened, Dhingra asked, "Has the time for martyrdom come?" Savarkar replied, "If a martyr has made up his mind and is ready, it is generally understood that the time for martyrdom has come."
On July 1, 1909, Madan Lal got an invitation for a program where Curzon Wylie was to be the guest. Wylie started to move as the program was over but was stopped by some of his admirers on the stairway. Dhingra too joined them. He leaned towards Wylie as if he wanted to share some confidential information with him. Curzon Wylie too leaned further and at this moment, Madan Lal Dhingra took out his revolver, fired two rounds point-blank into Curzon in a flash of a second.
Wylie fell down as Dhingra fired two more shots at him. Meanwhile, a Parsee doctor Cawas Lalcaca came to save him but he too fell to the bullets from Dhingra. He, however, wanted to end his life, but the revolver was empty. And Dhingra was overpowered by the police.
Four days after this event, a meeting was convened in London Caxton Hall. The meeting was attended by those Indians who were sympathetic to the extent of being loyal to the British empire and who wanted to show their remorse over the killing of Curzon Wylie. Madan Lal Dhingra's brother who attended this meeting condemns him as a blot on their family. Another leader echoed him saying Madan Lal had defamed our country.
A resolution was placed condemning Dhingra in this meeting and an announcement was made that this resolution was passed unanimously.
Suddenly, there comes a protest voice "this is not the unanimous opinion of this house".
It was Savarkar who raised the voice of dissent. There was a commotion in the meeting as someone attacked Savarkar. MPT Acharya, who was sitting beside Savarkar, hit back and the meeting ended without passing the resolution condemning Dhingra.
A case was filed and the trial began in London Court. The judge asked whether he wanted to say something in his defense. Madan Lal replied, "I had my statement in with me which the police took out at the time of the arrest. That statement is all that I wanted to say".
Court denied permission to make this statement public. But a day prior to his hanging, the statement appeared in the 'Daily News' in a mysterious style. Savarkar had a copy of that statement which he managed to get it published through his British friend David Garnet. 'The Times' even doubted that the statement was not written by Dhingra but by someone else.
The statement is published and the next day this young son of Mother Bharat kissed the gallows leaving behind his inspiring tale for the posterity.
On 17 August 1909, the Indian revolutionaries in London published the following statement in the memory of Dhingra. Titled "To the memory of our patriot Madan Lal Dhingra", the statement said, "This day, the morning of 17th August 1909, will remain engraved in red letters in the heart of every Indian who loves his Motherland. This is the morning that our great patriot, our beloved Dhingra, is swinging to and fro with his sacred neck in the grip of the execution ropes in Penton Ville prison. His high soul is rising from his earthly body but in spirit, he is with us, will remain with us, will guide us in the battle of freedom of our Motherland, and his name, written in the history of India, will go down to posterity."
Madan Lal Dhingra was the first Indian revolutionary to be hanged at a British prison in 1909. The other one was Sardar Udham Singh who faced the gallows on British soil on 31 July 1940.
Paying tributes to Madan Lal Dhingra, Lala Hardayal wrote in "Vande Mataram" dated September 10, 1909, "Dhingra, the immortal, has behaved at each stage of the trial like a hero of ancient times. England thinks she has killed Dhingra; in reality, he lives forever and has given the death-blow to English Sovereignty in India."
Dhingra's final statement entitled "Challenge" focused upon his martyrdom for his country. He justified violence as a means to achieve freedom of India from the tyranny of British rule. He was convinced and confident that militant nationalism was the only way to attain freedom from the violent shackles of colonialism:
"I admit, the other day, I attempted to shed English blood as humble revenge for the inhuman hangings and deportations of patriotic Indian youths. In this attempt, I have consulted none but my own conscience. I have conspired with none but my own duty.
"I believe that a nation held down by foreign bayonet is in a perpetual state of war since the open battle is rendered impossible to a disarmed race. I attacked by surprise since guns were denied me. I drew forth my pistol and fired.
"The only lesson required in India at present is to learn how to die, and the only way to teach it is by dying ourselves. Therefore, I die and glory in my martyrdom.
"My only prayer to God is may I be reborn of the same mother and may I re-die in the same sacred cause till the cause is successful, and she stands free for the good of humanity and the glory of God — Vande Mataram."
The mortal remains of Madan Lal Dhingra were
denied any Hindu rites after his execution and the body was buried by the British government. His remains were repatriated to India in 1976.