Bengaluru, August 31: Prime Minister Narendra Modi appreciated the response and the efforts of youth who developed apps under the AatmaNirbhar Bharat App Innovation Challenge, saying "your efforts as today's small start-ups will transform into big companies tomorrow and become a mark of India in the world. "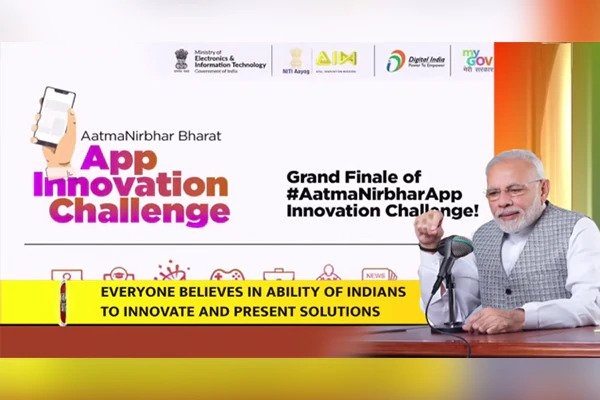 In his monthly radio address 'Mann ki Baat', PM Modi said everyone acknowledges the capability of Indians to offer innovation and solutions when there are dedication and sensitivity, this power becomes limitless. Our youth participated enthusiastically in this Aatma Nirbhar Bharat App innovation challenge.
"This is a very auspicious indication for self-reliant India, for the future of the country. You will be impressed by seeing the results of the Aatma Nirbhar Bharat App innovation challenge," he further said.
PM Modi noted that nearly two-thirds of the entries were made by the youth of tier two and tier three cities. Awards have been given to around two dozen Apps in different categories, he said, asking listeners to familiarise themselves with these Apps and to connect with them. He also said It is possible that you too get inspired to make something like that.
Prime Minister also talked about some apps, including Kutuki Kids Learning app, an interactive app for children; an app for microblogging platform called Ku Koo Ku Chingari App which is getting popular among the youth Ask Sarkar app to get the right information about any government scheme; Step Set Go, a fitness app, etc.
The "AatmaNirbhar Bharat App Innovation Challenge" was launched by Prime Minister Narendra Modi on July 4 which saw participation from 6,940 tech entrepreneurs and start-ups across the country. The Aatmanirbhar App Innovation Challenge selected the best apps from around 7000 entries across India. The mega challenge had entries for nine different categories — Business, eLearning, Entertainment, Games, Health, News, Office and Work from Home, Others, and Social.
The government has allocated INR 20 lakh, INR 15 lakh and INR 10 lakh for the first, second, and third-placed apps in each category. Winners of other sub-categories won INR 5 lakh, INR 3 lakh and INR 2 lakh for first, second and third position, respectively.