Kangana Ranaut is hitting the headlines for a comment she made about the city of Mumbai, that has now snowballed into a massive controversy. From the Brihanmumbai Municipal corporation carrying out the demolition work at her office space in Mumbai to Kangana hitting out at Maharashtra Chief Minister Uddhav Thackrey- a lot has happened to learn. But learn what? Right, Wrong or precise word perfect?
"Uddhav Thackrey, tera ghamand ek din jaroor tutega", is what she said in her latest video message after she returned to Mumbai and that her office was demolished. Well, she must have said nothing wrong in the series of events occurred, but one thing for sure- Is this the way any Chief Minister deserves to be addressed?
It all began when Kangana posted on Twitter that she was feeling unsafe after Sushant Singh Rajput's death in Mumbai and stated that Mumbai felt like Pakistan occupied Kashmir. "Sanjay Raut Shiv Sena leader has given me an open threat and asked me not to come back to Mumbai, after Aazadi graffitis in Mumbai streets and now open threats, why Mumbai is feeling like Pakistan occupied Kashmir?" Kangana had tweeted.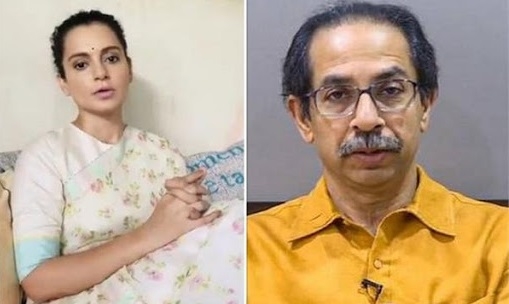 In the first place, was this tweet logical? Why must have she chosen to compare the city where people struggle to fulfil their dreams with another such area where people struggle to survive? Any Indian or for that matter any Maharashtrian having dignity should have felt second rated for whatever she tweeted. Then it was Shiv Sena's 'The Sanjay Raut' to fire back.. and the flavour had to come anyway! In an interview Raut had called Kangana Ranaut 'haramkhor ladki' for her statements.
Kangana, after this should have realised and appologised for whatever she said. She should have turned the flame and hence the smoke off. Instead, she rose up to talk on the intolerance debate warriors, further sniping more the extant controversy. "In 2008 Movie Mafia declared me a Psycho, in 2016 they called me a Witch and Stalker in 2020 Maharashtra Minister publicity gave me the title of Haramkhor Ladki, because I said after a murder I feel unsafe in Mumbai, where are INTOLERANCE debate warriors?", she tweeted next.
With this, the main event of Sushant Singh Rajput's case got sidelined and it was now Kangana Ranaut and Shivsena face to face. On the day that she said would return to Mumbai, Shiv Sena led BMC paid a surprise visit to her production house - Manikarnika Films office in Bandra. They issued her a notice for illegal construction and carried out a demolition drive.
She didn't stop even after this. Wearing the glaring old glass heated in her burnt and crushed ego, she took to Twitter sharing a clip addressing Maharashtra Chief Minister, "My home was demolished today, your ego will be destroyed tomorrow. This is the wheel of time, remember, it never stays the same".
The girl who ran away from home in her teens, who worked in the bars, consumed drugs at times and more, is now up sharing philosophy? What turns and what traits? It was in the initial stages of the controversy that Kangana should have cooled down. Would have she only realised that it is Sushant for whom she's raising voice, her office would have been in tact, she would have been safe and that the state would have been calm!
Counterpoint-