When someone raises the voice against any wrong-doing, the person is bound to be destroyed, crushed and tortured here. Yes, welcome to the state of Maharashtra where the people in rule, who always have fought for the mass respect are now being the reason for mass dis-repect! The Kangana Ranaut and Shivsena controversy has done anything but wrapped around the whole atmosphere.
As a final and robust answer to Kangana's tweet series, the Shiv sena leaders demolised her office, her production house- Manikarnika Films in Bandra. Being doubly strong, Kangana yesterday posted a series of videos on Twitter, showcasing the damage done by BMC's demolition at her Bandra property.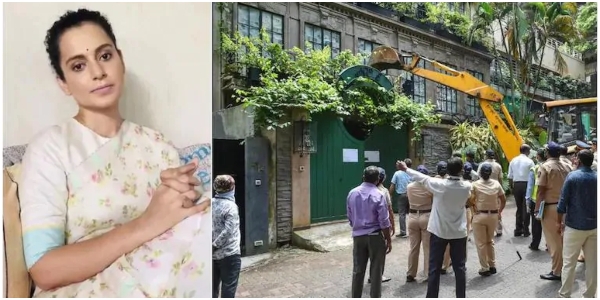 She also took to Twitter sharing a clip addressing Maharashtra Chief Minister Uddhav Thackeray, wherein Kangana stated, "My home was demolished today, your ego will be destroyed tomorrow. This is the wheel of time, remember, it never stays the same. You have done a favour to me. I knew what Kashmiri Pandits had gone through but today I felt it too. I vow to this country that I will make a film not only on Ayodhya but also Kashmir."
Chandigarh to Mumbai to POK and finally to Ayodhya is what this controversy revolves around. It all began when Kangana posted on Twitter that she was feeling unsafe after Sushant Singh Rajput's death in Mumbai and stated that Mumbai felt like Pakistan occupied Kashmir. "Sanjay Raut Shiv Sena leader has given me an open threat and asked me not to come back to Mumbai, after Aazadi graffitis in Mumbai streets and now open threats, why Mumbai is feeling like Pakistan occupied Kashmir?" Kangana had tweeted.
In an instant reply to this, Shiv Sena leader Sanjay Raut who already has been a part of infinte controversy till date, called her a 'haramkhor ladki'. Agreed, that Kangana shouldn't have compared Shiv Sena's ever love, Mumbai with POK. Agreed, that she shouldn't have led away Sushant's case to herself. But is this what Chief Balasaheb Thackrey taught to his sainiks- 'abuse the one who openly expresses'? Certainly not!
What right did Raut have to abuse Kangana publically? Was that just beacuse she raised her voice? Or was that because she pointed the truth out about Shiv Sena and Sushant's case connection? Further ahead, the demolition scene reflects how heated and impatient leader Maharashtra has. CM Thackrey and his sainiks could not take what a mere actress said. They demolished her work space, mentally destroyed her. And these expect the oppositions to stay calm when attacked?
Kangana in her latest tweets righly said that Maharashtra CM was acting as Babur and that her office was the Ayodhya's Ram Mandir. "History will repeat itself. Remember Babur this temple will be built again, this temple will be built again, Jai Shri Ram, Jai Shri Ram, Jai Shri Ram", she tweeted. One thing for sure, it actually take a lot of courage to come alone in Mumbai, survive here, be a leading actress and also stand robust on social, political takes. Kangana has always been in support to whateever is better for the nation and its people. And if this is what she has to get in return, it's a moment of SHAME for Maharashtrians!
Counterpoint -